Girard House at Mount Holly
Introduction
Before he became one of the first millionaires in United States history, Stephen Girard, along with his new wife Mary Girard, fled from Philadelphia to this house in New Jersey during the British occupation of Philadelphia in 1777. The Girards resided in the safety of their Mount Holly house for about a year, where they also set up shop. When the redcoats finally abandoned Philadelphia in 1778, the young couple ventured back to the city and resettled in a rented home near the Delaware waterfront. Stephen Girard sold the house to a French émigré after 1790. It remains a private residence to this day, as a prominent landmark in the town's local history.
Images
Stephen Girard House, 1937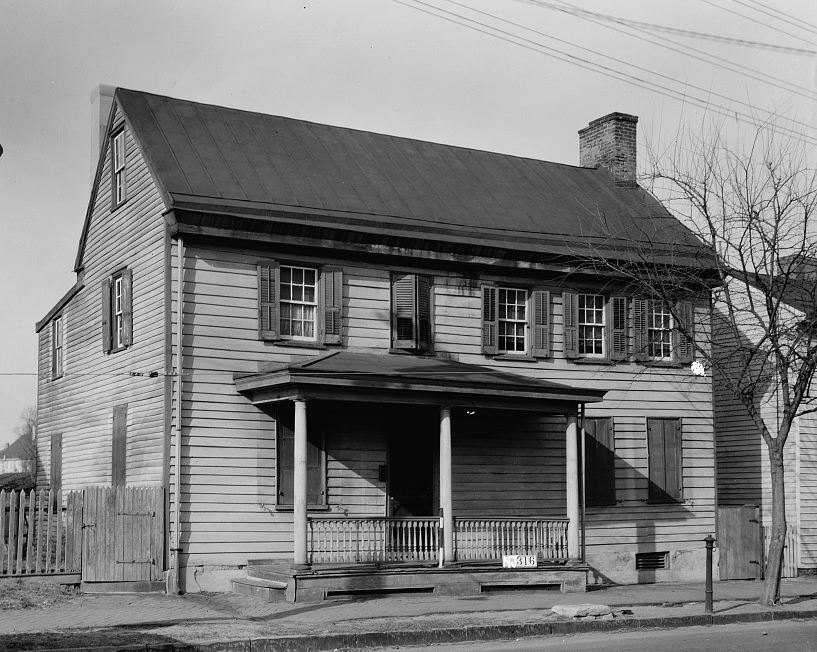 Backstory and Context
Long before he achieved wealth and fame as one of America's first millionaires, Stephen Girard purchased this house on July 22, 1777. An immigrant from France, Girard had arrived in Philadelphia in 1776 and was living and operating a store in rented quarters in the city. He and his new wife, Mary Girard, would relocate to Mount Holly, a small town with a thriving marketplace, during the British occupation of Philadelphia. Constructed around 1733, the two-story house and its surrounding five acres previously belonged to Isaac Hazlehurst, a business acquaintance. The following is a description of the building's interior layout by biographer George Wilson: 
"On the first floor there are two rooms across the front of the house and a kitchen to the rear. Two more rooms are on the second floor. The stand-up attic, which has several windows, is all one room. There is a full basement. Stairs are in the center of the house, as are the front door and outside steps leading directly to the sidewalk."
Foreseeing the immediate danger of war arriving at their doorstep, the newlywed husband and wife left Philadelphia by September 1777. They relocated across the Delaware River to their new home in Mount Holly 19 miles away. The Girards opened a retail store in the basement of their property. Here, they sold a wide variety of consumables and trinkets including pastries, confectionaries, sugar, coffee, tea, wine, cider, whiskey, tobacco, candles, and soap. The store was frequented by American revolutionaries, British soldiers, and local townsfolk, many of whom were supposedly drawn to the charm and beauty of Mary. In one episode, an American colonel flirted with the young woman while her spouse was preoccupied. The officer dared to kiss Mary, though was swiftly caught by Stephen who admonished him and demanded an apology. Possibly apocryphal accounts passed down from the Girards' neighbors also claimed that the couple owned a rambunctious pet dog named Snyder, who bothered and barked at passersby near the store.
In 1778, the occupying British forces were driven away from Philadelphia and the townspeople of Mount Holly soon realized that the British army was headed their way. Some biographers speculated that the Girards hid nearby while the enemy troops passed through. After the danger had come and gone, Stephen returned to Philadelphia by himself, searching for a new place to rent. Mary stayed in Mount Holly with servants and neighbors, managing the store. She later followed him back home in early 1779. The blissfully married couple was reunited in their new rented house on Water Street, but their happiness would not last long. 
Several years into their marriage, Mary suddenly began to show troubling signs of mental illness and abnormal, reckless behavior. Doctors at the local Pennsylvania Hospital officially diagnosed Mary with incurable insanity in 1785. After a brief stay at the hospital, Stephen sent his wife to stay in their small town New Jersey residence. She traveled back and forth between their houses in Philadelphia and Mount Holly as the symptoms of her mental illness fluctuated and worsened. At Stephen's request, Mary Girard was cared for by her widowed mother, sister, and a neighbor while living in Mount Holly. By 1790, Stephen eventually lost hope that Mary could make any recovery and she was permanently institutionalized at Pennsylvania Hospital. Afterwards, Stephen sold the improved house at a marked-down price to Benoit Hyacinthe Aguel, a young French emigre. In 1812, the Mount Holly residence was bought by William Rogers.
Stephen Girard went on to become a businessman, farmer, philanthropist, banker, and one of the country's first millionaires. His former home in Mount Holly has remained a private residence. It is located in the Mount Holly Historic District along with other 18th and 19th century historic homes. Two historical markers were placed on and in front of the structure; sometime between September 2016 and October 2019, the blue historical marker erected on the street in front of the house was removed, but a green marker sign remains, hanging from a frame on the far right side of the private property. Several exterior changes also occurred between 1937 (when the building was documented by HABS) and 2008: the front porch and the first floor windows' exterior shutters were removed and a basement cellar door was installed in the location of a previous ventilation grate. 
Sources
Ewan, Nathaniel R. 1. Historic American Buildings Survey Nathaniel R. Ewan, Photographer March 6, 1937 EXTERIOR - SOUTH ELEVATION -
Stephen Girard House, Mount Holly, Burlington County, NJ, Library of Congress. March 6th 1937. Accessed April 30th 2020. https://www.loc.gov/pictures/item/nj0356.photos.111286p/.
McFarland, Marvin W. Stephen Girard, A Very Human Being, Stephen Girard: Forgotten Patriot. Accessed April 30th 2020. http://forgottenpatriot.com/pdfs/GirardAVeryHumanBeing.pdf.
Mills, Weymer Jay. Historic houses of New Jersey. Philadelphia, PA. J. B. Lippincott, 1902. [Note: this source contains several inaccurate details, such as misnaming Stephen Girard's wife as Polly instead of Mary, and confusing the American officer that stole a kiss from her as a British officer instead.]
Raciti, James. Trouble In Mount Holly, Get to Know Stephen Girard. Accessed April 30th 2020. http://www.stephengirard.org/p/trouble-in-mount-holly.html.
Simpson, Stephen. Biography of Stephen Girard, with His Will Affixed. Philadelphia, PA. T. L. Bonsal, 1832.
Stephen Girard House - Mount Holly, NJ, Waymarking.com. April 13th 2013. Accessed April 30th 2020. https://www.waymarking.com/waymarks/WMGVR6_Stephen_Girard_House_Mount_Holly_NJ.
Wildes, Harry Emerson. Lonely Midas: The Story of Stephen Girard. New York, NY. J. J. Little and Ives Company, 1943. 
Wilson, George. Stephen Girard: The Life and Times of America's First Tycoon. Signpost Biography Series. Conshohocken, PA. Combined Publishing, 1995.
Image Sources
https://www.loc.gov/resource/hhh.nj0356.photos. For more information, visit https://www.loc.gov/pictures/item/nj0356.photos.111286p/

Additional Information