William H. Towles House
Introduction
Named after one of the key figures in Fort Myers during the late 18th and early 20th centuries, the William H. Towles House is one of the city's most historic homes. It was built in 1885 and significant for its architecture and association with Towles, who was a successful businessman and prominent civic leader of the period, serving as both county commissioner and town and city councilman. However, he is perhaps best known for a successful campaign to build what is now known as the Old Lee County Courthouse. As for the house's architecture, its design combines the Colonial Revival and Mediterranean Revival styles. Its most interesting feature is the wraparound porch with arches on the first floor. Today the house appears to be the location of a law office.
Images
The William H. Towles House was built in 1885 by one of the city's leading historical figures of the late 18th and early 20th centuries.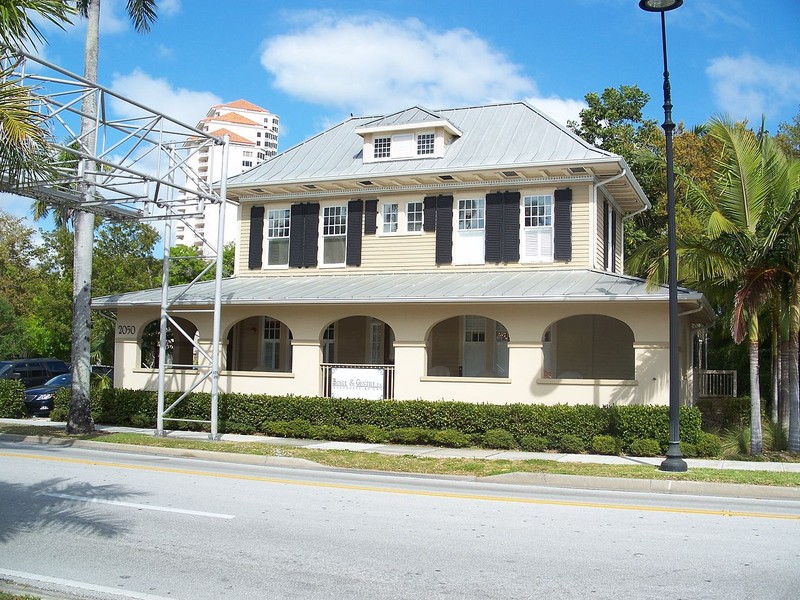 Backstory and Context
William H. Towles was born in Perry, Florida in 1852 to a farming family. As a young adult he started his business career in the cattle industry and then opened a general store in the town of Bartow. He got married and had a daughter by the time he arrived in Fort Myers in 1883. Sadly, his wife had died before he came here. He opened another general store with a partner who was already well established in the village, which at the time was unincorporated. Two years later, Towles not only built his house but he and his partner also built a large dock. Then in 1887, he severed ties with his partner to concentrate on his cattle business. This proved to be a good decision because he became one of the most successful cattlemen in Florida and eventually owned a schooner (a type of ship), steamer ships, and a warehouse. Towles' wealth increased even more after the Spanish-American War in 1898 when the price of cattle rose as the demand for beef increased.
Towles prominence as leading businessman gave him the opportunity to become a civic leader. As mentioned above, he served as town councilman several times between 1892 and 1909 and later city councilman in 1911 and 1915, and as county commissioner for several years beginning in 1888 after Fort Myers became the seat of county government.
Beginning in 1897, Towles began his effort to build a grand courthouse constructed with concrete. The one that had been built was a small wood-frame structure that he considered inadequate. Despite his efforts, the project failed to gain momentum as no one bought the bonds that would pay for the building's construction. As a result, a smaller (but still larger than the original courthouse) courthouse was built five years later.
Towles, whose nickname was "Will Bill", kept the dream alive, however and in 1914 proposed the project again (he was still a county commissioner and was in fact chairman at the time). This time he faced opposition from some members in the community, including his rival Harvie Heitman, who was actually erecting a few concrete buildings of his own. Those who did not want the new courthouse thought the existing one was adequate and they criticized the tax the commissioners imposed to built it. In the end, Harvie and other opponents failed to stop the project and the courthouse was built in 1915.
Towles passed away in 1921 and the family owned the house until 1930. It was moved at that time and remained a private home until 1954 when it became a funeral home. A bank bought it in 1988 and remained until 2004, at which point the house became the law office.
Sources
Hartig, Mikki. "Towles, William H. House." National Park Service - National Register of Historic Places Nomination Form. May 29, 2008. https://npgallery.nps.gov/GetAsset/ac3032cf-a2d9-47c2-9269-0450486b137c.
Thurston, William N. "Old Lee County Courthouse." National Park Service - National Register of Historic Places Nomination Form. March 16, 1989. https://npgallery.nps.gov/GetAsset/b50fe310-fa75-4952-8585-0e4f530c9151.
Williams, Cynthia A. "100-year history of Lee County Courthouse." November 27, 2015. https://www.news-press.com/story/entertainment/2015/11/27/100-year-history-lee-county-courthouse-cynthia-williams-tropicalia/76114234.
Image Sources
Wikimedia Commons: https://commons.wikimedia.org/wiki/Category:William_H._Towles_House

Additional Information