Delaware Ave./Columbus Blvd.
Introduction
Once the site of an improvised dockside footpath, Delaware Avenue was constructed 1834-1835 to improve access along the Philadelphia waterfront, using money left for this purpose by merchant and financier Stephen Girard. The street was widened and extended repeatedly through the 19th and 20th centuries, a project that continues to this day. In 1992 the portion of Delaware Avenue south of Spring Garden Street was renamed Christopher Columbus Boulevard.
Images
Postcard of Delaware Ave, between 1907-1916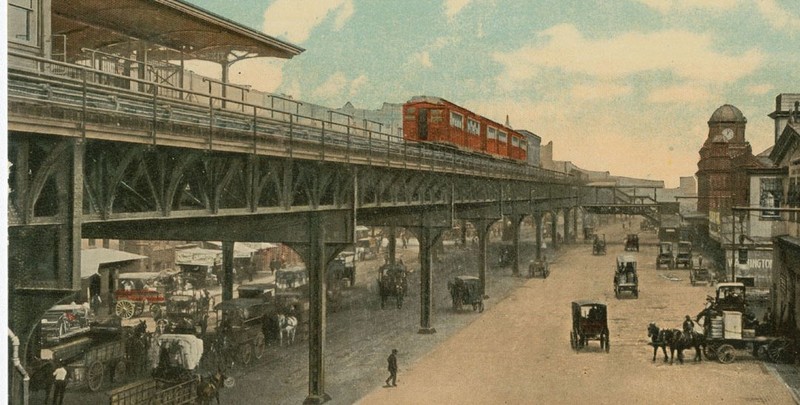 Backstory and Context
When Philadelphia was laid out in William Penn and Thomas Holmes's famous 1680s plan, Delaware Avenue (now partially renamed Columbus Boulevard) did not exist. Instead, Front Street was the street closest to the Delaware River. As settlement and commerce along the river increased, a closer street, King Street (later renamed Water St.) was laid down east of Front Street sometime in the late 1690s or early 1700s. Eventually, a footpath emerged even closer to the changing shoreline of docks and wharfs and in 1831 merchant, financier, and Water Street resident Stephen Girard left money in his will to improve port infrastructure by turning the path into Delaware Avenue.
Born in France, mariner and merchant Stephen Girard landed in Philadelphia in 1776 and settled into rented quarters on Water Street, the street where he would live until his death in 1831. Over those 55 years Girard would become the richest American of his time as a merchant, banker, and landowner, a man intimately familiar with the port of Philadelphia and a strong proponent of improving infrastructure to support commerce. In his will, Girard left $500,000 to the city of Philadelphia for infrastructure projects, including:
"To lay out, regulate, curb, light and pave a passage or street, on the east part of the city of Philadelphia, fronting the river Delaware, not less than twenty-one feet wide, and to be called Delaware Avenue, extending from South or Cedar Street, all along the east part of Water Street squares, and the west side of the logs, which form the heads of the docks, or thereabouts ; and… to remove or pull down all the buildings, fences and obstructions which may be in the way, and…to fill up the heads of such of the docks as may not afford sufficient room for the said street; to compel the owners of wharves to keep them clean and covered completely with gravel or other hard materials, and to be so levelled that water will not remain thereon after a shower of rain ; to completely clean and keep clean all the docks within the limits of the city, fronting on the Delaware ; and to pull down all platforms carried out, from the east part of the city over the river Delaware on piles or pillars."
In accordance with Girard's will, Delaware Avenue was constructed from 1834 to 1835; the 25-foot wide street was paved with Belgian blocks and lit with gas lamps. The new street soon became a major thoroughfare for cargo and proved so popular that it was doubled in width to fifty feet between 1855-1865, lengthened beyond the Vine/South corridor in the 1870s, and widened again to 150 feet from 1897-1900. A cargo rail line and an elevated passenger rail line were both added in the 1890s, connecting with the docks, warehouses, and ferries along the waterfront. The elevated passenger was removed in 1938 following the demise of passenger ferries to New Jersey, but the freight rails of the Philadelphia Belt Line remain. In the 1960s and 70s, I-95 was constructed along the Delaware river waterfront, dividing Delaware Avenue from the city to the west. In Center City, the highway was sunk below the level of Front Street between Market and Lombard, with caps and bridges spanning the roadway; in other areas the interstate was largely elevated.
In 1992, the portion of Delaware Avenue south of Spring Garden St. was renamed Columbus Boulevard on the 500th anniversary of his voyage. At the time, Philadelphia was the largest city without a street named for Columbus. The renaming was spearheaded by Philadelphia's large Italian-American community, but opposed by members of the Lenni-Lenapi tribe, which led to the compromise to rename only a portion of the street. Development of Delaware Avenue continues to the present; in 2015 the street was extended northwards by over half a mile and a second phase of the Delaware Avenue Extension is slated to start in 2022. 
Sources
Beck, Tom. "Delaware Avenue is getting extended northward to connect to I-95", Star. November 18th 2019. Accessed May 4th 2020. https://starnewsphilly.com/2019/11/18/delaware-avenue-is-getting-extended-northward-to-connect-to-i-95/.
Blanchard, Matt . "I-95: where do we go now?", WHYY. February 22nd 2007. Accessed May 4th 2020. https://whyy.org/articles/i-95-where-do-we-go-now/.
Jackson, Joseph. Market Street, Philadelphia: The Most Historic Highway in America, Its Merchants and Its Story. Philadelphia. Public Ledger Co., 1918.
Kyriakodis, Harry. "Delaware Avenue (Columbus Boulevard), Encyclopedia of Greater Philadelphia. Accessed May 4th 2020. https://philadelphiaencyclopedia.org/archive/delaware-avenue-columbus-boulevard/.
Kyriakodis, Harry. "The Street Under the Bank", Hidden City. March 8th 2012. Accessed May 4th 2020. https://hiddencityphila.org/2012/03/the-street-under-the-bank/.
McQuaid, Dan. "Why Is It Delaware "Avenue" but Columbus "Boulevard"?",Philadelphia Magazine. October 13th 2016. Accessed May 4th 2020. https://www.phillymag.com/city/2016/10/13/delaware-avenue-columbus-boulevard-name/.
Romero, Melissa. "Philly's First Major Roadway Built in 30 Years Now Open", Curbed Philadelphia. December 8th 2015. Accessed May 4th 2020. https://philly.curbed.com/2015/12/8/9893236/delaware-avenue-extension-phase-one-opens.
Wilson, George. Stephen Girard: The Life and Times of America's First Tycoon. Signpost Biography Series. Conshohocken, PA. Combined Publishing, 1995.