The Lineshaft System
Introduction
The Scheidler Machine Works opened in 1882 as a manufacturer of portable & stationary steam engines and saw mills. The building our museum is housed in is the only surviving structure of the former Scheidler Machine Works. The building is 50 feet wide by 150 feet long and was constructed with traditional methods of brick load bearing walls, timber beams, and plank floors. Some clues to the building's industrial past are readily visible - the high ceilings, large doorways, and evenly spaced large windows. Originally, the second floor of the building housed woodworking and pattern making areas. This factory, along with other factories of the era, were powered by a lineshaft system which connected the machines to a central shaft powered by a steam engine. A system such as that can be seen in the museum.
Images
Factories were driven by a lineshaft system before the advent of modern electric machinery.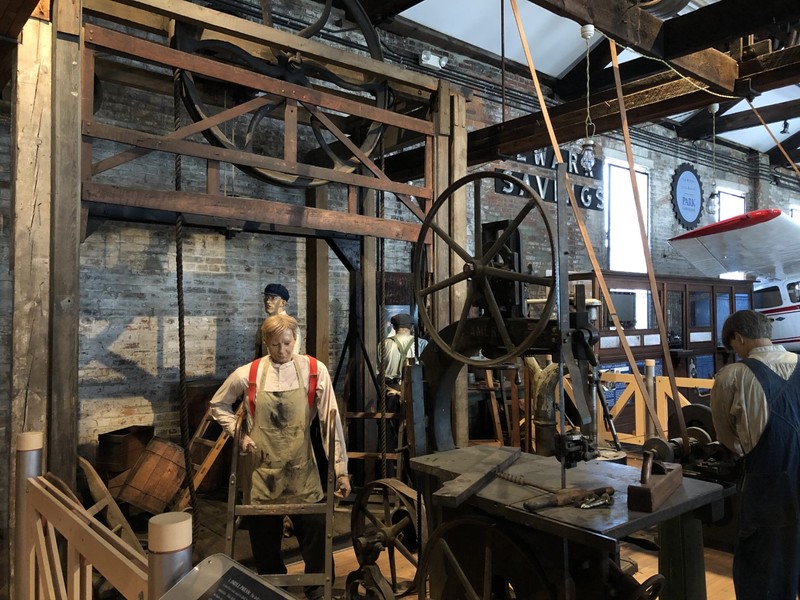 The lineshaft is attached to the ceiling and each machine is operated by a belt attached to wheels on the shaft.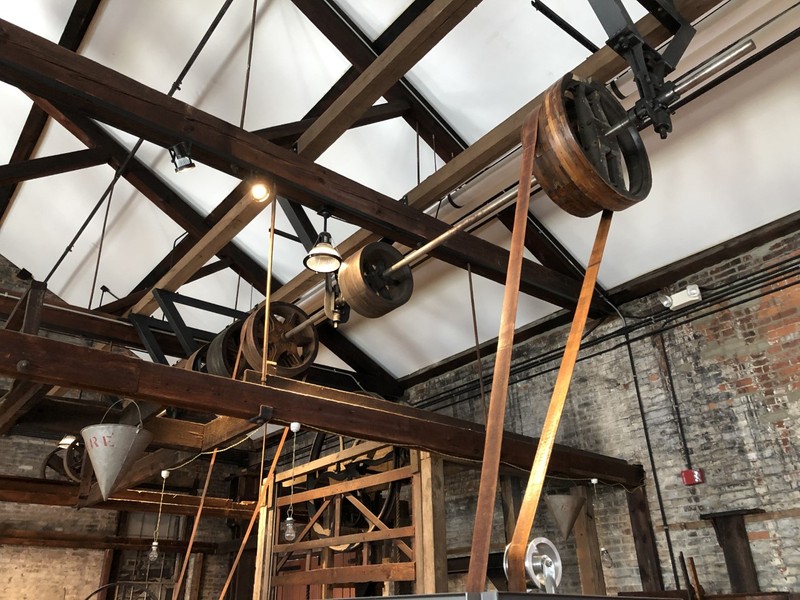 The wood planer could smooth and even out boards.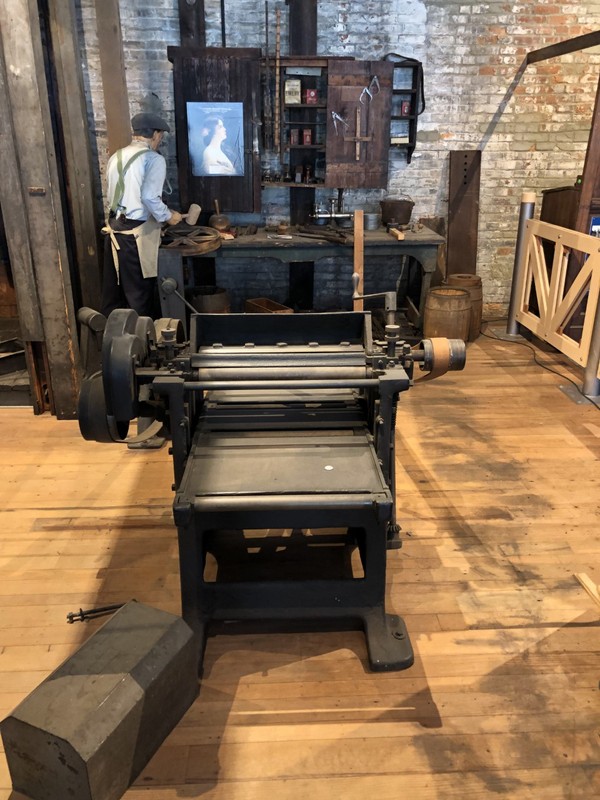 The tool grinder was necessary to keep small hand tools in working condition. This grinder is currently connected to the lineshaft and operates when you turn the crank to move the shaft.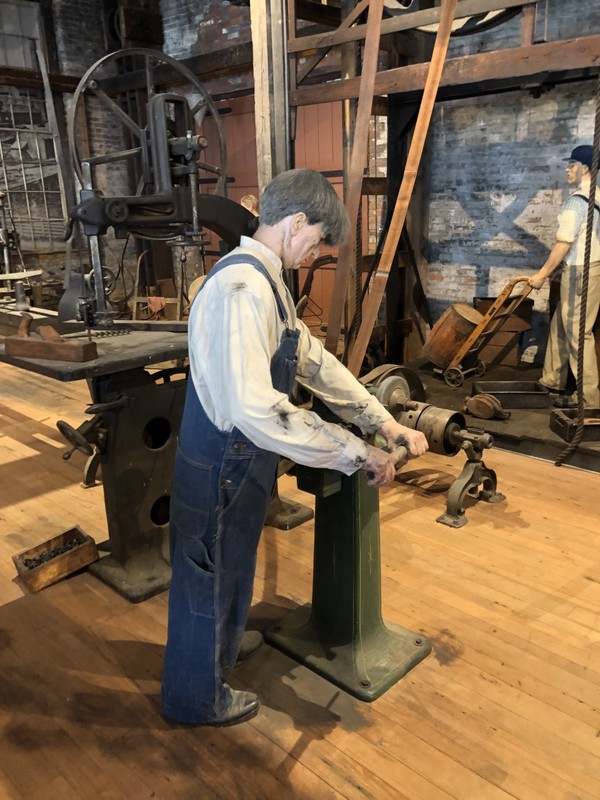 The large band saw could make precise cuts.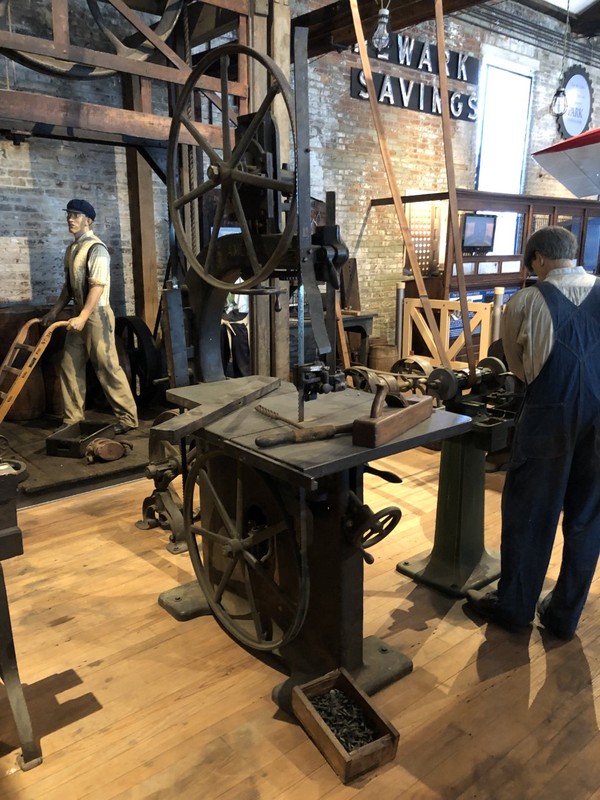 This freight elevator was operated by a large pulley system, seen above the opening.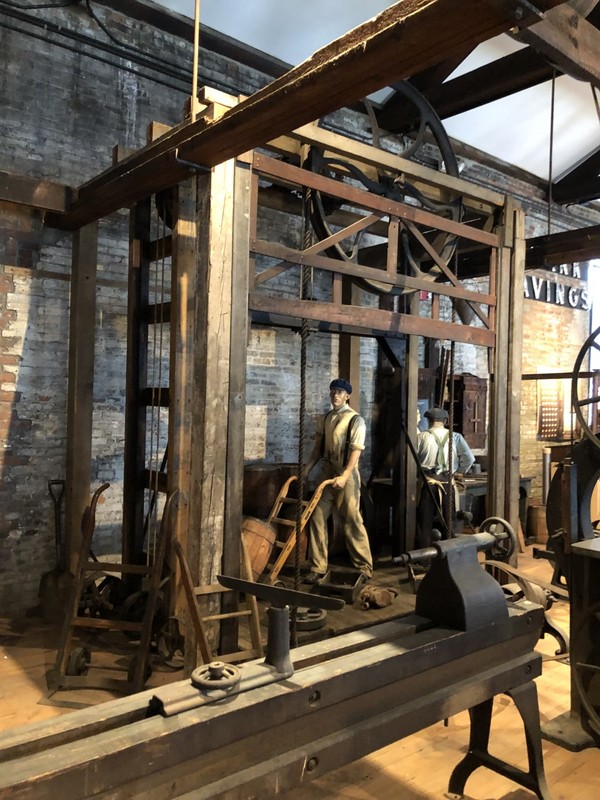 Backstory and Context
A variety of tools that are powered by the lineshaft can be seen within the area.
Drill Press: The drill press is a machine tool used to drill holes in various materials. Our drill press is belt-driven and includes its own set of idler and drive pulleys (also referred to as tight and loose pulleys) which allowed variable speed operation and the ability to disconnect the press when not in operation.
Band Saw: A band saw is a machine tool which uses a blade consisting of a continuous band of metal with teeth along one edge to cut various pieces. Our band saw was manufactured by the American Woodworking Machinery Company of Williamsport, Pennsylvania, and is believed to have been used in a Newark factory.
Tool Grinder: The grinder was used to sharpen a variety of hand tools. Our grinder, circa 1900, was manufactured by the J.C. Blount Company of Everett, Massachusetts.
Wood Planer: The planer smoothed the surface of raw lumber to allow wood to be precisely sized for construction. The planer in our museum, circa 1895, was manufactured by the J.A. Fay and Egan Company of Cincinnati, Ohio.
Freight Elevator: The freight elevator was used to haul heavy materials between floors of a factory. Our freight elevator, which is from around 1900, was manufactured by the Ohio Elevator and Machine Company in Columbus, Ohio. While it is not original to our building, it was used within a Newark factory.
Additional Information