Stephen Girard House (1796-1845)
Introduction
Within two weeks of arriving in Philadelphia in June 1776, French immigrant Stephen Girard rented a store on Water Street, the street that would be home to the future multi-millionaire for most of his life. After relocating during the British occupation of Philadelphia, Girard returned to Water Street, where he would have two long-term residences: one at 31 Water Street that he rented beginning in 1778 and one he later built at 23 Water Street in 1796 and lived in until his death in 1831. Over those years, Girard would amass a fortune in shipping, banking, and real estate that made him the richest American of his time. The 23 Water Street home, located on the block between Market and Arch Streets, included a five-story house with an attached two-story counting-house for business. Here Girard and his housekeepers provided for numerous young relatives and teenage apprentices and entertained business associates and French émigrés. By the mid-20th century, Girard's property and most the rest of Water Street had been torn down for construction of I-95. To view the spot where the house once stood, stroll along the Market Street pedestrian overpass and look north over the highway. Although the house is no longer extant, furniture and possessions from Stephen Girard's home can be seen at the Founder's Hall museum at Girard College.
Images
Print of Stephen Girard's house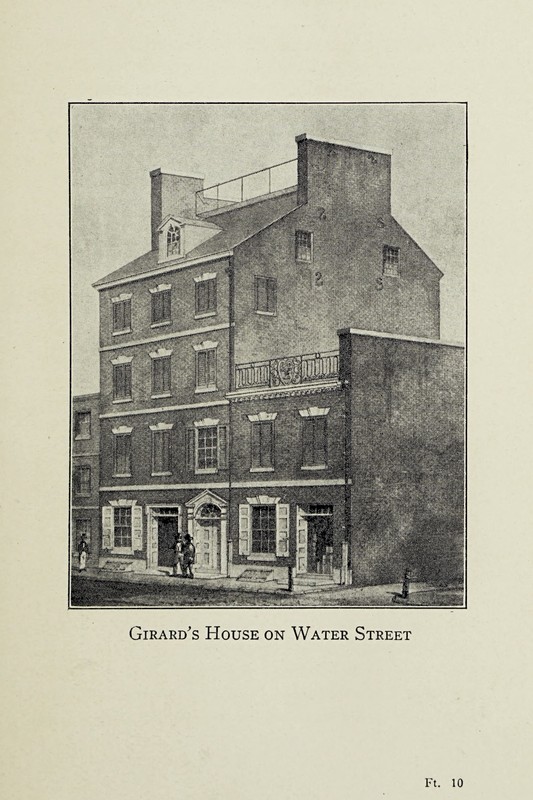 Parlor furnishings from Girard's house, installed at Founder's Hall museum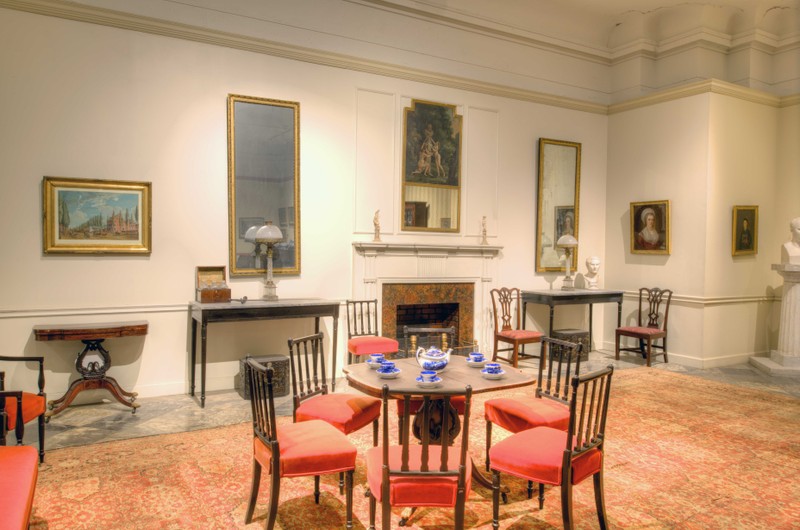 Bedroom furnishings from Girard's house, installed at Founder's Hall museum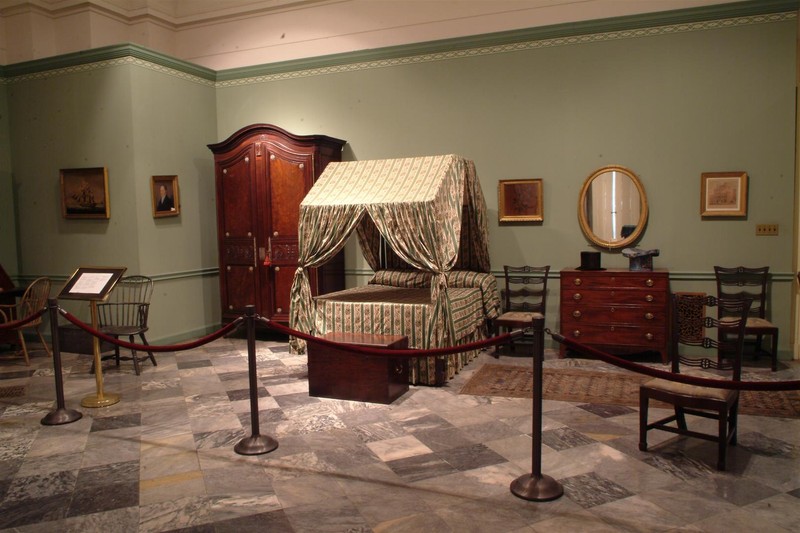 Backstory and Context
For the fifty-some years he called Philadelphia his home, French immigrant Stephen Girard (1750–1831) lived in residences along Water Street near the Delaware River waterfront. His first career was as a maritime merchant, hence basing himself within close proximity to the docks. Within two weeks of arriving in Philadelphia in June 1776, he had rented a store on Water Street, between Market and Arch. After relocating during the British occupation of Philadelphia, Girard returned to Water Street, and his first long-term residence was a building he rented on 31 North Water Street in 1778, which included a house above and a store below where he bought and sold goods wholesale. He lived in the house with servants and his wife, Mary Girard. When Mary was diagnosed with insanity in 1785 and later institutionalized, he took in his first mistress, Sally Bickham. 
By the mid-1790s, Girard had roughly $250,000 to his name and desired a larger building for his increasingly successful business operations. In 1794, Girard purchased a plot of ground across the street at 23 North Water Street, on the block between present-day Market Street and Arch Street. The entire structure, which included a residential building and his counting-house, was constructed during 1795. When it was completed by early 1796, Girard moved into his new home with the help of Sally and his servants. 
Water Street was a bustling hub of commercial activity during Girard's life. The streets were filthy, the environment rowdy, and the air foul-smelling. Yet for Girard's purposes, the house was optimally situated near the working docks. Girard had many vantage points from the higher stories of his residence to oversee his ships as they were preparing to set sail or returning from long voyages. Urgent news from his global agents about changing market prices or political upheaval interfering with business would be swiftly delivered to him after arriving at the harbor. Reflecting his strong sense of industry, the exterior and interior appearance of his dwelling was plain but boasted practicality and enterprise. His two-story public counting-house, where most of his maritime and commercial business took place, shared its left wall with the residential half of the property. While both had front entrances, the two facilities were connected with an internal door in-between for Girard's use. The five-story house included: a wine cellar below ground, Girard's private counting-house along with the kitchen and dining room on the first floor, the parlor and drawing rooms in the floor above, rooms for sleeping on the third floor, and servants' rooms on the top floor. It had a bathroom with running water and was heated with coal fireplaces.
Although Girard's wife Mary was institutionalized at Pennsylvania Hospital and they had no children, Girard's sizable city residence was actively occupied by other relatives, young apprentices, and domestic staff. Hannah, an enslaved Black woman that Girard had owned since 1783, followed him from No. 23 to No. 31 on Water Street and continued working in his household. The servants completed domestic duties around the residence under the supervision of his housekeeper. When Sally left shortly after she helped him move into the house, Girard hired Polly Kenton as his next housekeeper and mistress. Polly got settled into the house, gradually bringing along four sisters and two nieces who would all work for Girard or call the place their home. After the death of his brother John Girard, Stephen also took custody of John's three daughters. Young male apprentices would come and go throughout the years, learning under Girard's mentorship at his counting-house to qualify them to start their own careers.
Guests and visitors to the Girard residence were often French refugees, business partners, and the occasional party requesting a loan or charitable donation. Joseph Bonaparte, the ex-king of Spain who fled France after the defeat of his brother Napoleon Bonaparte, became a frequent face in the house while Girard advised him in financial and real estate matters. Other notable guests throughout the years included: Simon Bolivar's brother Vincent, who asked for aid to finance their revolution in South America; Field Marshal Count Grouchy, one of the first refugees of the French Revolution to seek out Girard; and Henri Dominique Lallemand, a former French general who later married one of Girard's nieces. Girard limited his social life to hosting small dinner parties where he invited such friends and distinguished French émigrés. On those Sunday afternoons after a full day of productivity and work, the Water Street dining table was generously lavished with delicious food and fine wines while the room filled with lively discussion about politics and business.
During her 31-year term as mistress of the house, Polly assumed managerial duties of overseeing the operation of the household, supervising the children that passed through the residence, acting as hostess when guests visited, and was in charge of interior design. After Polly Kenton retired and retreated to the countryside, her young niece Emeline Kenton briefly filled the housekeeper role. Emeline had spent most of her childhood growing up in Girard's home. Only a year later, Emeline got married and left the house. Jane Taylor, a middle-aged aunt of Emeline's husband, took over the housekeeping and caretaking for the aging Girard in 1828.
On December 26, 1831, 81-year-old Stephen Girard died in his Water Street home from flu and pneumonia. Four days later, a citywide funeral procession was held that began from his house and led to the Holy Trinity Church. His will freed Hannah and mandated that his servants be assisted in acquiring new employment. Girard left behind a grand fortune of $7.5 million dollars in money, property, and assets. His riches were mostly allocated to charitable purposes specified in his will, the most significant being an approximately $6 million dollar bequest for the construction and operation of a 1st-12th grade Philadelphia boarding school. Girard College, originally designated for poor white male orphans is still in operation today, serving financially-disadvantaged students. Girard's will also left his furniture and belongings to the school and they were displayed at the main building of Girard College almost as soon as it opened in 1848. 
With funding from Girard's will, the City of Philadelphia made improvements to Water Street and built a new street on the waterfront called Delaware Avenue. For a little over a decade, Girard's Water Street house was rented out, but it was eventually demolished in 1845. Rental warehouses were built on the plot of the former property to generate more funds for his will's charitable projects. By the 1960s, construction of the new Interstate 95 highway along the Delaware River forced the city to bulldoze these warehouses, along with the rest of the Water Street block near the waterfront. The former site of Girard's house now rests under the northbound I-95 highway lanes. 
To view the site where Girard's house once stood, walk up the Market Street pedestrian overpass between Market Street and Penn's Landing and look north over the highway. Although Girard's home no longer exists, its contents can still be seen today in the Founder's Hall museum at Girard College.
Sources
Gottlieb, Dylan. I-95, Encyclopedia of Greater Philadelphia. 2015. Accessed May 7th 2020. https://philadelphiaencyclopedia.org/archive/i-95/.
Jackson, Joseph. Market Street, Philadelphia: The Most Historic Highway in America, Its Merchants and Its Story. Philadelphia, PA. Patterson & White Co., 1918.
Kyriakodis, Harry. "Delaware River Waterfront Once A Hotspot For Millionaires." Hidden City Daily (Philadelphia) September 5th 2018. History sec. Accessed April 30th 2020. https://hiddencityphila.org/2018/09/delaware-river-waterfront-once-a-hotspot-for-millionaires/.
McMaster, John Bach. The Life and Times of Stephen Girard, Mariner and Merchant. Volume 1 and 2. Philadelphia, PA. J. B. Lippincott Company, 1918.
Raciti, James. Chapter 12 Farmer / Water Street House /More Politics, 1795–1830, Get to Know Stephen Girard. Accessed May 7th 2020. http://www.stephengirard.org/p/blog-page_60.html.
Simpson, Stephen. Biography of Stephen Girard, with His Will Affixed. Philadelphia, PA. T. L. Bonsal, 1832.
Wilson, George. Stephen Girard: The Life and Times of America's First Tycoon. Signpost Biography Series. Conshohocken, PA. Combined Publishing, 1995.
Image Sources
"Girard's House on Water Street," in Stephen Girard, Founder 1750-1831 (1923) by Cheesman Abiah Herrick, page 10. Image also found here: https://commons.wikimedia.org/wiki/File:Stephen_Girard%27s_House_on_Water_Street,_Philadelphia.jpg

Photo by Brian Kutner, provided by Founder's Hall, Girard College

Founder's Hall, Girard College

Additional Information