Olean Armory
Introduction
The Olean Armory was the primary basketball arena for the St. Bonaventure Bonnies from 1946-1966. The Olean Armory playing service was used by the US National Guard for storage during World War Two, and thus was unable to be used. From 1948-1961, St. Bonaventure was undefeated at home, winning a whopping 99 consecutive games. The 99 game win streak is good for second all-time in Men's Division I Basketball history.
Images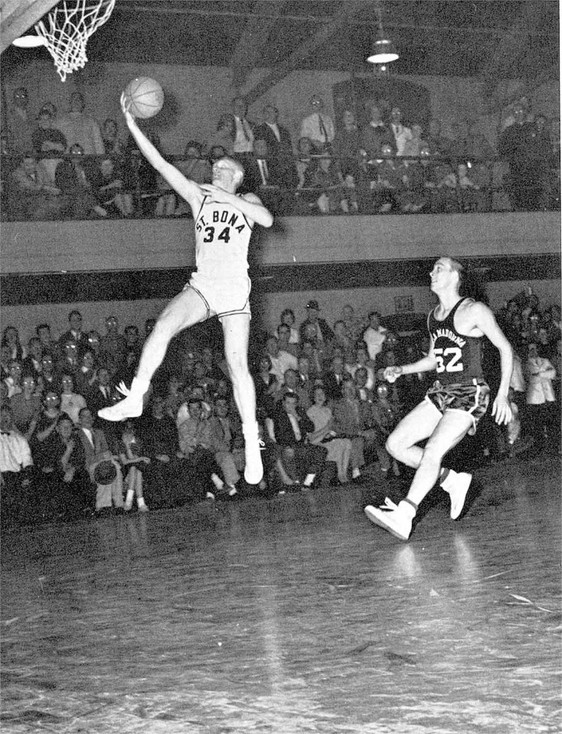 Backstory and Context
The Olean Armory, which replaced the Butler Gym, aka the"Armory" in 1946, after the end of the Second World War. The Olean Armory while doubling as a National Guard Post, also housed the home court for the St. Bonaventure Bonnies (then the Brown Indians), from 1946 to 1966, when the University Center (now known as the Reilly Center) opened up on the campus of St. Bonaventure. As one of the best home-court advantages in the country, the Armory did not witness a St. Bonaventure defeat from 1948-1961, when arch-rival Niagara upset the Stith brothers led Bonnies, 87-77. The arena was able to hold at least 2,200 spectators, although the conditions were cramped, and thus again there was a desire for a bigger venue that was both on campus and able to fit more spectators, comfortably.
Sources
Cave, R. (1961, March 6). ST. BONAVENTURE IS SECOND-BEST - Sports Illustrated Vault. Retrieved from https://vault.si.com/vault/1961/03/06/st-bonaventure-is-secondbest
50 years ago today, Bonnies' bid for 100 at Armory failed. (2011, February 25). Retrieved from http://www.oleantimesherald.com/sports/years-ago-today-bonnies-bid-for-at-armory-failed/article_20b3574e-40fa-11e0-9074-001cc4c002e0.html
Image Sources
St. Bonaventure University Archives