Perry-Payne Building
Introduction
The Perry-Payne Building opened its doors in 1889 as the tallest building between New York and Chicago. The use of iron in the building marks a time when Cleveland's commercial construction transitioned away from pure masonry to that of iron and steel. The building sits in Cleveland's historic warehouse district, an area that enjoyed decades of growth due to its ties to steamship traffic along Lake Erie and Ohio River as well as railway traffic that connected Cleveland to Chicago, New York, Baltimore, and St. Louis.
Images
Historic Perry-Payne Building in Cleveland (now: Perry Payne Apartments)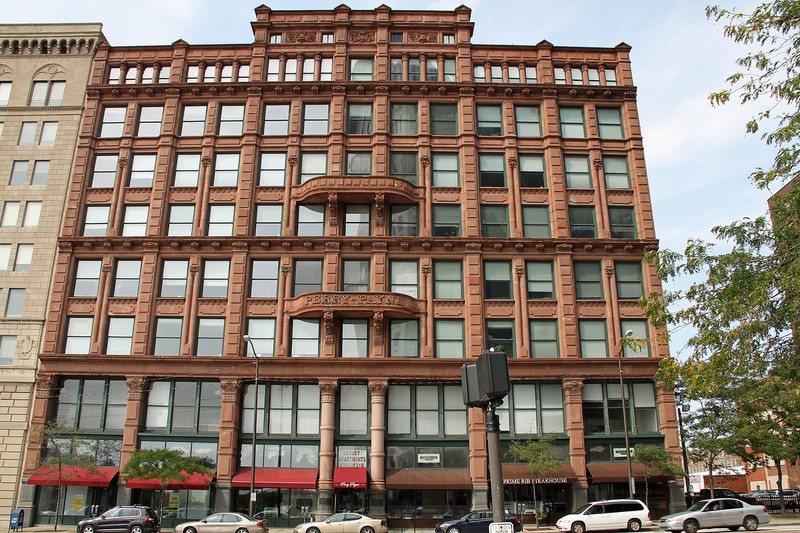 Backstory and Context
The Perry-Payne Building, located within Cleveland's historic warehouse, was built by Henry B. Payne in 1888-89. Payne made his fame and wealth as a prominent lawyer and railroad entrepreneur. The building names comes from Payne and his father-in-law, Nathan Perry, Jr. Shipping and iron-ore companies mainly occupied the office spaces within the building.
The Cleveland warehouse district emerged after the Civil War. The combination of steamship commerce on Lake Erie and the Ohio River, along with railroad traffic connecting Cleveland to several large cities such as New York, Chicago, and St. Louis, primarily led to Cleveland's significant post-war commercial and industrial growth. Cleveland 's development kept pace with Chicago, the epicenter of urban building technology.
The Perry-Payne building emerged at the climax of mason-style commercial construction prior to the rise of all-steel structural-framed skyscrapers in Cleveland. Local architects, Frank E. Cudell and John N. Richardson, slowly brought them into fashion with three of their Cleveland projects: The George Worthington Building (1882), Root & McBride-Bradley Building (1884), and the Perry-Payne in 1888-89. The incorporation of iron columns allowed the ratio of window area to support masonry increase in each successive structure. As well, progression can be noted by the existence of wooden floors in the first two buildings, whereas the Perry-Payne Building, with its more advanced exterior and interior cast-iron posts, supported tile and concrete flooring. 
When the Perry-Payne building opened its doors in 1889, it stood as the tallest structure between New York and Chicago. Today, it functions as a loft-style apartment building, converted during a 1994-95 rehabilitation project. Regardless of its purpose, it endures as a lasting reminder of the Industrial Revolution, the development of Cleveland and increased U.S. urbanization, and the evolution of commercial-building engineering and design; buildings grew taller and sturdier due to the transition from masonry to iron and steel. 
Sources
Encyclopedia of Cleveland History. "Perry-Payne Building." Case Western Reserve University. case.edu. Accessed May 12, 2020. https://case.edu/ech/articles/p/perry-payne-building.
National Parks Service. "Cleveland Warehouse District." A National Register of Historic Places Travel Itinerary: Ohio and Erie Canal National Heritage Corridor. nps.gov. Accessed May 12, 2020. https://www.nps.gov/nr/travel/ohioeriecanal/cle.htm
"Our Story." Perry Payne Apartment Complex. perrypayneapts.com. Accessed May 12, 2020. https://www.perrypayneapts.com/our-story.
Image Sources
By LeeG7144 - Own work, CC BY-SA 3.0, https://commons.wikimedia.org/w/index.php?curid=21433966

Additional Information