Battle of Dranesville Historical Marker
Introduction
The Battle of Dranesville was a winter skirmish between Union and Confederate forces early in the American Civil War. With their main forces camped out for the winter, Confederate General J.E.B. Stuart and Union General Edward Ord were in charge of large forage patrols that clashed near the town of Dranesville on December 20th, 1861. While relatively unimportant and small-scale compared to later battles, it was claimed by the Union as its first victory south of the Potomac.
Images
Sketch of the Battle of Dranesville from the January 11th, 1862 issue of Frank Leslie's Illustrated Newspaper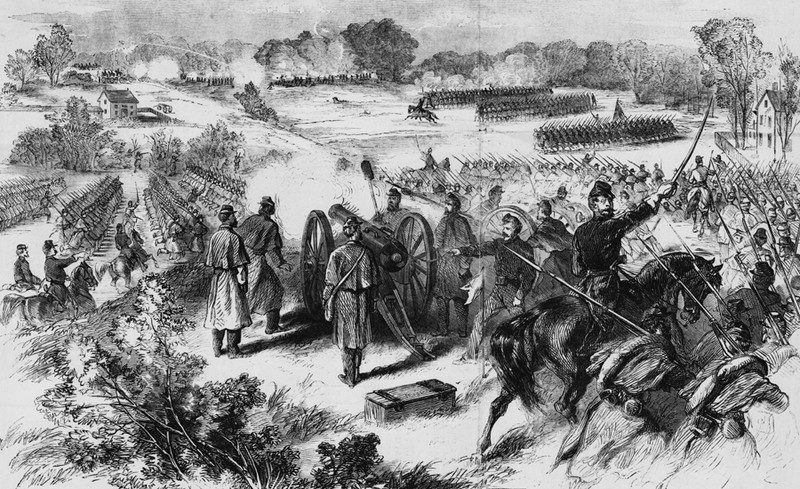 "Action at Dranesville" marker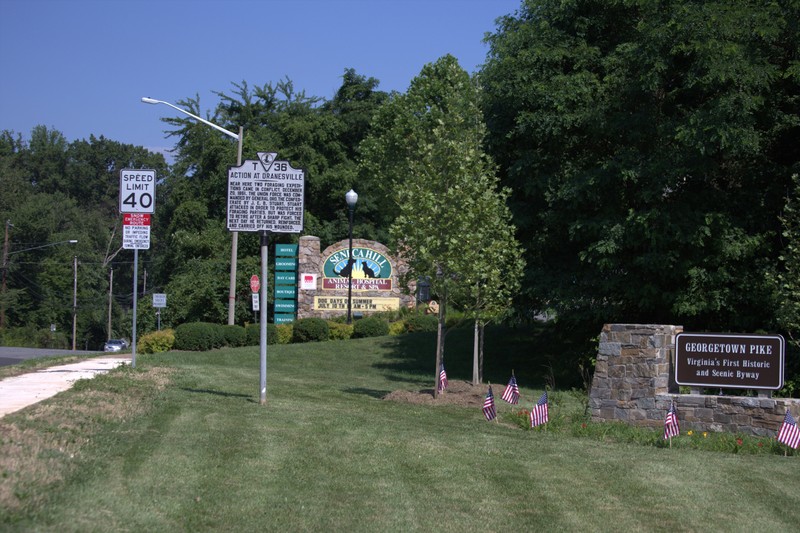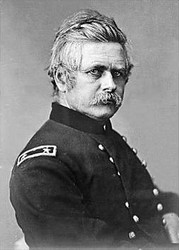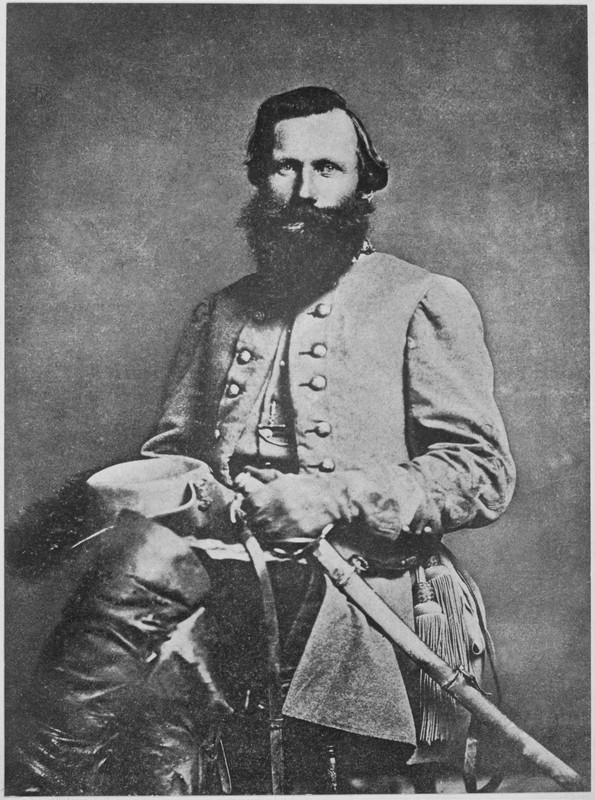 Map of the Battle of Dranesville by the US Army Corps of Engineers, 1875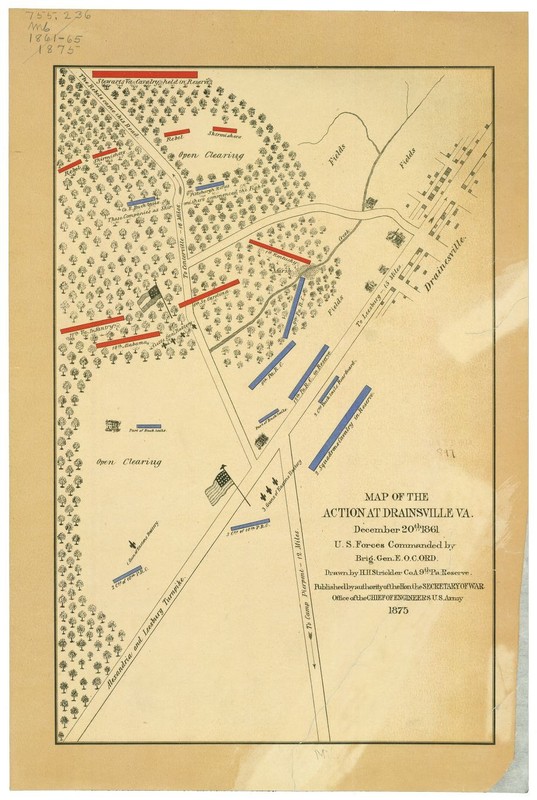 Backstory and Context
During the winter between 1861 and 1862, both the Union and Confederate armies had set up camps in Northern Virginia and intended to sit out the winter. This was common for armies of the time due to the complications of campaigning during the winter. However, neither side wanted to be ignorant of the enemy's actions and intentions, so small patrols were sent out keep pressure on the opposing force as well as forage for supplies. It was a common occurrence for opposing patrols to meet and engage in small skirmishes that had little impact on the war as a whole. One such clash took place on December 20th, 1861, near the town of Dranesville, Virginia.
Escorting a large Confederate forage patrol out from Centreville - the Confederate winter camp - was General J.E.B. Stuart with at least 1,750 men (including 250 cavalry troops and with four cannons and several wagons). His opposition that day would be Union General Edward O.C. Ord with around 3,000-5,000 men behind him, sent to hunt Confederate bands as well as forage for the federal camp. Ord's forces met Stuart's pickets, who quickly fled, in the town of Dranesville around noon. Both forces were surprised: Stuart believed that Ord was headed to attack the Confederate forage wagons, while Ord assumed Stuart had been sent to specifically intercept his troops. Both quickly brought the rest of their forces up to the Dranesville area and positioned them for battle. Ord posted his men with their center at the intersection of the Georgetown and Leesburg Pike, which was also located on a strategically vital hill. Stuart stationed his troops along the Centreville Pike and in the woods opposite the Union forces; he also ordered all the rebel forage wagons in the vicinity back to Centreville. As both sides moved into their positions, they began to exchange cannon fire. This continued until the Union artillery was able to destroy the Confederate battery. The Confederate forces also suffered from friendly fire as they continued to move through the woods and into their posts.
The conflict soon progressed into a series of small infantry battles and rifle volleys between federal and rebel troops. This continued for several hours until Stuart felt that he had had enough and pulled back around three in the afternoon; he also heard (accurately) that a large body of Union troops was headed to reinforce Ord. The tally at the end of the battle placed the Union casualties at 68-71 and the Confederates at either 194, according to Stuart's official report, or 230, according to other records. Although this was not a major battle, it gave the North a much needed victory in the early days of the war; it is said to have been the first time that Union troops met Confederate forces south of the Potomac and successfully drove them back. (Both sides claimed victory, however, since Stuart was also able to save his wagons.) The Union Secretary of War later wrote, "It is one of the bright spots that give assurance of the success of coming events."[4]
Sources
1) The Battle of Dranesville, The American Civil War. Accessed July 2nd 2020. https://www.mycivilwar.com/battles/611220.html.
2) Dranesville; Battles; Civil War; Learn, American Battlefield Trust. Accessed July 1st 2020. https://www.battlefields.org/learn/civil-war/battles/dranesville.
3) Hammond, William S. The Battle Of Dranesville, Va., Shotgun's Home of the American Civil War. March 25th 2005. Accessed July 2nd 2020. https://civilwarhome.com/dranesville.html.
4) Ruppenstein, Andrew. Swain, Craig. Jones, Devry Becker. Battle of Dranesville: "First Federal Victory South of the Potomac", HMdb.org. April 4th 2018. Accessed July 1st 2020. https://www.hmdb.org/m.asp?m=115854.
5) Stuart, J.E.B. December 20, 1861.---Engagement at Dranesville, Va.: Reports of Brig. Gen. J. E. B. Stuart, C. S. Army. Official Records of the War of the Rebellion. Shotgun's Home of the American Civil War. March 24th 2005. Accessed July 1st 2020. https://civilwarhome.com/stuartdranesvilleor.htm.
Image Sources
Public Domain - Wikimedia Commons (https://commons.wikimedia.org/wiki/File:Battle_of_Dranesville.png)

By J. J. Prats on HMdb.org (https://www.hmdb.org/PhotoFullSize.asp?PhotoID=354973)

Public Domain - Wikimedia Commons (https://commons.wikimedia.org/wiki/File:Eord.jpg)

Public Domain - Wikimedia Commons (https://commons.wikimedia.org/wiki/File:General_%22Jeb%22_Stuart,_Confederate_States_of_America,_1863,_1961_-_1986_-_NARA_-_518135.tif)

Public Domain - Library of Congress, Geography and Map Division (https://www.loc.gov/item/lva0000046/)

Additional Information