National Baseball Hall of Fame and Museum
Introduction
Located in Cooperstown, New York, the National Baseball Hall of Fame and Museum is one of the most popular tourist destinations in the United States, with 300,000 annual visitors. Established in in 1939, the Hall of Fame preserves and shares the history of the game of baseball and its impact on American culture. The Hall of Fame is the definitive repository, as well as a shrine that honor the men and women who have made outstanding contributions to America's national pastime.
Images
The Hall's motto is "Preserving History, Honoring Excellence, Connecting Generations."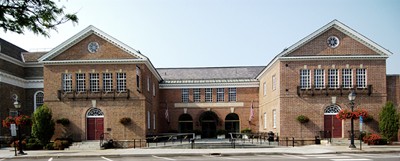 Backstory and Context
The Hall of Fame was founded in 1939 by Stephen Carlton Clark, the owner of a local hotel. who sought to bring tourists to a city whose economy had stagnated as a result of the Great Depression. The Hall made use of the claim made in 1905 that the game of baseball was developed in Cooperstown by Abner Doubleday. Although that claim was false, the establishment of the Hall of Fame helped to further that myth when in reality, the game of baseball developed over time. In contrast to basketball, no one person "invented" baseball, although many individuals who have been enshrined into the Hall of Fame exercised a profound impact upon the development of the game.
The first five men elected were Ty Cobb, Babe Ruth, Honus Wagner, Christy Mathewson and Walter Johnson, chosen in 1936; roughly 20 more were selected before the entire group was inducted at the Hall's 1939 opening. There are now over 300 people elected to the Hall of Fame, including players, managers, umpires, and team owners. Players are currently inducted into the Hall of Fame through election by either the Baseball Writers Association of America (or BBWAA), or the Veterans Committee.


The Hall of Fame is divided into three sections; a museum, the Hall of Fame, and a research library. Visitors can tour exhibits in the permanent gallery, as well as rotating exhibitions related to various themes. The Hall also offers educational lectures and other programs to enhance awareness, understanding and appreciation of the game for a diverse audience.
Additional Information