Jerrie Mock: First Woman to Fly Around the World
Introduction
Geraldine Fredritz Mock, better known as Jerrie, made history when she became the first woman to fly around the world in 1964. Born in Newark, Ohio, Jerrie was a 38-year-old mother of three living in Bexley at the time. Always wanting to take on a challenge and break the boundaries of what women could and couldn't do, Jerrie took on the challenge of flying around the globe by herself in a Cessna 180 named the Spirit of Columbus. She took off from Columbus, Ohio on March 19, 1964 and completed her historic flight in 29 days, 11 hours, and 59 minutes, arriving back in Columbus on April 17, 1964.
Images
Sit in a replica of the Spirit of Columbus, which has been fitted to look exactly like Jerrie's plane.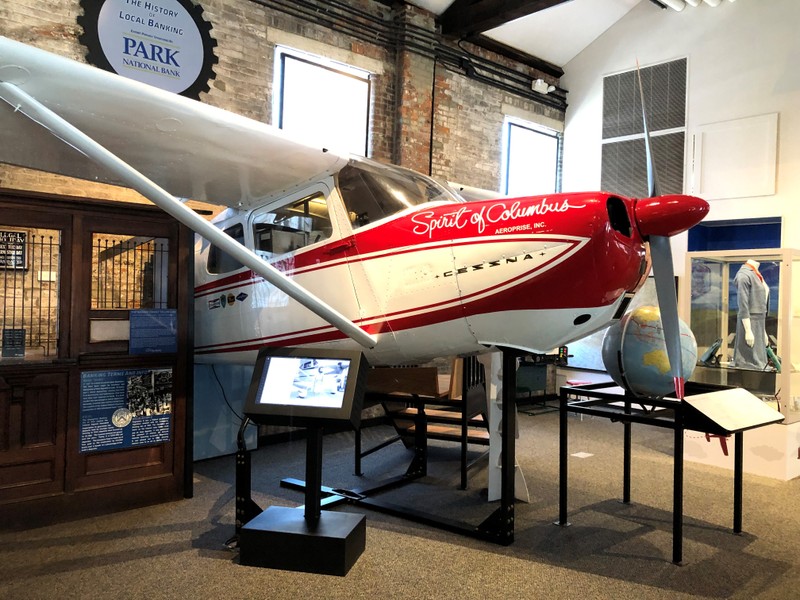 Jerrie Mock made 20 stops along her flight around the world.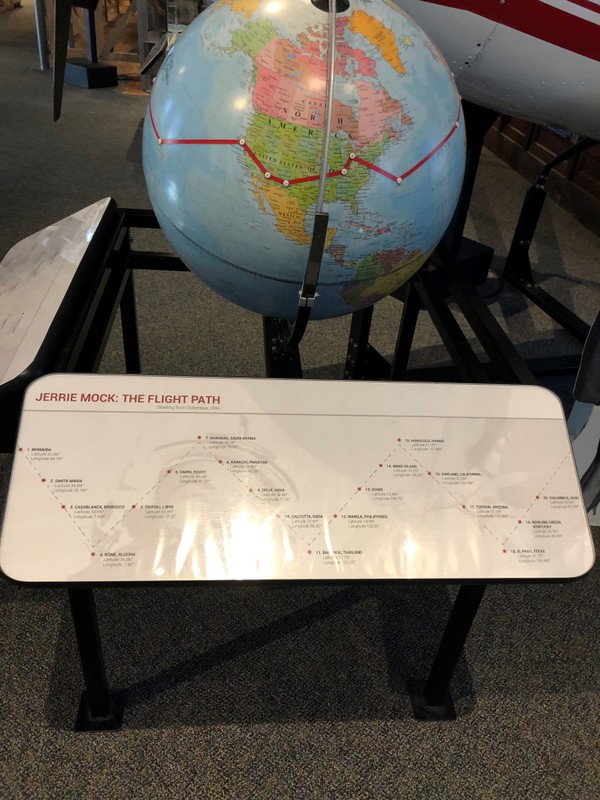 Climb aboard the Spirit of Columbus, but don't forget to take a picture with the pilot herself!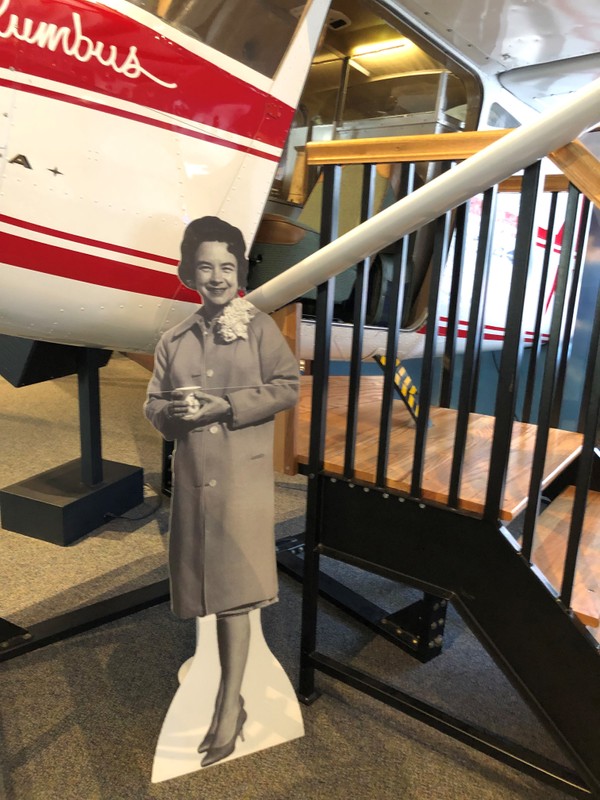 Jerrie battled against many expectations that were put upon her due to being a woman. Notably, she made her flight in a skirt, blouse, and high heels in order to appear respectable throughout her flight. Her original outfit, along with many medals, letters, books, and other memorabilia are on display.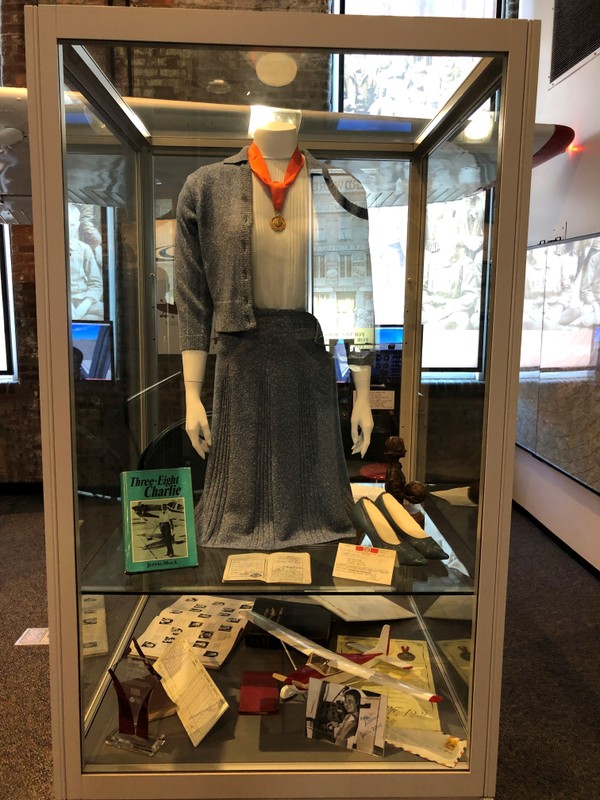 Backstory and Context
Jerrie Mock was born in Newark, Ohio in 1925. Even as a child, she was noted as wanting to do things that girls were told they weren't allowed to do. At age 7, Jerrie took her first ride in an airplane, taking off in a Ford TriMotor with her parents. Although the flight only lasted about fifteen minutes, it made a lifelong impact on her. In 1939, while at Newark High School, Jerrie took a preflight course. She was one of just two females in the course. After the first session, the other girl dropped out, leaving Jerrie as the only female in the course.
After high school, Jerrie attended the Ohio State University to study aeronautical engineering. She was the only woman in the program. During her time at OSU, Jerrie met her husband, got married, and had a child, ending her college career. In 1956, Jerrie rekindled her love of flight when she took her very first flying lesson with flight instructor Dick Carpenter in a Piper Tri-Pacer. After just 9 hours and 15 minutes of instruction, Jerrie took off on her very first solo flight. Two years later, in 1958, she earned her private pilot's license. She learned to navigate using landmarks, since pilots were not legally required to use radios at the time.
Jerrie Mock was a woman of many firsts. In 1961, she became the first woman licensed by the State of Ohio to manage an airport - Price Field in Columbus. She also helped fill in as manager at Logan County Airport in Lincoln, Illinois. That year, she expressed at the dinner table that she felt bored with her life as a housewife. Her husband, Russell, famously told her "Why don't you get in your plane and just fly around the world?" Although his remark wasn't intended as a literal instruction, Jerrie took his words to heart.
In 1962, Jerrie contacted the National Aeronautic Association to begin planning her flight and obtain the maps she needed. Through that process, she learned that no woman had ever completed the flight before. After spending a year planning her flight, Mock became sponsored by the Columbus Dispatch, planned out her route, got permission from the countries on her course, and obtained observers and timers appointed by the NAA.
Jerrie would be making her flight in a 1953 Cessna 180 Skywagon called the Spirit of Columbus. The small plane needed some alterations to be able to make the flight, including a new Continental 225 horsepower engine, a long-range HF radio, autopilot, and three extra fuel tanks which took the place of the passenger seats in the plane.
With much anticipation, the day for Jerrie's flight finally arrived on March 19, 1964. She took off from Port Columbus, now called John Glenn International Airport, in Columbus at 9:31 a.m. During her flight, Jerrie made 20 stops in countries around the world. She encountered radio problems and experienced engine troubles along the way. Despite the setbacks, Jerrie landed back at Columbus on April 17, 1964.
Among the many awards she earned were the Federal Aviation Agency Gold Medal for Exceptional Service, the Ohio Governor's Award, the Louis Bleriot Silver Medal, Amelia Earhart Memorial Award, American Institute of Aeronautics and Astronautics Distinguished Service Award, and many more. Jerrie was given the FAA's Gold Medal for Exceptional Service by President Lyndon B. Johnson.
Additional Information