John H. Decker House
Introduction
In 1888, John Decker built this home on two lots. It is in the Second Empire style, marked by a mansard roof with fish scale shaped slates. The original roof had an iron cresting. Brick corbeling was used as decoration around the roof and used as trim on either side of the lintels at the top of each window. The home also had intricate tinwork, which served as both a unique touch and advertisement for Decker's business, The Ohio Tin and Copper Company. Shown on an early map, there was also a summer kitchen present on the property. This was moved to 1309 Douglass Parkway by 1902.
Images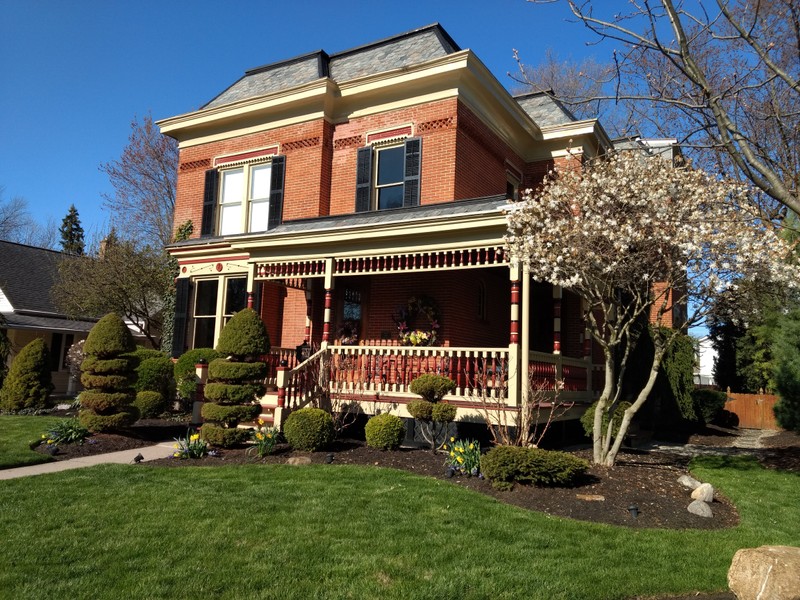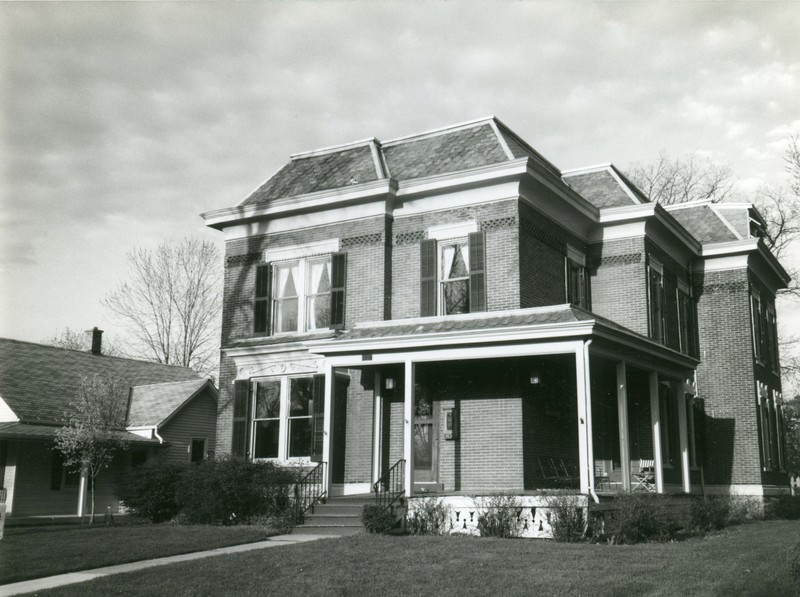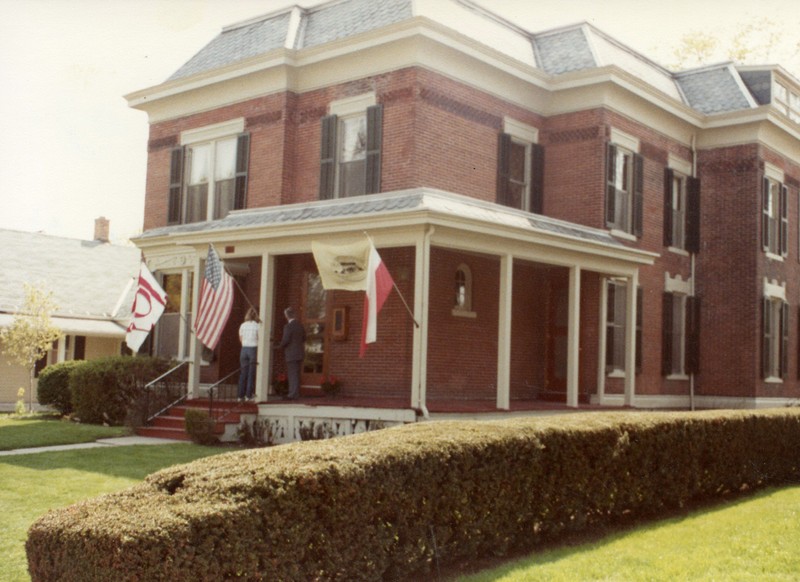 Backstory and Context
John H. Decker was born on August 9, 1848 to John and Sarah Decker. He married Anna McManness on January 27, 1876 in Findlay. Anna was born in 1855 to John and Hane (Stubbs) McManness. Together John Decker and Anna has three children: Lemuel, Todd, and Ina (Apger). John was a prolific businessman, who dealt in many trades including pharmaceuticals with Samuel and Jacob M. Huber. He also was involved with the Indiana, Bloomington, and Western Railway. In the Argyle Block, John was involved with the Becker and Critten Hardware store. He served as deputy sheriff under Lemuel McMannes, who was his brother-in-law.
Amongst his many other enterprises, John was interested in exploring the gas and oil industry that Findlay is famous for. John, along with Ulysses Stringfellow and eight other people from the community entered into an agreement to prospect for petroleum, natural gas, and other minerals. The company incorporated with a capital of $5,000. Once his health start failing, John and Anna moved to Carson, Virginia and purchased a farm. John passed away on December 19, 1915 and Anna passed in July 1924.
On September 9, 1911, the home was sold to Charles and Cora Edwards. Charles was born to William and Katherine (Hoch) Edwards. He married Cora Grafton, who was the daughter of William B. and Eliza Jane (Phigree) Grafton. The Graftons moved to Findlay during the gas and oil boom. Charles and Cora had two children named William K. and Josephine Edwards. Charles was part of the retail shoe business until he was employed by The National Lime and Stone Company in the sales department. Charles passed in July 29, 1943 and Cora passed in January 18,1955.
Thomas J. and Jean Trout purchased the home in 1954 for $19,000. Thomas was born to George W. and Ruth (Schwartz) Trout. He took over the family business Trout Furniture Company at 508 South Main Street when his father retired. Tom married Jean Schlosser and they had three children: Thomas, Duncan, and Peter. There was a barn on the property, and it burned down while the Trouts owned the property. They moved to Myrtle Beach, South Carolina in 1973. Tom passed away on May 28, 1992 and Jean passed on January 13, 2003.
Allen Urban bought the home on August 1, 1973. He then sold it to Lewis and Sally Reynolds on August 18, 1974. They sold the home to James and Barbara Pelowski on August 18, 1980. Under their ownership, the home was featured on the 1984 Findlay Historic Homes Tour. Samuel and Sue Elle Magruder purchased the home on July 29, 1986, who then sold to Lewis and Linda Jones. On November 18, 1992 Jeffrey and Laurie Collins bought the home. They remodeled the kitchen and removed a large cistern from the third floor. Current owners, Jeff Gertz and his wife Melissa, purchased the home on October 22, 2002. They hosted the 2003 Victorian Christmas Dinner and were featured on the 2006 Findlay Historic Homes Tour.
Sources
Paul, Rosalinda and Pat Bauman. Families and Facades: The Architecture of Findlay's Historic South main Street and the Families Who Lived There. Allegra Print & Imaging, 2006.
Image Sources
Hancock Historical Museum Archives

Hancock Historical Museum Archives

Hancock Historical Museum Archives