Fallingwater (Frank Lloyd Wright House)
Introduction
The Kaufmann Residence, more famously known as Fallingwater, is a house located in Fayette County, PA. The house was designed, in 1936, by world renowned architect Frank Lloyd Wright who was commissioned by Edgar Kaufmann Sr. Kaufmann was a wealthy businessman who was the owner and founder of Kaufmann Department stores in Pennsylvania. The house, with its sleek horizontal and vertical lines, was completed in 1939. It was later (1963) donated to the Western Pennsylvania Conservancy by Edgar Kaufman Jr. The Conservancy still owns and operates the home.
Images
Fallingwater taken from its most popular perspective.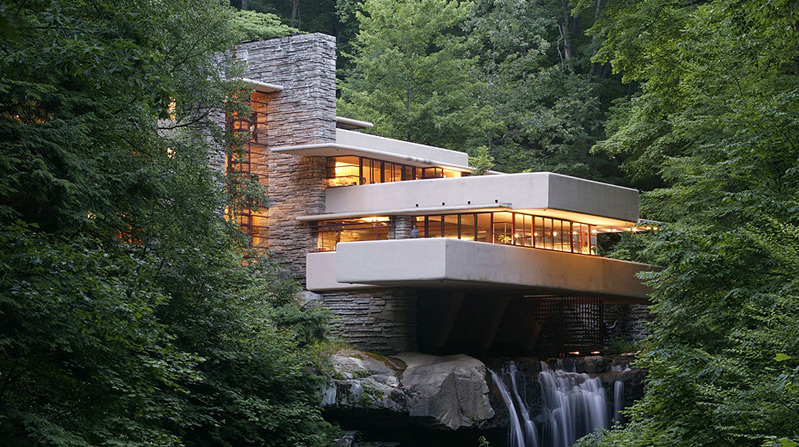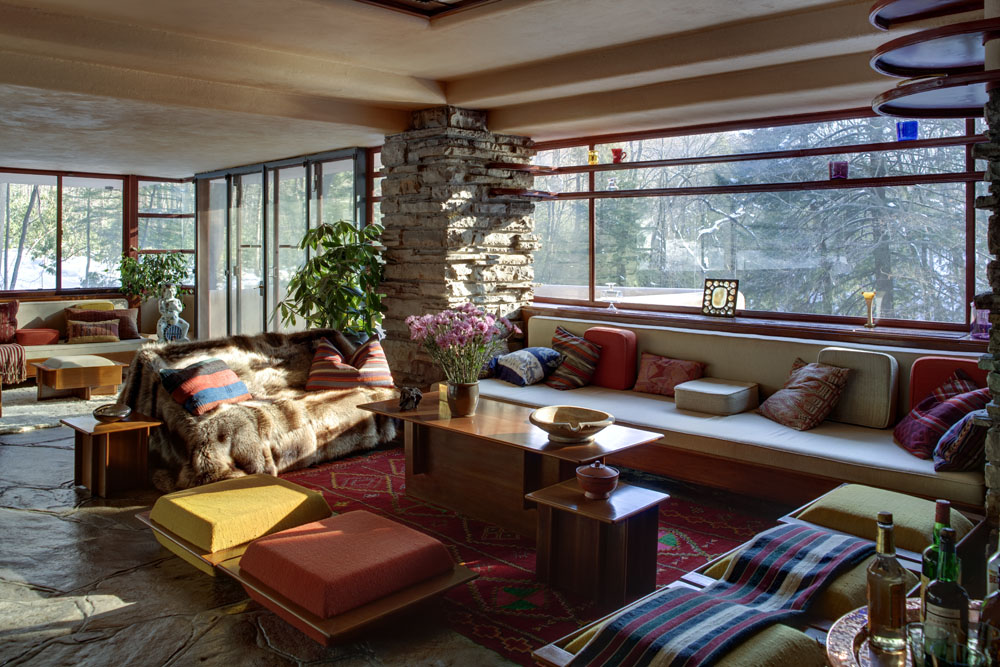 Small library and reading area within Fallingwater.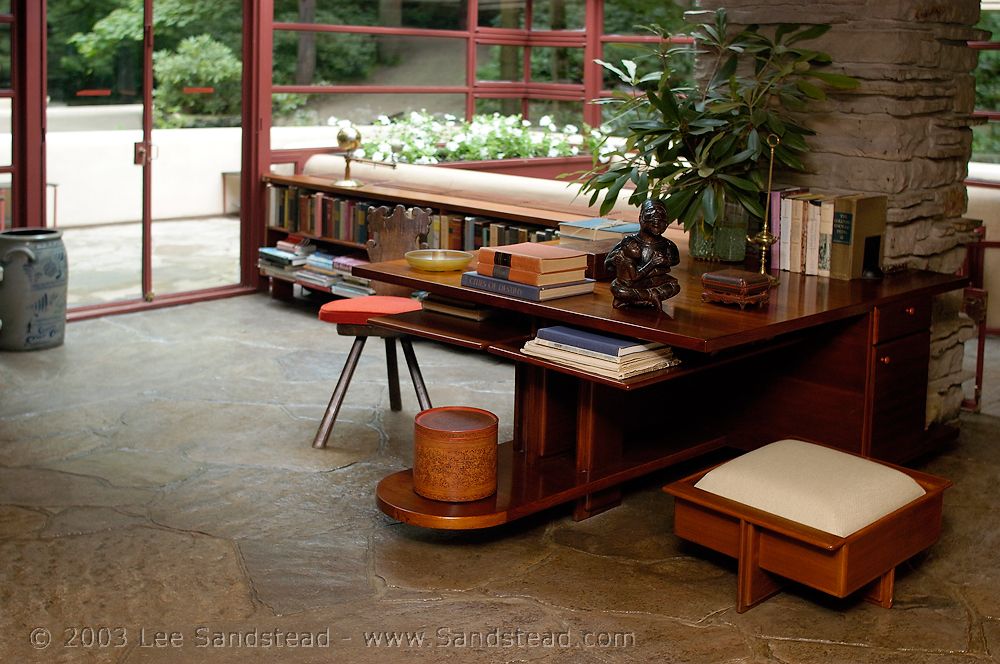 Fallingwater blending into the surrounding landscape.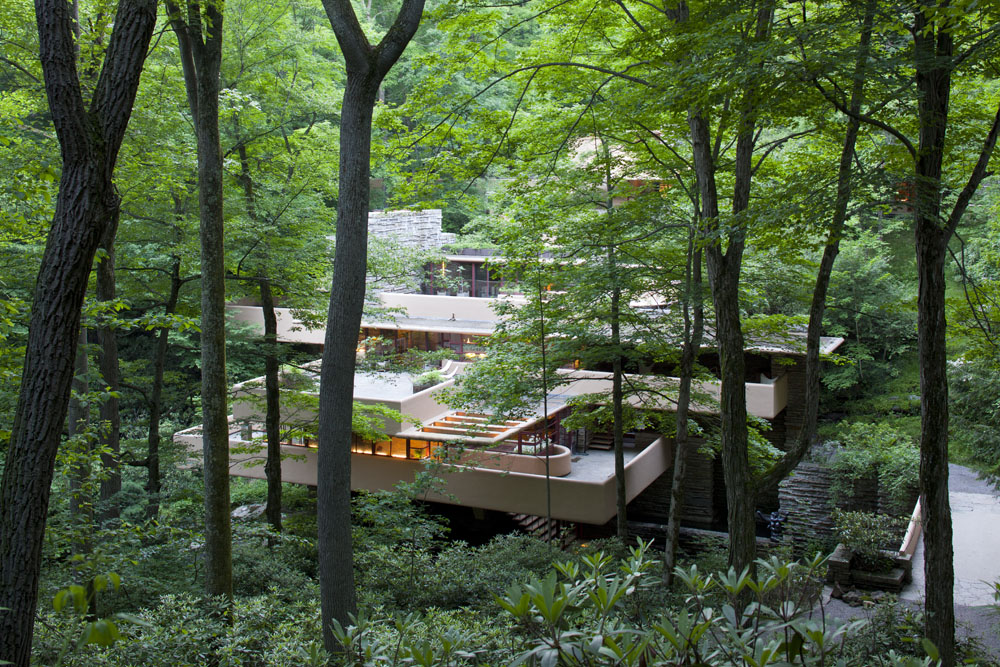 In 1982, the United States Postal Service issued stamps that focused on notable architectural works. The series, issued in Washington, DC, included Frank Lloyd Wright's Fallingwater.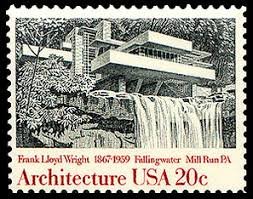 Backstory and Context
Kaufmann contacted Wright to build a house near a waterfall on Bear Run. Kaufmann was under the impression that the house would sit below the waterfall so it would be part of the scenery. Wright had other plans. In his design that he made in the two hours before the proposal, he drew the house to be sitting ON the waterfall. Which means the waterfall would run under the house. At first, Kaufmann was not too keen on the idea, but finally warmed up enough for the plan to move forward. Wright faced many trials when building the house such as how were he was going to make a bank of a waterfall support a house and its inhabitants. He used reinforced concrete and steel to provide the needed support.

The Kaufmann family used the home as a weekend getaway between the years of 1937-1963. The house boasts priceless works of art by artists like Picasso as well as other notable artists. In 1964, it was opened to the public as a museum and since then, Fallingwater has seen over 5 million people walk through. Time magazine considers Fallingwater to be Frank Lloyd Wright's "most beautiful job;" and is one of the top 28 places to see before you die as released by Smithsonian Life. Fallingwater is listed on the U.S. National Register of Historic Places (1974) as well as U.S. National Historic Landmark (1966).
Sources
Wiebe, Charles. "Frank Lloyd Wright, Fallingwater." Khan Academy. 2014. Accessed December 7, 2016. https://www.khanacademy.org/humanities/art-1010/architecture-20c/a/frank-lloyd-wright-fallingwater
"Fallingwater, Frank Lloyd Wright's Masterpiece, Restored with Help from a Save America's Treasures Grant." American Architectural Foundation. 1999. Accessed December 7, 2016. http://www.archfoundation.org/2013/11/fallingwater-frank-lloyd-wrights-architectural-masterpiece-res...
Salant, Katherine. "Fallingwater, Built on Brave Choices and Still Unconventional." Washington-Post. September 8, 2007. Accessed December 7, 2016. http://www.washingtonpost.com/wp-dyn/content/article/2007/09/07/AR2007090701223.html
Additional Information