The Stanley Hotel
Introduction
The Stanley Hotel was built in 1909 by Freelan Oscar Stanley, the influential industrialist who is best known for the Stanley Steamer automobile. This luxurious hotel catered to the rich, famous, and powerful throughout the 20th century. While the hotel was only open in the summer months in the first half of the 20th century, it is now a year-round resort.
Images
Freelan Oscar Stanley moved to the area in the early 1900s at the recommendation of his physician and constructed this hotel.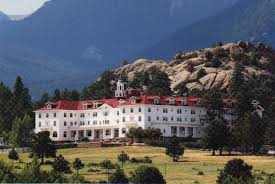 Backstory and Context
F.O. Stanley suffered from tuberculosis and moved to the area upon the suggestion from his doctor. He and his wife Flora soon fell in love with the region after seeing that his health had greatly improved. The couple decided to take up permanent residence as well as invest in the area by building a hotel on land they purchased from the British Earl of Dunraven. Dunraven was a motivated seller after local residents ran him away after he announced plans to create a private hunting reserve and a second venture that angered local landowners. The hotel was originally only open in summer and had no heat. However, the hotel offered the latest amenities as well as electricity and telephones.
The Stanley Hotel saw many famous guests and even served as a summer vacation home to many famous of the celebrities of the era including RMS Titanic survivor Margaret Brown, John Philip Sousa, and Theodore Roosevelt. Stephen King was also a guest and his most famous book, The Shining, was influenced by his time at the hotel.

Additional Information