Dorothy Mae Richardson Historical Marker
Introduction
Put in place on the corner of Jacksonia and Arch street on the North Side of Pittsburgh, Pennsylvania on October 16, 2019 was the historical monument for Dorothy Mae Richardson. The monument is in direct memory of Ms. Richardson as it begins with the years the she was born in and passed away. It is followed by a brief recap of all she did for the community, such as founding what became NeighborWorks America, which has helped thousands of Americans keep their homes while also updating the construction of neighborhoods nationwide. Throughout the 1960's and 70's, Dorothy Mae Richardson was one of the most influential and important people in the city of Pittsburgh, and her memory will live on through her historical monument, located by a public intersection, which is open to anyone who chooses to visit the North Side of Pittsburgh at any time of the year.
Images
Photo of the Dorothy Mae Richardson Historical Marker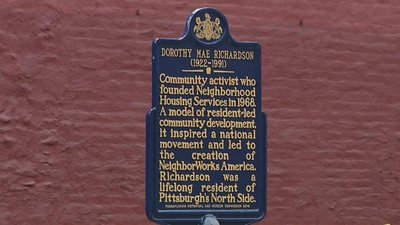 Photo of Dorothy Mae Richardson during her first NeighborWorks conference.
Backstory and Context
On October 17, 1921, Dorothy Mae Richardson was born to parents Ralph and Mary Work, in Ft. Morgan, Colorado, before soon moving to Pittsburgh Pa, close to where her father had grown up. In June of 1940, Richardson graduated from Allegheny High School, in Pittsburgh Pa. On January 7, 1950, Dorothy Mae and her husband Donald had their first child, Rex Irvin Richardson. Ms. Richardson later organized a group that worked to preserve the existing housing in the North side of the city, as well as creating opportunities for existing renters to become homeowners. Dorothy Mae Richardson had always been concerned for public well being, but in the early 1960's, she had really began taking activism seriously. Her priorities at the time were for financial institutions to help the city either clean up certain areas, or even completely renovate and rebuild existing buildings. At the time, the plans for the city were to bulldoze the entire neighborhood, and either create project housing or new housing and condos.
Throughout the late 1960's and early 1970's, several actions were made in order to implement the ideas of Ms. Richardson not just in the North Side of Pittsburgh, but throughout the city as a whole. In 1968, Richardson led her central north side neighbors to stand up against the city, with the intentions of rebuilding and renovating existing homes, as opposed to demolition. Her hard work resulted in generous funding from sixteen financial institutions, which allowed her to act and soon form Pittsburgh's Neighborhood Housing Service (NHS). Shortly after the Neighborhood Housing Service began in Pittsburgh, the formation of the Federal Home Loans Bank took place, which ended up being recognized nationwide
. When the Presidential administration became aware of the accomplishments Ms. Richardson has achieved in Pittsburgh, they invited her for a meeting in Washington, DC, which ultimately led to the founding of the now National housing service called NeigborWorks America. The Urban Reinvestment Task Force, led by Bill Whiteside from the Washington D.C area, used Ms. Richardson's model, expanding the work beyond Pittsburgh to serve more cities. "By 1976, the task force had 14 staff members, and there are NeighborWorks organizations (then called Neighborhood Housing Services) in 45 cities." By 1980, NeighborWorks organizations were now operating in 126 cities. "The organizations began renovating distressed apartment buildings and promoting home ownership among families of modest means."
On April 28, 1991, Dorothy Mae Richardson suffered from kidney failure which unfortunately Led to an early death at the age of 68. The legacy of Dorothy Mae Richardson has been far from forgotten, especially in the city of Pittsburgh. Thanks to Ms. Richardson, Pittsburgh housing is much better taken care of, and her name will forever be a part of the city. NeighborWorks established the Dorothy Richardson Award in 1992 to honor extraordinary resident leaders. "There are now more than 240 NeighborWorks organizations operating in urban, suburban and rural communities in all 50 states, the District of Columbia and Puerto Rico." NeighborWorks has provided tremendous help to Americans during times of great need. For example, they aided hurricane Katrina victims, as well as victims of foreclosures during the housing market collapse in 2008. None of this could be Possible without Dorothy Mae Richardson, and her legacy will live on forever.
           Dorothy Mae Richardson had a significant impact on the North Side community, being that all her works originated from there, as well as it being her hometown. Because of this impact, as well as North Side being Ms. Richardson home, this historical marker was wisely placed where it mattered most. She didn't specifically grow up on Arch or Jacksonia street, but this community as a whole benefited from the courageous works of Dorothy Mae Richardson.
Sources
"Donald Clare Richardson." geni_family_tree, 30 June 2018, www.geni.com/people/Donald-Richardson/6000000007819114488?through=6000000007818951611.
"Dorothy Mae Richardson Historical Marker." Historical Marker, 2 Jan. 2020, www.hmdb.org/m.asp?m=141861.
"Dorothy Mae Richardson." geni_family_tree, 14 Dec. 2014, www.geni.com/people/Dorothy-Richardson/6000000007818532212.
"Dorothy Mae Richardson." Wikipedia, Wikimedia Foundation, 17 Mar. 2020, en.wikipedia.org/wiki/Dorothy_Mae_Richardson.
"History." Our History - NeighborWorks America, neighborworks.org/About-Us/What-We-Do/History.
"Mary M Work." geni_family_tree, 14 Dec. 2014, www.geni.com/people/Mary-Work/6000000007818197831?through=6000000007805387447.
"Ralph Allison Work." geni_family_tree, 14 Dec. 2014, www.geni.com/people/Ralph-Work/6000000007805387447.
"Rex Irvin Richardson." geni_family_tree, 14 Dec. 2014, www.geni.com/people/Rex-Richardson/6000000007818951611.
"Departments." AllGov, www.allgov.com/departments/independent-agencies/neighborworks-america?agencyid=7447.
"NeighborWorks America." Wikipedia, Wikimedia Foundation, 22 Apr. 2020, en.wikipedia.org/wiki/NeighborWorks_America.
Image Sources
"Dorothy Mae Richardson Historical Marker." Historical Marker, 2 Jan. 2020, www.hmdb.org/m.asp?m=141861

https://www.youtube.com/watch?v=pjSzqC2CtQI

Additional Information