Strawn Hall (Opera House), 1858-60
Introduction
The lot that the Strawn Opera House sits on was bought July 1858 for $225.00.and the building was built in 1861 Many Famous people came to Jacksonville, including Mark Twain on February 1, 1869, and Oscar Wilde on March 7. 1882.
Images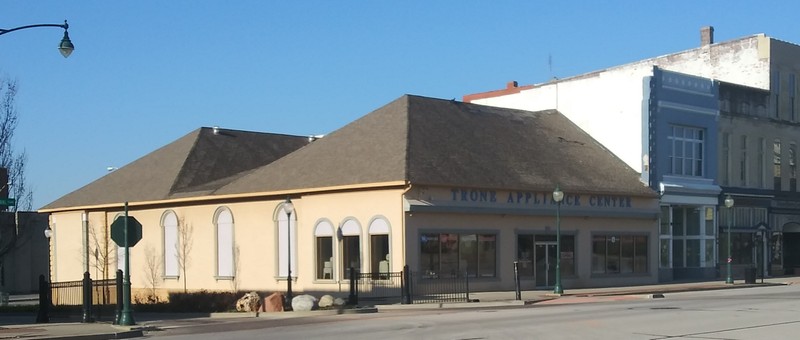 Strawn Hall, unknown year photographer A.W. Cadman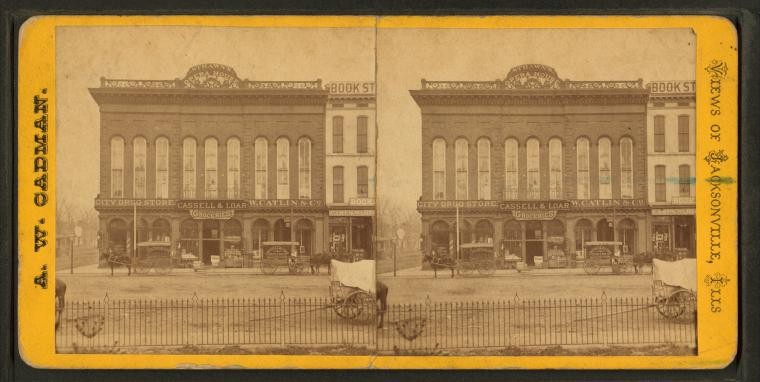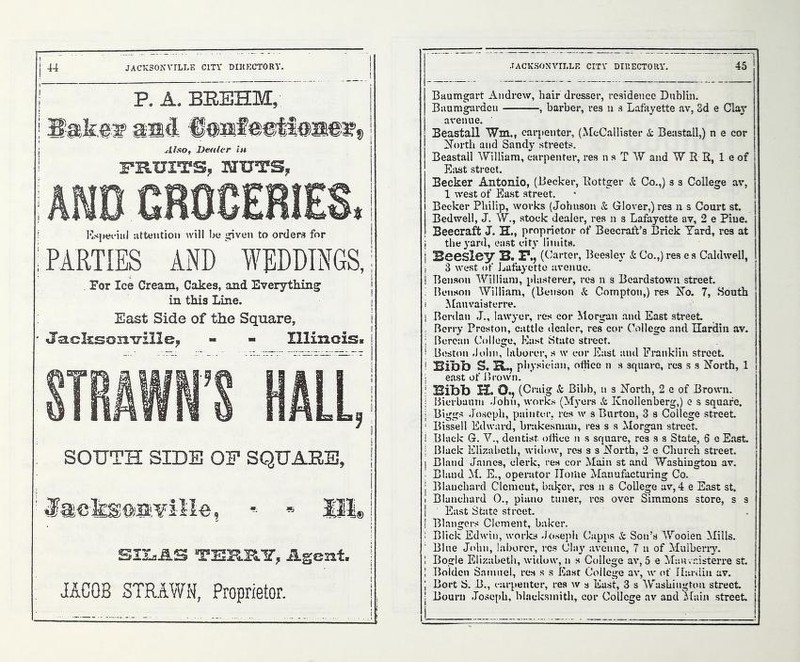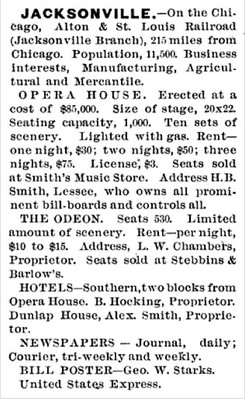 Backstory and Context
Laughter filled Strawn's Hall as a 33-year-old journalist and humorist entertained a large audience with stories about his travels abroad.
Illinois College's Phi Alpha Literary Society brought Mark Twain to Jacksonville for an evening performance on Feb. 1, 1869, during which he talked about "The American Vandal Abroad."
This is believed to be the only time Samuel Langhorne Clemens, whose pen name was "Mark Twain," ever set foot in the "Athens of the West."
Twain's appearance in Jacksonville was but one of 42 visits he made to towns and cities in eight Eastern and Midwestern states between November 1868 and March 1869, according to "Mark Twain Speaking," a 1976 book edited by Paul Fatout. This first lecture tour by Twain, which featured material he included in his first major book, "The Innocents Abroad," published in 1869, gained him some notoriety. A reporter for The Jacksonville Weekly Sentinel gave the following account of Twain's talk: "It was understood that the lecture would be quaint and humorous. Yet some of the passages were exceedingly fine, while in the main, the quaint and delicate witticisms, abounding throughout the lecture, kept the gravest of the audience almost constantly 'on the broad grin,' in spite of themselves. Mark is certainly destined to make a 'mark' for himself in his specialty."
When Twain died in 1910, veteran Jacksonville journalist Sammy Nichols recalled the famous writer's 1869 visit with a story of his own. Nichols was a member of Phi Alpha and had helped arrange Twain's Jacksonville lecture. Phi Alpha scheduled several well-known speakers in the 1800s, and money raised from the lectures was used to buy books for the literary society's library.
Twain "had a good house and his dry humor, often spoken in a drawling tone, proved acceptable to the audience, and all went away pleased," Nichols wrote. "The money was counted out, and I sought Mr. Clemens, who said the settlement could be made at the Dunlap House, where the speaker was staying.
"During his stay in the city he had made the acquaintance of a few of the older members of [Phi Alpha], among them W.H. Barnes, for whom the distinguished gentleman took quite a liking," Nichols wrote. "They played a few games of billiards during the afternoon and had to stop in the midst of one and go to the hall, but they came together after the lecture and with several members of the Phi Alpha Society started for the hotel. A short time was spent in conversation and I placed the price of the lecture, about $85, in a roll and handed it to Mr. Clemens, asking him to count it.
"'You've counted it, haven't you?'" he asked. "'Yes sir.' 'Then it's all right' was the response, and he placed the money in his pocket, remarking that when he accumulated a good-sized sum he bought a draft and sent it to his home in San Francisco," Nichols wrote.
"The game of billiards was then resumed, and he and Mr. Barnes played awhile and then all retired with pleasant recollections of the man then distinguished and to become more so."
Twain was remembered by his IC friends and elected an honorary member of Phi Alpha.
Twain also has an indirect connection to Jacksonville. The Rev. Thomas K. Beecher, an 1843 graduate of IC, performed Twain's wedding to Olivia Langdon in Elmira, New York, in 1870. Thomas Beecher was a younger brother of Edward Beecher, IC's first president.
Sources
Greg Olson, golson@s24533.p831.sites.pressdns.com Published 3:01 am CST, Monday, February 20, 2017
Image Sources
author

https://digitalcollections.nypl.org/items/510d47e0-5a4a-a3d9-e040-e00a18064a99

Jacksonville City Directory, 1868-69

Henry C. Miner's American Dramatic Directory for the Season of 1887-'88: