Moran Square
Introduction
Moran Square is home to a striking granite building, long a home to shops and apartments. It is also where you will find Fitchburg's Spanish-American war monument, called "The Hiker", by renowned Boston artist Theo Alice Ruggles Kitson, first created in 1906. It is also home to an original Worcester Car diner, the Moran Square diner. Nearby, you will find a new portrait mural honoring Fitchburg industrialist, Iver Johnson.
Images
Kitson's "The Hiker" in Moran Square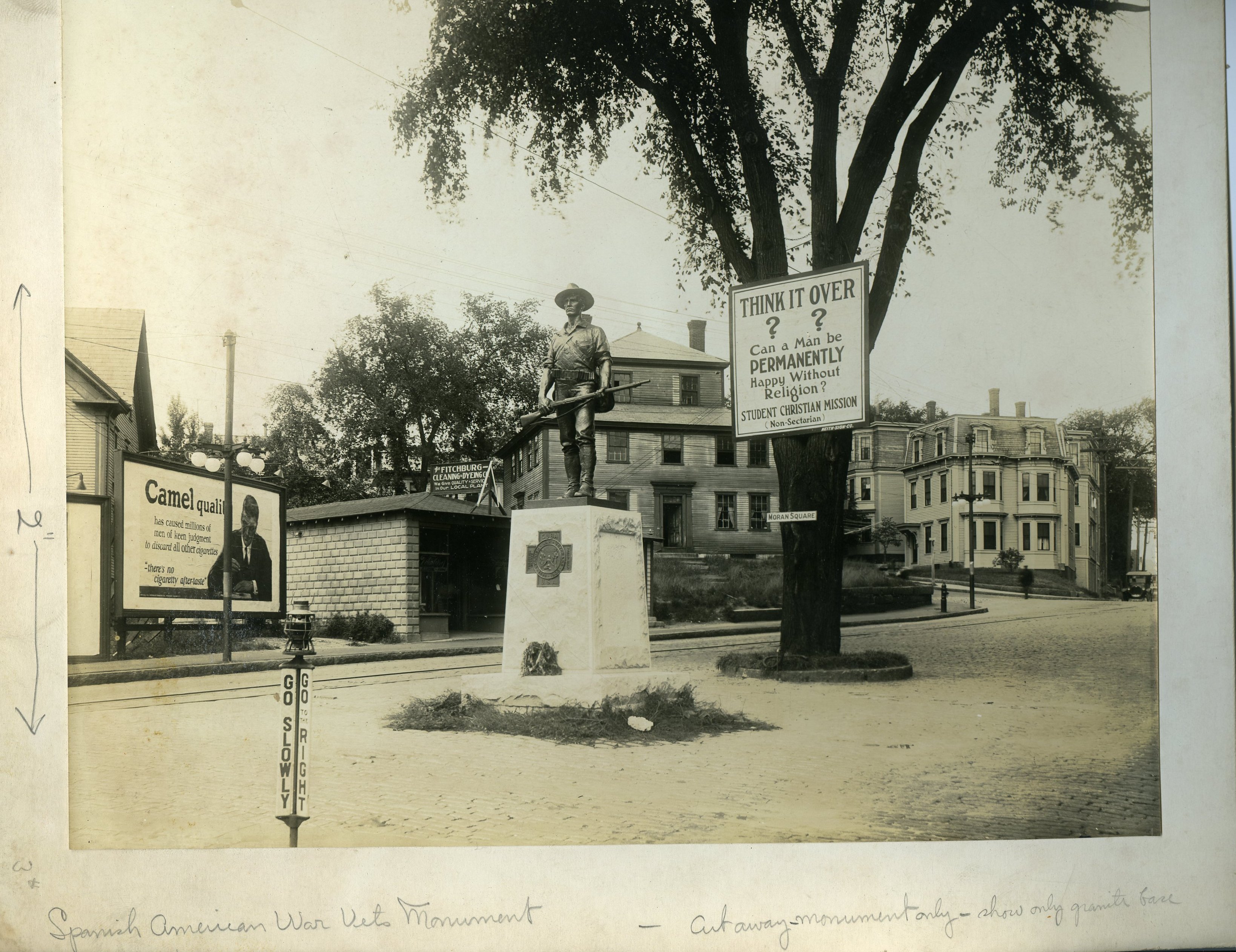 Backstory and Context
The IVER JOHNSON MURAL by painter Jon Allen, faces Myrtle street. The mural as created in 2018.
Iver Johnson was an immigrant to Massachusetts from Norway; he was a farm boy who learned to manufacture firearms in the factories of Bergen. (The farm where he grew up is still an apple farm perched high above one of Norway's fjords.) After coming to Worcester, MA, Johnson moved to Fitchburg in the early 1890's and opened a successful firearms and bicycle manufacturing company that became the largest sporting goods distributor in the world for a few decades. Iver Johnson bikes were famous for their craftsmanship and speed in the early years of bike racing. The company stopped manufacturing bikes during World War II, and its Fitchburg gun factory was closed in 1971. This view of the mural also shows the many industrial mills in brick that surround it and give downtown Fitchburg so much of its character: https://bit.ly/3fHjaGO
"THE HIKER" SPANISH-AMERICAN WAR MONUMENT by THEO ALICE RUGGLES KITSON,1906
Fitchburg's Spanish-American war memorial is by Theo Alice Ruggles Kitson, installed in 1924 and dedicated on Labor Day of that year. Her authorship of the monument became known only in 1985-90. The sculpture was cleaned and restored in 1989. Kitson is also the creator of a memorial to Thaddeus Kosciuszko, found in the Boston Public Garden. The figure was nicknamed "The Hiker" because infantrymen during the Spanish-American war typically marched long, hot hours through the tropics of Cuba, Puerto Rico and the Philippines. After the war, Fitchburg's veterans met for many years in the "Guanica Encampment." The Historical Society owns some unique records and artifacts from the Spanish-American war that were brought back by Fitchburg soldiers.
Behind the Hiker monument, there is a plaque listing the names of soldiers from Fitchburg who fought in both the Spanish American War and World War I. There were 18 citizens who have this distinction.
The Moran Square district has been nominated to be named an Historical Preservation District. Many of the brick buildings nearby were built as mills and factories in Fitchburg's early industrial era. This view gives some sense of the Moran Square diner, virtually unchanged since it was manufactured: https://bit.ly/2WpEKbA
Sources
Fitchburg Historical Society research files.
Image Sources
Fitchburg Historical Society

Additional Information