Schramsberg Vineyards
Introduction
Author-Uploaded Audio
In 1862, Jacob Schram, an immigrant from Germany, arrived in California. He began homesteading and planting a 200-acre vineyard on Diamond Mountain. This would become Schramsberg Vineyards. A century later, under the ownership of Jack and Jamie Davies, Schramsberg Vineyards was restored. It has since become known for its premiere sparkling wines.
Images
Jacob Schram begins planting vines on Diamond Mountain for his winery, c. 1862
Jacob Schram and a team of Chinese laborers dig caves into Diamond Mountain for wine aging and storage.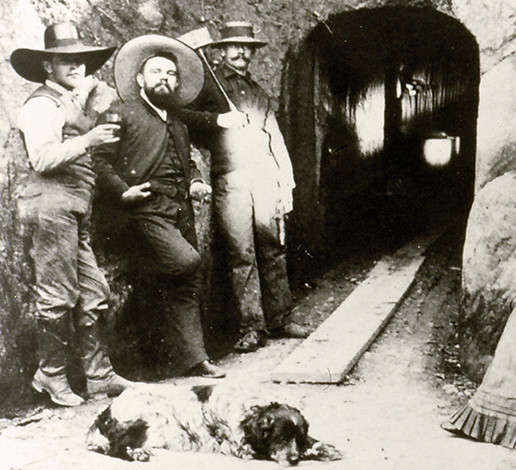 Original label of the "Schramsberger Winery" founded by Jacob Schram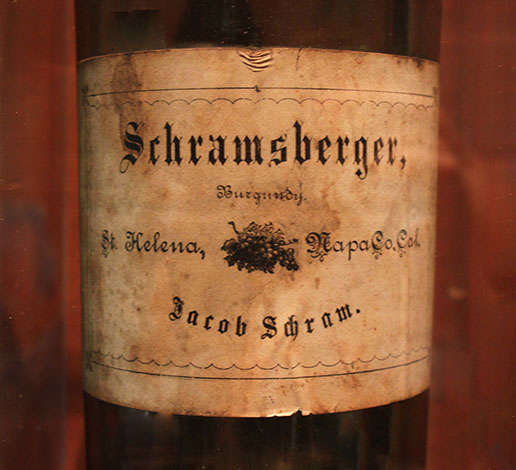 In 1957, the matrix of caves at this historic winery is designated as a historical monument by the California Historical Society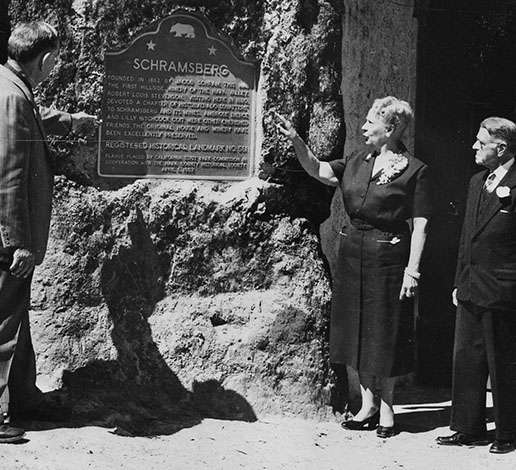 1972 article in the Washington Post notes that Schramsberg Vineyard sparkling wine was served at the "Toast to Peace" between President Nixon and Chinese Premier Zhou Enlai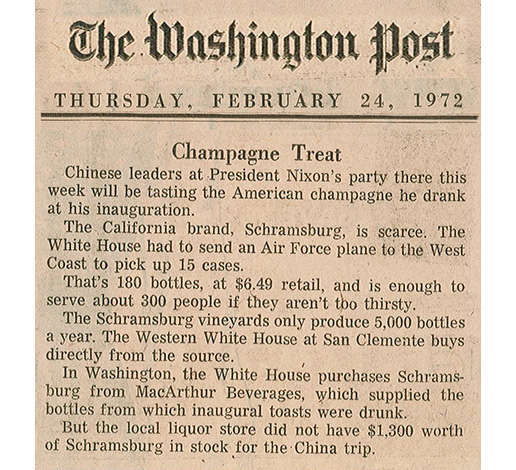 In 1985, Schramsberg Vineyards purchases the adjacent winery (McEachran Winery) and combines the two properties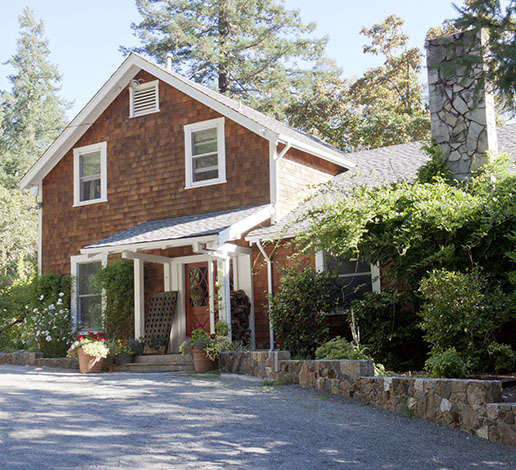 Backstory and Context
Author-Uploaded Audio
In the mid-twentieth century, Jack and Jamie Davies purchased a historic vineyard on Diamond Mountain in Calistoga, California. The vineyard was originally planted in 1862 by a German immigrant, Jacob Schram. By 1870, Schram had planted a total of 300,000 vines with help from a team of Chinese workers. They also dug a matrix of caves into the hillside for wine aging and storage. In 1875, the author Robert Louis Stevenson visited the winery and wrote about it in his book, Silverado Squatters. In 1891, shortly before Schram's death, a riesling wine produced under his "Schramsberger" label was served to President Harrison at the Palace Hotel in San Francisco.
By the mid-twentieth century, the property had fallen into neglect. However, in 1957, the matrix of caves at the winery was recognized for its historical significance when it was declared a historical monument by the California Historical Society. In the 1960s, the Davies set out restore the vineyard, as well as restoring the original Victorian Era home that Jacob Schram had built on the property. The restored estate was reopened by the Davies family as the Schramsberg Vineyards.
Under its new ownership, Schramsberg Vineyards launched its premiere Blanc de Blancs in 1965. This sparkling white wine was served in 1972 at the "Toast to Peace" between the U.S. President Richard M. Nixon and the Chinese Premier, Zhou Enlai. It marked the first time that a Schramsberg wine, and in fact any American wine, had been served at an official State function. Since then, Schramsberg Vineyards' sparkling wines have been served at numerous U.S. Presidential and other State functions, during every Presidential administration since 1972.
Today, special tours of the vineyards are available. For an additional fee, these tours will also include the historic caves, which were dug on site during the 1800s. Within this matrix of caves dug into the hillside, some 2.5 million bottles of Schramsberg Vineyards' sparkling wine are currently stored. Schramsberg Vineyards is also a Napa Green Winery, located on Napa Green Certified Land.
Sources
"History", Schramsberg Vineyards. Accessed May 5th 2020. http://www.schramsberg.com/about/history/.
"Schramsberg Vineyards", US News. Accessed May 5th 2020. https://travel.usnews.com/Napa_Valley_CA/Things_To_Do/Schramsberg_Vineyards_62070/.
Image Sources
Schramsberg Vineyards

Schramsberg Vineyards

Schramsberg Vineyards

Schramsberg Vineyards

Schramsberg Vineyards

Schramsberg Vineyards

Additional Information