Navajo Nation Veterans Memorial Park
Introduction
The Navajo National Veterans Memorial Park was built in 1995 to honor the Navajos who served in the military. The memorial consists of a statue and window rock. Window rock is a piece of natural art work, it is made of rock and in the center there is a circle missing creating a window in the rock. Man has not altered the rock and the Navajos expect it to stay that way because they do not believe in messing with what is already beautiful on the earth.
Images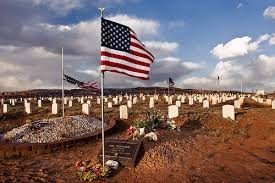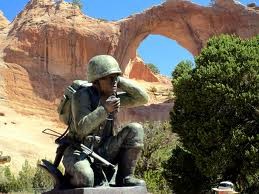 Backstory and Context
The Navajo National Veterans Memorial can be found in Navajo Nation located at Window Rock. The memorial was erected in honor of the Navajos who served in the military especially the Navajo Code Talkers. The statue of a soldier is placed just off from the Window Rock. The memorial is the Navajos "living" veterans memorial. "The idea for the Memorial evolved from within a group of Native Vietnam Veterans, Navajo Code Talker's, and culturally important, Navajo medicine men. After much deliberation the preliminary sketches and designs for the Memorial were drawn out." (THE NAVAJO NATION)
The Memorial includes a line of sixteen steel bayonet sculptures. There is also an area when local venders set up and sale their homemade jewelry and other goods. In this area is located a place to have a picnic and enjoy the beautiful scenery. 
The Navajo Nation is run by a council whose chambers are artfully decorated in paintings and artwork by other Navajos who have passed on.
Sources
Bibliography THE NAVAJO NATION. (n.d.). The Navajo Nation's Veteran's Memorial. Retrieved 12 09, 2014, from Navajo Nation Parks & Recreation: http://navajonationparks.org/images/WRMemorial.pdf
Additional Information