Corydon Indiana State Capitol Building
Introduction
In 1813 C.E. the decision was made to move the Indiana Territory's capital from Vincennes to Corydon, and in 1816 C.E. when Indiana achieved the admission of statehood into the United States of America Corydon remained the capital of the new state of Indiana until 1825 C.E. when Indianapolis (planned, platted, and settled as the capital-to-be of Indiana) officially took over the functions of the state capital.
Images
The First Indiana Statehouse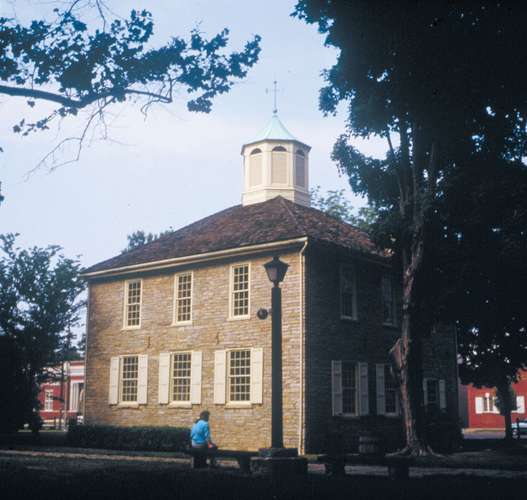 Backstory and Context
In 1813 C.E. the capital of the Indiana Territory was moved from Vincennes to Corydon for a number of factors (among them: the economic benefits of the Ohio River, the more centralized location relative to the territory's new borders, and native american hostilities from further up the Wabash River). By 1816 C.E. Indiana had achieved statehood- the very first state constitution written under a tree just adjacent to where the statehouse building stands today- and thus Corydon was no longer a territorial capital but rather a state capital.
The very first governors of Indiana would meet with the very first members of the Indiana General Assembly in this historic limestone building, however the time of Corydon as the state capital would be short lived. In 1821 C.E. lawmakers acknowledged that a site directly in the middle of the state might better serve the needs of Hoosiers as they continued to settle Indiana in increasing numbers to the central and northern portions of the state. This site would become the present-day capital of Indiana, Indianapolis. Though Indianapolis was platted and chartered in 1821 C.E. most government documents and administrative offices were not moved until 1824 C.E. and the Indiana General Assembly did not begin convening in Indianapolis until 1825 C.E.
Sources
ISD. The Indiana Statehouse: A Self Guided Tour, Indiana Senate Democrats. Accessed May 4th 2020. https://www.indianasenatedemocrats.org/wp-content/uploads/2018/05/WebPageSelfGuide6-1.pdf.

Corydon Capitol Historic Site, Indiana State Museums. Accessed May 4th 2020. https://www.indianamuseum.org/corydon-capitol-state-historic-site.

Corydon, Indiana, Britannica Encyclopedia Online. Accessed May 4th 2020. https://www.britannica.com/place/Corydon-Capitol-State-Historic-Site.
Image Sources
Corydon Capitol State Historic Sites, This Is Indiana. Accessed May 4th 2020. https://www.thisisindiana.org/attractions/corydon-capitol-state-historic-sites/.

Additional Information