Fanny M. (Jackson) Coppin
Introduction
Fanny M. Jackson Coppin was born on January of 1837 in Washington D.C. Fanny was a slave after nine months of being born where she stayed a slave till she was twelve years old. There is not much information on her youth as she was a slave and there was no documents recorded. However, when she was set free in 1849, she became a servant for a famous author name George Henry Calvert. Fanny was an educator, a writer, missionary and former slave. She resided in Philadelphia, Pennsylvania.
Images
1876, Fanny Coppin's greatest contribution- Educating middle-class Black families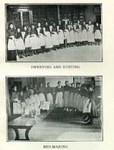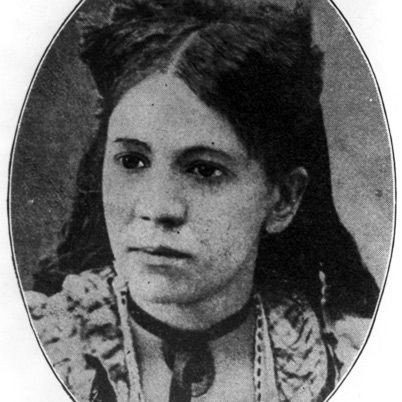 One of Fanny Coppin's famous quotes, which exemplify who she truly was.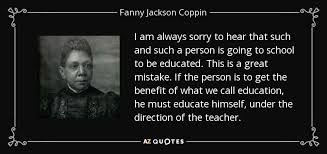 Husband of Fanny M Coppin; Bishop Levi J. Coppin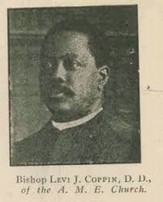 Fanny M. Jackson Coppin Historical Marker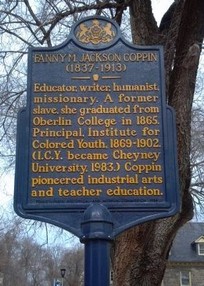 Backstory and Context
Fanny M. Jackson was enslaved only nine months after birth in October of 1837. She was a slave till she was 12 years old. There isn't much info from her time as a slave, but we do know she was set free from one of her aunts and spent the next few years of her youth as a servant in Massachusetts, for author George Henry Calvert, studying every opportunity she could. 1
Until 1860, Fanny was self- taught, learning how to read and write at any opportunity she had. She was very particular and determined to get an education. Later in 1860, she enrolled into Oberlin College, Ohio. Oberlin College was the first college that accepted both Black and female students. 2 Fanny enrolled into Oberlin College in 1860 at the age of 23, the first college to accept both Black and female students. "It was in me," she wrote years later, "to get an education and to teach my people. This idea was deep in my soul." As Fanny continued to back up this quote in the years to come. 3
During her time at Oberlin College, she took part in the men's course studies. She was advised from her peers not to take those classes, but she knew she was not forbidden to take them, so she took the risk and excelled at them. 3
During her years as a student at Oberlin College, she was given the opportunity to teach classes at the college. She was nervous at first that her students would not give her respect, but with the backing of her professors and faculty of the college, she was able to do it. Her classes became so successful, she had to divide her classes since they were becoming so big and increasing in the amount of students wanting to join her classes. She taught an evening course for the free African Americans in reading and writing, and graduated with a Bachelor's degree in 1865. 2-3
Fanny became very passionate about education and the education of African-American females. Right after graduation, Fanny had began teaching Mathematics, Greek and Latin in the Institute of the Colored Youth in Philadelphia. In 1869, with the departure of principal Ebenezer Bassett, Fanny was appointed the Principal of Philadelphia's Institute of Colored Youth. Which is now called Cheyney University of Pennsylvania, where she stayed for 37 years reconstructing a better education system for the students. 2
In 1876, her greatest contribution was to democratize an institution that middle-class Black families used to educate their children to become professionals and teachers. In following the Philadelphia Centennial Exhibition in 1876, and greatly impressed by the Moscow Imperial Technical School's exhibit, she with difficulty persuaded the ICY's managers to embrace the "necessity of industrial education." She later wrote to Fredrick Douglass expressing that even though it was a hard decision to get past the amount of little confidence she had being a African-American Female, she would be able to teach and continue her mission as a role model and educator for the Black community. 4
After becoming principal of the of the Colored Youth, she inspired two generations to follow her lead.
In a letter to Frederick Douglass in 1876, she explained her commitment: "I feel sometimes like a person to whom in childhood was entrusted some sacred flame…This is the desire to see my race lifted out of the mire of ignorance, weakness and degradation; I want to see him crowned with strength and dignity." Her school was centered on this dream. She expanded the curriculum to include an Industrial Department, established a Women's Industrial Exchange to display the mechanical and artistic works of young women, and founded a Home for Girls and Young Women to house workers from out of town. She then persuaded employers to hire her pupils in capacities that would utilize their education, to not only build confidence but show that her pupils are worth investing in as employees as hard workers. 5
In addition to providing African American youth with education, Jackson founded homes for working and poor women. She also was an influential columnist who defended the rights of women and Blacks in local Philadelphia newspapers. Jackson added missionary work to her long list of accomplishments when she married Rev. Levi Jenkins Coppin, a minister in the African Methodist Episcopal (AME) Church on December 21, 1881. In 1902 the married couple went to South Africa and founded the Bethel Institute, a missionary school which emphasized self-help programs. 6
Mrs. Coppin retired from her beloved school in 1902 at age 65 and began a new career. She had started to accompany her husband, now a bishop, to Cape Town, South Africa. From there, Fanny was an effective missionary, and was counseling African women. She returned to Philadelphia in 1907, sadly broken in health but not in spirit! In her last few years, she completed her autobiography, being a writer was also one of her incredible achievements. Reminiscences of School Life, which remains a record of a remarkable life. Fanny Jackson Coppin died in 1913 at age 76. Perhaps her greatest accomplishment was her influence on her students. She prodded them toward excellence. She made them dream. She made them become more than they ever thought they could, giving them hope, something many African-Americans did not truly experience till Fanny Coppin. Frances (Fanny) Marion Jackson Coppin was, indeed, a model of academic excellence; both in her life and in the heritage that she has bequeathed to those who followed. 5
A tribute to a true hero and matriarch of Fanny M. Jackson Coppin.
Fanny was not only a writer, and educator, missionary and former slave, she was the hope and inspiration for the African-American community, especially female African-Americans.
Fanny fought for people's freedom to learn at a higher educational level at the school for Colored Youth and in her later years and passing away at the age of 76, Fanny M. Jackson Coppin went down in history at the Matriarch to the school now called Coppin State University. 4
Sources
1.Fanny Jackson Coppin, Wikipedia. April 22nd 2020. Accessed May 4th 2020. https://en.wikipedia.org/wiki/Fanny_Jackson_Coppin.
2.Meet Fanny Jackson Coppin, Face2Face Africa. January 8th 2019. Accessed May 4th 2020. https://face2faceafrica.com/article/meet-fanny-jackson-coppin-the-first-african-american-woman-to-be-a-school-principal-in-1869.
3.The Matriarch of Coppin State Univ., Kentake Page. October 24th 2005. Accessed May 4th 2020. https://kentakepage.com/fanny-jackson-coppin-the-matriarch-of-coppin-state-university/.
4.Fanny Coppin, ExplorePAHistory.com. Accessed May 4th 2020. https://explorepahistory.com/hmarker.php?markerId=1-A-381.
5.Fanny Jackson Coppin, Fanny Jackson Coppin l Coppin State University. Accessed May 4th 2020. https://www.coppin.edu/fannyjacksoncoppin.
6.Fannie Jackson Coppin (1837-1913), Welcome to Blackpast. February 6th 2020. Accessed May 4th 2020. https://www.Blackpast.org/african-american-history/coppin-fannie-jackson-1837-1913/.
Image Sources
https://explorepahistory.com/hmarker.php?markerId=1-A-381

https://kentakepage.com/fanny-jackson-coppin-the-matriarch-of-coppin-state-university/

https://www.azquotes.com/author/54895-Fanny_Jackson_Coppin

https://www.coppin.edu/fannyjacksoncoppin

https://explorepahistory.com/hmarker.php?markerId=1-A-381

Additional Information