King Records
Introduction
King Records was an important record label owned by Syd Nathan that was active from 1943-1968. The King Records studio building is located in the Evanston neighborhood of Cincinnati, OH. King Records recorded in the genres of hillbilly/Appalachian folk, bluegrass, country, jazz, doo-wop, R&B, funk, and soul. It is also argued that the label produced some of the first rock n' roll music ever recorded. Some of King Records' most notable recording artists and associated acts include James Brown, Lula Reed, Hank Ballard, Vicki Anderson, Bootsy Collins, Phillip Paul, and the Delmore Brothers. King Records was one of the first racially integrated businesses in Cincinnati in a time where segregation in the workplace was a common practice among Northern U.S. cities. The King Records building is currently owned by the City of Cincinnati, and plans are underway to transform the space into a community cultural space.
Images
King Records studio building today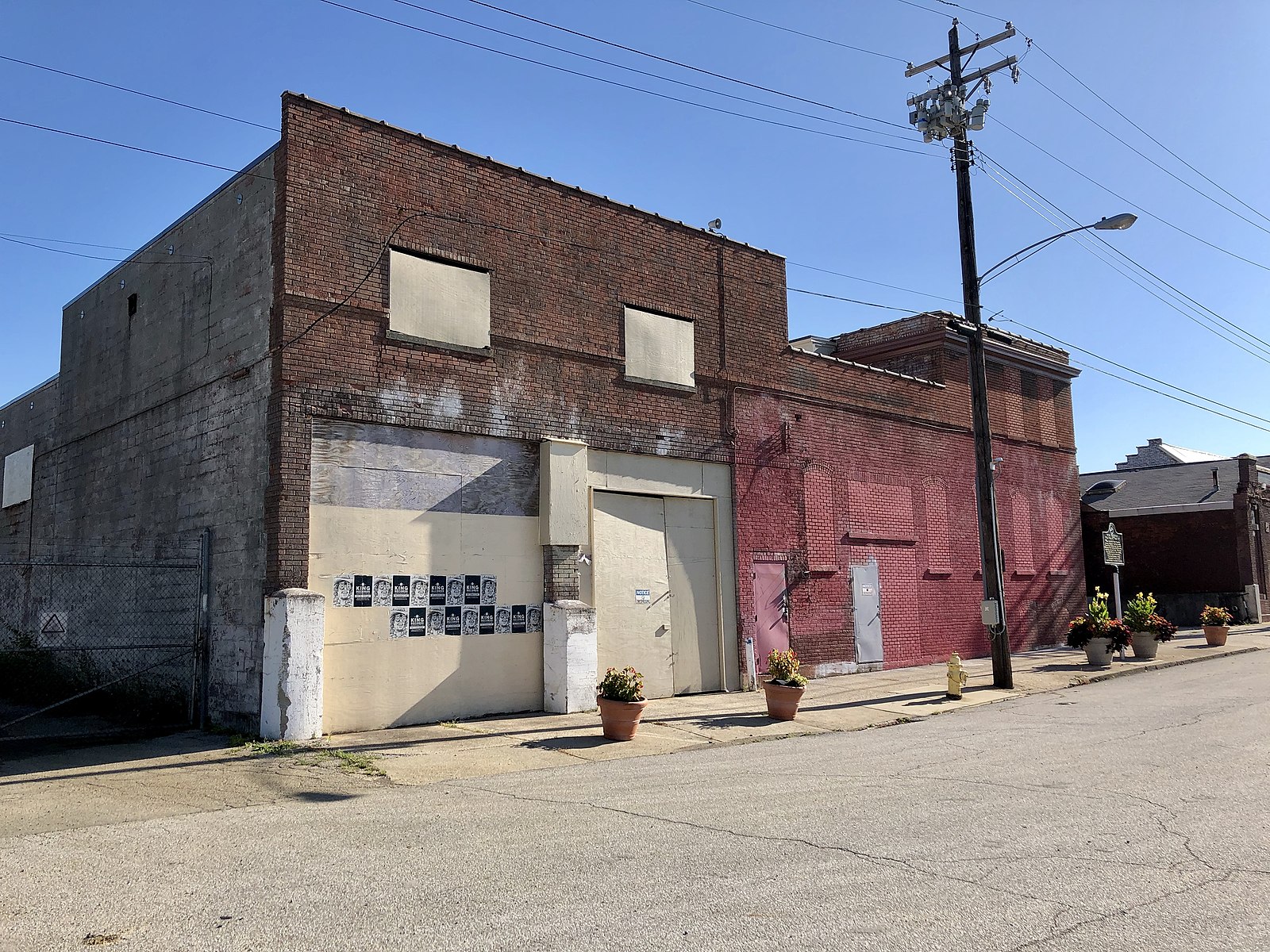 King Records Rock & Roll Hall of Fame Historic Marker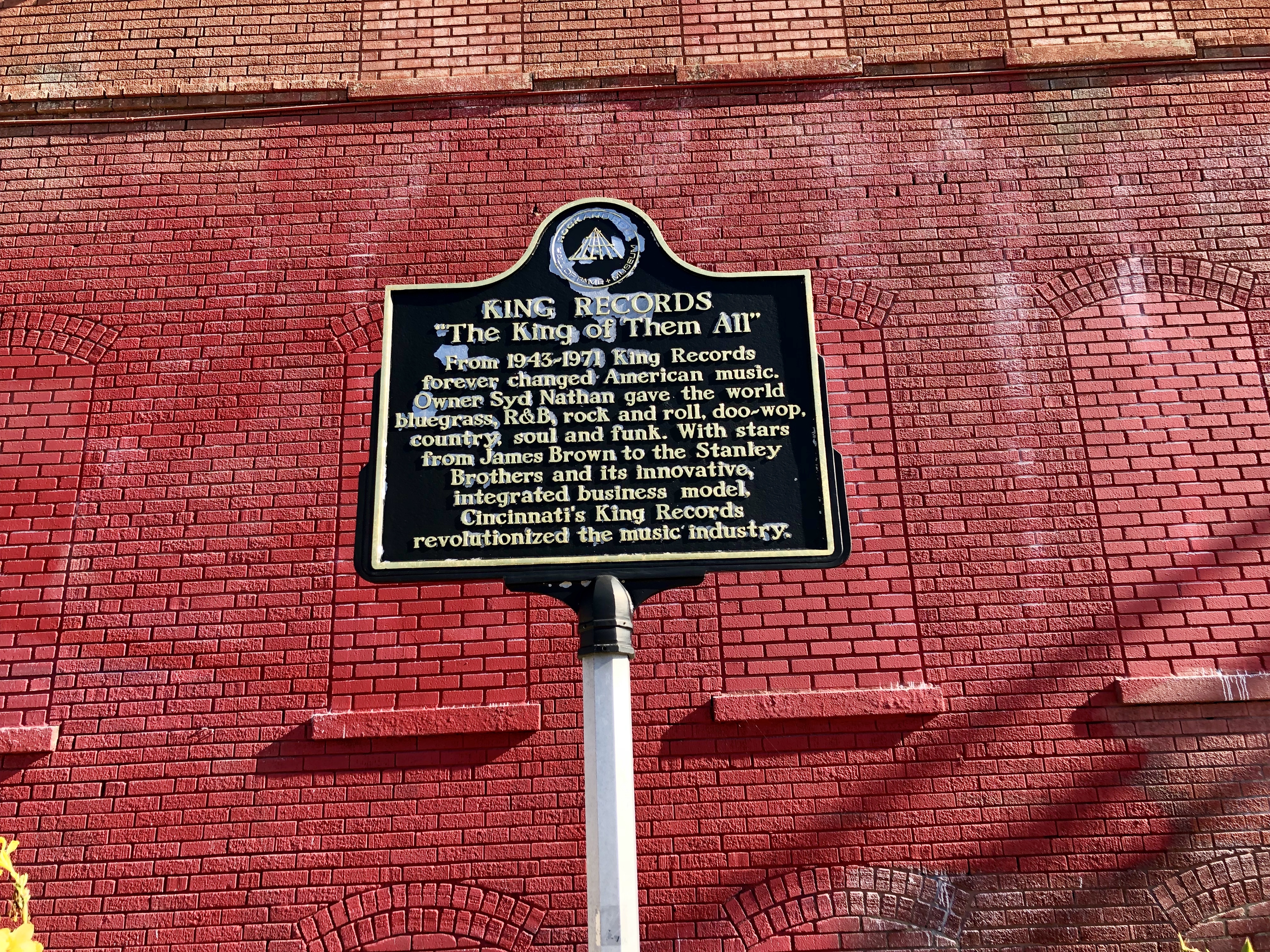 The King Records label logo

Backstory and Context
History of King Records
Syd Nathan, a man who'd had a propensity to get involved in a variety of small-scale entrepreneurial pursuits before owning King Records, first opened a record store in downtown Cincinnati, OH in 1938, initially selling pop records. He eventually had success selling records in the "hillbilly" and "race" genres (terms that in the day referred to Appalachian music and music recorded by Black artists, respectively), which he by chance acquired as repayment for $6 he had once loaned to a local jukebox operator. After selling the shop and leaving the record store industry for a brief period, Nathan purchased another storefront on Central Parkway, and focused his shop's catalogue on hillbilly and race records. Over the next few years, Nathan had a steady stream of Appalachian migrants who had recently moved to Cincinnati as customers.
Eventually in 1943, Nathan made the decision to enter the recording business, traveling up to Dayton, OH with Merle Travis and Grandpa Jones to conduct his first recording session. The two musicians were under contract with WLW radio station, legally barring them from recording their music with any other entity, and went by "The Sheppard Brothers" for the record. On the drive home to Cincinnati, the group of men named the fledging recording studio "the King of them all." 
The next year, Nathan rented out an old chemical plant on 1540 Brewster Ave. in the Evanston neighborhood. Here, he began recruiting and recording talent in the "hillbilly" and "race" genres. In the late 1940's, King began recording genres such as the "hillbilly boogie" and "jump blues," both important precursors to rock n' roll music. In May 1949, King released "Blues Stay Away From Me," written and produced by King's recording director, Henry Glover, and performed by Alton and Rabon Delmore. The song was a mixing of hillbilly music and jump blues, and is regarded by some to be the first rock n' roll recording ever made. 
Of the genre mixing that occurred organically at King Records, Henry Glover said:
"We were the first to do that… King worked with white country singers as well as Black R&B artists, it seemed a natural thing to cross boundaries. We weren't afraid of intermarriages" (King Studios Mobile Exhibits Collections).
By the 1950's, major record labels across the US had begun to catch on to the growing mainstream popularity and commercial viability of R&B, and began to compete with King Records head-on. King continued recording music in the genre, but also continually innovated in the direction of what would become known as soul music. Later into the 1960's, producer, composer, and performer James Brown revolutionized modern music with his contributions to the development of funk music at King Records.
By the time James Brown was making some of his greatest creative inroads in the funk genre at King, the label was suffering from a business standpoint, signaling its eventual demise. Nathan had begun to suffer from various health issues, and the label was having trouble competing with larger record companies. Motown Records, established in Detroit in 1959, became a threat to King by adopting a polished and clean sound for Black performers that was appealing to mainstream white American audiences. 
Syd Nathan died in 1968, and King Records was merged with Starday Records in Nashville a few months later. By the fall of 1973, not having achieved much commercial success and suffering from significant debt, Starday-King ceased operations. Ironically, it was in these final years of King that the label produced arguably some of its most influential recordings under the direction of James Brown. The music Brown produced in this period would go on to influence R&B, hip hop, and rap music into the present day.
Racial Integration at King Records
King Records rose to prominence in Cincinnati at a time when, although there was no legal system of segregation, informal segregation and racially discriminatory hiring practices were common in Northern cities. By contrast, King Records is credited as the first racially integrated workplace in the city of Cincinnati— as early as the 1940s. Black people made up 20% of factory workers at the record press, and held integral creative, managerial, and directorial positions within the company.
Commenting on King's racial integration in relation to its location in the North-South border city of Cincinnati, OH, Rock & Roll Hall of Fame historian Robert Santelli has said: 
"What happened at King couldn't have happened in New York or Los Angeles. Cincinnati always had one foot in the North, and one in the South, with access to Blacks of the industrial cities as well as the Appalachians." (Fox).
King's racially integrated work place had implications that went beyond being an issue of economic and social racial equality. Because King integrated musicians from different backgrounds—notably white Appalachian migrants and Black people migrating north as part of the Great Migration— the conditions were ripe for hybrid forms of music to emerge. A common practice of the King music executives was to produce cross-over music, wherein musicians of one style of music would perform a cover of a song originally written in another style. For example, R&B artists might have done an R&B rendition of a song that was originally written in the style of bluegrass. As a result of this, King Records produced what many argue was some of the earliest rock n' roll music ever made, such as Wynonie Harris's "Good Rockin' Tonight," released in 1954.
Women of King Records
While many of King Records' best-remembered artists were men, there were also hundreds of women who composed and performed for the label and made integral contributions to King Record's success as musicians, composers, and workers.
The King Records studio building
The King Records building served as King Records' business offices, recording studio, and pressing plant. This vertically integrated mode of production made the production and distribution of records extremely efficient. Singles could be recorded, mixed and mastered, pressed, and sent out to radio stations extremely quickly, reaching the airwaves in a matter of days. By 1951, King could press one million records per month. The consolidated model of production and distribution also allowed King to quickly adapt to demand in the record store and disc jockeying markets, cutting down on extraneous costs and wasted time.
The King Records studio building was purchased by the City of Cincinnati in April 2018. Plans are currently underway to convert the space into a community cultural space and experiential learning center for the public.
Sources
1. Anderson, Christine. Your Music, My Music, Our Music: Cincinnati Women Musicians at King Records and Today. Accessed 4 May 2020. https://scalar.usc.edu/works/clear--present-activism/index
2. Blase, Darren. The King Records Story. King Records Planning Committee, 2008.
3. Fox, Jon Hartley. King of the Queen City — The Story of King Records. University of Illinois Press, 2009. 
4. "History." King Studios Education. King Studios. Accessed 4 May 2020. http://curiosity.cs.xu.edu/kingstudioseducation/?page_id=602 
5. King Studios Mobile Exhibits Collections. Exhibit at the Xavier University Library, Xavier University, Cincinnati, OH, 6 December 2018. Accessed 4 May 2020. https://www.exhibit.xavier.edu/king_studios/
Image Sources
Warren LeMay (w_lemay) - https://www.flickr.com/photos/59081381@N03/48638919408/

Warren LeMay (w_lemay) - https://www.flickr.com/photos/warrenlemay/48638918773/in/photostream/

Additional Information