Cooley's Massacre Historical Marker
Introduction
This historical marker describes the Cooley's Massacre, which occurred in the vicinity on January 6, 1836. At the time, this area was part of a homestead owned by William Cooley, who was one of the city's first settlers. On that day in January, a band of 15-20 Indians attacked Cooley's farm, killing his wife, three children, and the children's tutor (Cooley was not home at the time). The Indians believed that Cooley, who served as justice of the peace, did not provide sufficient evidence in a trial where chargers were dropped against settlers who killed a Creek Indian chief. The massacre occurred at the beginning of the Second Seminole War, which lasted from December 1835 to August 1842. Cooley's homestead was located in area called the New River Settlement; around 60-70 other pioneers lived here as well. The marker is situated at the southern end of Cooley's Landing Park, which is also named after Cooley.
Images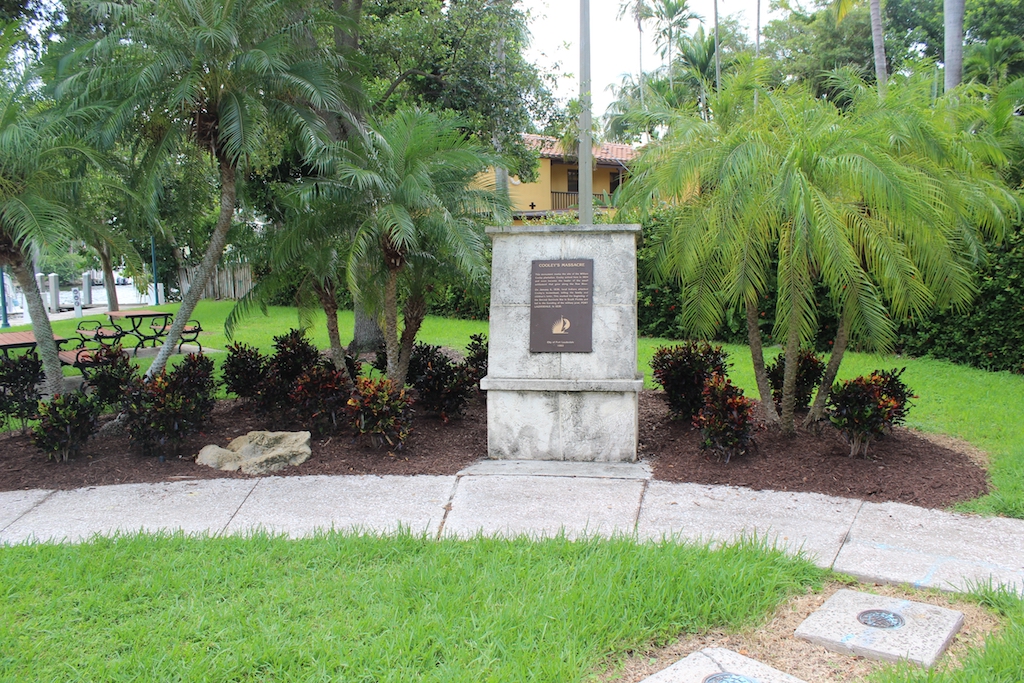 Backstory and Context
William Cooley grew up in northern Florida where he was exposed to Seminole culture and language. He first arrived in the New River Settlement in 1824 and started a farm along the river. He grew arrowroot plants to produce an edible starch called coontie, which was used to make gum, candy, and bread. He also raised hogs and grew sugarcane, citrus trees, potatoes, pumpkins, and coconut palms. He built a dock where schooners could load the coontie and sail to a factory he owned in Key West. The farm grew to 29 acres and it included a comfortable house for his family. He became justice of the peace in 1831.
During the early 1830s, however, tensions in the area grew between settlers and Indians. By this point, there were several southeastern tribes in Florida at this time in addition to the Seminoles. These other tribes, including Creek Indians, were forced to move south into Florida as a result of increasing numbers of settlers moving onto their lands. The Seminoles were living in a reservation located in the central part of the state established in 1823 by the Treaty of Moultrie Creek. However, settlers began to call for the Seminoles and other Indians to be relocated west of the Mississippi River.
At the New River Settlement, tensions boiled over in 1835 when, as noted above, a group of settlers shot and killed a Creek Indian chief named. Cooley arrested the men and sent them to Key West to stand trial (Key West was the county seat was at the time). The charges were dropped and the Creeks blamed Cooley, whom they accused of withholding evidence. In retaliation, the group of Creeks attacked Cooley's farm. Cooley, who was also a property appraiser, was not there because he was working to salvage goods from a Spanish ship that washed ashore in modern-day Hillsboro. The Creek men did not harm anyone else in the settlement. Upon returning, Cooley buried his family and moved away, along with the other settlers who were too frightened to remain. Cooley moved to Tampa where he worked as a courier and later postmaster. He also became a city council member, serving three terms. He died in 1863.
Sources
"Cooley's Massacre." The Historical Marker Database. Accessed May 5, 2020. https://www.hmdb.org/m.asp?m=127510.
Dolen, John. "Before the Bloodshed." Fort Lauderdale Magazine. January 2, 2017. https://fortlauderdalemagazine.com/before-the-bloodshed.
Girardi, Steven. "Legend Clouds Truth About 1836 Indian Attack." South Florida Sun Sentinel. January 6, 1986. https://www.sun-sentinel.com/news/fl-xpm-1986-01-06-8601010716-story.html.
Nolin, Robert. "The massacre that quashed a settlement." South Florida Sun Sentinel. December 31, 2014. https://www.sun-sentinel.com/local/broward/fl-massacre-brow100-20141231-story.html.
Additional Information