Dillinger's Death
Introduction
Here is where John Dillinger's life and criminal career came to an end. After a long note worthy career in crime, Melvin Purvis of the FBI was able to track down John Dillinger to this movie theater. Purvis and his fellow officers attempted to capture Dillinger outside the Biograph Theater at this location ending in a shootout that killed Dillinger.
Images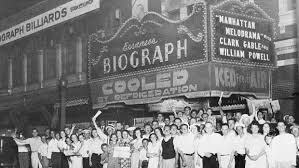 Backstory and Context
John Dillinger had been on the run avoiding capture for sometime before the night of July 22, 1934. According to a Chicago Tribune article written at the time, quotes Melvin Purvis saying they had receive valid information saying that Dillinger would be at the Biograph Theater to see the film "Manhattan Melodrama". The officers quoted in the article say Dillinger arrived around 8:30 pm to the theater with 2 women on his arms and they waited for approximately two hours to attempt to capture Dillinger. Around 10 pm Dillinger exited the theater and was spotted by Purvis despite Dillinger's attempts to avoid recognition as Purvis says "His face had been lifted and a scar, one of his most prominent identifying marks, removed...his once reddish brown hair.. dyed Black..mustache, also jet Black". Purvis said that Dillinger spotted him and his fellow officers and attempted to reach for his gun, but before he was able to react the officers fired on him "striking him in the chest and neck". It was mentioned in the article as well that Dillinger attempted to use acid to remove his finger prints but after his body was removed from the scene to confirm his identity his fingerprints were still there. Dillinger's life of crime came to an end here at this theater in the same fashion Dillinger robbed his banks with guns blazing.
Sources
KILL DILLINGER HERE: SLAIN BY U. S. AGENTS AS HE LEAVES THEATER 2 WOMEN WOUNDED AS OUTLAW FALLS ON LINCOLN AVE. JOHN DILLINGER, AMERICA'S PUBLIC ENEMY NO. 1, SHOT TO DEATH BY U. S. AGENTS AS HE LEAVES NORTH SIDE THEATER. Chicago Daily Tribune (1923-1963). Jul 23 1934:1. Available from: https://proxyiub.uits.iu.edu/login?qurl=https%3A%2F%2Fsearch.proquest.com%2Fdocview%2F181544210%3Faccountid%3D11620.