John Dillinger's First National Bank Robbery (1934)
Introduction
At this site in 1934, John Dillenger robbed East Chicago's First National Bank. Dillenger's men killed an officer during the robbery, and this loss of life, coupled with press coverage of the robbery gave Dillinger national attention that also led to more attention by law enforcement. In response, more police officers were tasked with tracking and capturing Dillinger, and a custom 1934 Studebaker President was provided to the South Bend police. That vehicle included armor and special windows to support the vehicle should it be involved in a shootout. While the vehicle was not used in Dillinger's capture, he was killed following a robbery in South Bend. First National Bank Robbery was completed in 1929 and demolished in 2005.
Images
First National Bank was located on this corner from 1929 to 2005.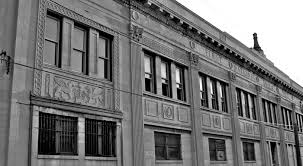 Backstory and Context
In January of 1934, John Dillinger and two members of his gang robbed the First National Bank in East Chicago, Indiana. They managed to escape the bank with over $20,000 dollars. According to an East Chicago Tribune article, Dillinger and John Hamilton entered the bank with their machine guns hidden in music cases, while the other assailant waited in the getaway vehicle. The article quoted Dillinger as saying, "There's been an alarm and the police are outside. But don't hurry. Gat all that dough. We'll kill these coppers and get away," after a bank worker sounded the alarm.
John Dillinger was speaking to his partner Hamilton when he said "don't hurry," and the two took a bank worker, Walter Spencer, hostage to help escape as the police were waiting for the officers outside. Dillinger used Spencer to shield them from the police and after police officer, William P. O'Malley, hesitated after seeing Spencer Dillinger fired and killed O'Malley outside the bank. The two robbers managed to make their way back to their special car equipped with bulletproof glass. The officers quoted in the Tribune article also stated that the robbers were likely wearing vests to protect them from bullets in addition to an armored car.
Sources
Dillinger robs bank, kills policeman: Gang shoots its way out with $20,000 DILLINGER GANG ROBS BANK AND KILLS POLICEMAN $20,000 stolen at east chicago. Chicago Daily Tribune (1923-1963). Jan 16 1934:1. Available from: https://proxyiub.uits.iu.edu/login?qurl=https%3A%2F%2Fsearch.proquest.com%2Fdocview%2F181450497%3Faccountid%3D11620.
Additional Information