Simon Skjodt Assembly Hall (Todd Schlegel)
Introduction
Simon Skjodt Assembly Hall is the home of Indiana University basketball. Inaugurated in 1971, it has become synonymous with modern Hoosier Hysteria and success. Its opening correlated directly with the arrival of future Hall of Fame coach Bobby Knight, and 3 National Championship and 14 Big Ten Championship teams called Simon Skjodt Assembly Hall home.
Images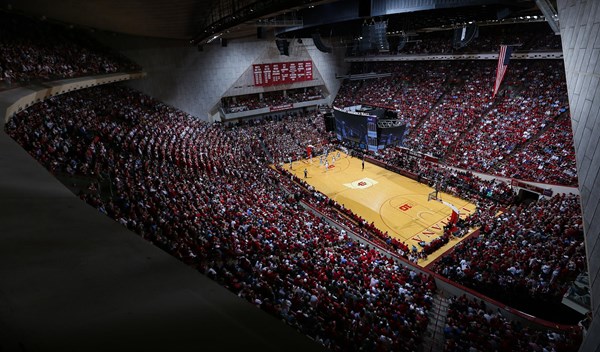 Backstory and Context
Simon Skjodt Assembly Hall was opened in 1971, replacing Gladstein Fieldhouse. Its initial capacity was 16,666, and it has since been increased to 17,222. Its unique design, steep viewing areas on the sidelines with 20 rows of bleachers on the baseline, was designed to give attendees a better view of the game. This design also directs sound onto the court, making it one of the loudest arenas in the country. Decibel meters consistently show ratings of 115 decibels or higher, which is the equivalent of sitting in front of the speakers at a rock concert. This home court advantage is best exemplified by the Hoosiers 2011 clash against #1 Kentucky, where IU fans created a consistent wall of sound that kept the top ranked Wildcats off of their game. IU forward Christian Watford hit a buzzer beater to win the game, and what was described as one of the "loudest roars in sports history" was unleashed. Simon Skjodt Assembly Hall has proven itself to be a tough place for opponents to win, regardless of rank, as demonstrated by the Hoosiers winning 83% of their home games.
Simon Skjodt Assembly Hall, while unconventional in design, has become as synonymous with Indiana Basketball as the candy stripe warm-up pants. It is a symbol of the states most successful basketball program, regardless of level. As it has grown it age, it has taken on a new role of importance; it is the modern home of Hoosier Hysteria. Hoosier Hysteria initially lived in the Indiana High School Boys Basketball Tournament and Hinkle Fieldhouse. This continued from 1928 to 1971, when the tournaments championship bounced from venue to venue until settling in Conseco/Bankers Life Fieldhouse. However, the splitting of the tournament into four classes along with the changing of venues took away from its luster. It was no longer a free-for-all, with underdog teams upsetting schools with thousands of students. IU basketball always held a special place in the hearts of Hoosiers, but it took on a new importance when the intimacy of the high school tournament was taken away. This did not change native Hoosiers love for basketball, it simply shifted where the frenzy was most directly applied and Simon Skjodt Assembly Hall became the venue where Hoosier Hysteria can be experienced in its fullest.
Sources
Osterman, Zach. IU's Assembly Hall: Its origin and its future, December 8th 2013. Accessed May 4th 2020. https://www.indystar.com/story/sports/college/indiana/2013/12/07/ius-assembly-hall-its-origin-and-its-future/3906225/.
Men's Division I Home Court Records Through the 2017-2018 Season, RPI Ratings. April 19th 2018. Accessed May 4th 2020. http://rpiratings.com/homecourtrec.php.
Van Tyron, Matthew . Why playing in front of a frenzied Assembly Hall crowd is like being chased by a bear, IndyStar. December 1st 2017. Accessed May 4th 2020. https://www.indystar.com/story/sports/college/indiana/2017/12/01/why-playing-front-frenzied-assembly-hall-crowd-like-being-chased-bear/909982001/.