Hoosier Gym
Introduction
The historic Hoosier Gym was constructed in 1921 and became known throughout the world in 1986 following the release of the Hollywood movie Hoosiers. Home of the fictional Hickory Huskers, the gym not only became a shrine to high school basketball in Indiana but to sports movie enthusiasts all over the world.
Images
This small gym was constructed in 1921 and became famous following the 1986 movie Hoosiers.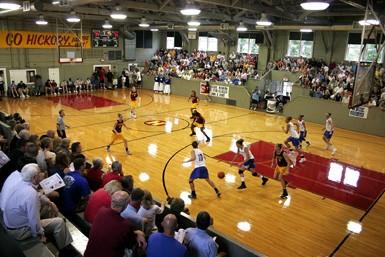 Backstory and Context
The Hoosier Gym was originally built in 1921 for Knightstown High School. Originally named the Knightstown Gym, it was home of Knightstown basketball until 1966 when a new high school was built. Once the new school was constructed, the tiny gym was shut down and seemingly would have likely been demolished. However, a group of filmmakers looking to create a movie about high school basketball in Indiana were searching for a home court to set their fictional team at this time. When they selected the Hoosier Gym as the site of their movie, a second chapter of this building's history began.
The movie's plot followed the story of the Hickory Huskers basketball team, along with the redemption of coach Normal Dale from his past. The Huskers were vast underdogs and faced several setbacks, yet they managed to triumph over them and bring home the state championship on a buzzer-beater. This underdog story, which loosely followed the true story of the 1954 Milan Miracle, became a smash hit and is widely regarded as the best sports movie of all time. Despite still facing demolition as late as 1988, the gyms fame from the movie would end up saving it. The Hoosier Gym now brings over 80,000 tourists to Knightstown per year and annually hosts dozens of basketball games. It also serves as one of most powerful symbols of Indiana basketball.
Sources
Hargis, B.J. . Hoosier Gym filled with history about "Hoosiers", December 4th 2017. Accessed May 4th 2020. https://www.sullivan-times.com/sports/article/id/24745.
Taylor, Keith. Visit to historic Hoosier Gym in Knightstown a step back in time, July 1st 2018. Accessed May 4th 2020. http://kentuckytoday.com/stories/visit-to-historic-hoosier-gym-in-knightstown-a-step-back-in-time,14002.
Image Sources
http://www.thebanneronline.com/links/hoosier_gym.htm