Simon Skjodt Assembly Hall (Keaton Clark)
Introduction
The Simon Skjodt Assembly Hall opened in 1971, replacing the Gladstein Fieldhouse. The 17,222-seat arena located on the campus of Indiana University in Bloomington, and home of the Indiana Hoosiers men's basketball and women's basketball teams. The court itself is named after Branch McCracken, formally the men's basketball coach who led the Hoosiers to their first two NCAA National Championships in 1940 and 1953. Basketball sportscaster Gus Johnson calls the Assembly Hall "the Carnegie Hall of college basketball." Indiana University is apart of the Big 10 conference (which ironically has 14 midwest teams), the most competitive conference in the Midwest. The hoosiers biggest rivalry game every year is Purdue University, but also have competitive matchups with teams like Michigan, Ohio State, and Illinois. Every year hoosier fans, families, and students join together to celebrate Hoosier Hysteria at Assembly Hall to celebrate the teams past success as well as to meet the new players for the upcoming season and watch them scrimmage.
Images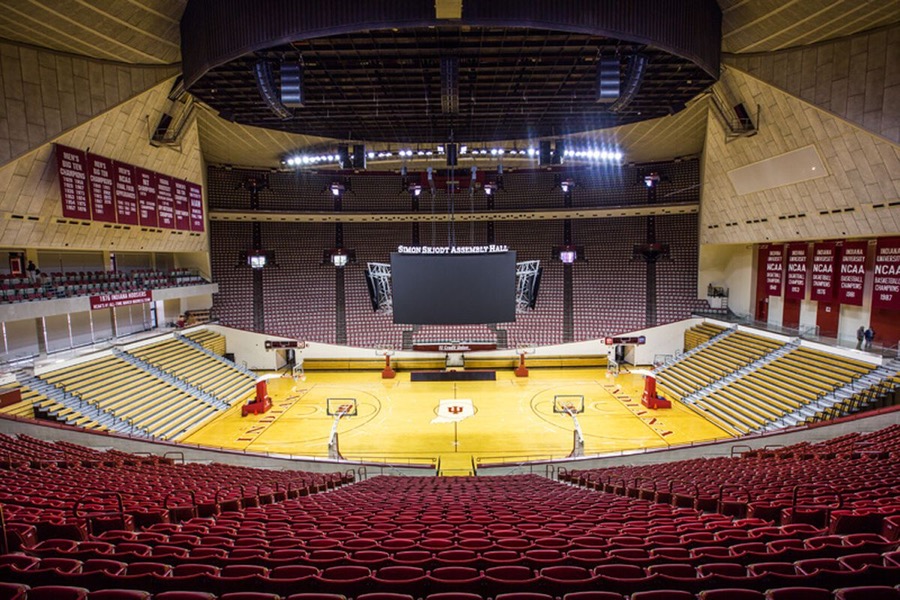 Backstory and Context
The Assembly Hall is well known as being one of the loudest venues in college basketball. Simon Skjodt, actually, Cindy Simon Skjodt is the namesake of Simon Skjodt Assembly Hall after donating $40 million toward renovations in 2013. Those who visit Assembly Hall are likely to remember the 5 banners hanging on the north wall. They are all 5 NCAA National Championships, the other years being: 1976, 1981, 1987. There is a unique architecture by its design of steep sides.
A 2012 poll of four ESPN pundits ranked Assembly Hall 3rd in terms of best home-court advantages in the nation. Since opening for the 1971-72 season, the venue has been attended by over 6 million people. The men's team has been historically successful there, posting home winning streaks of 50 and 35 games. The Assembly Hall has been home to three national championships, 32 straight winning teams, and 12 conference champions. Hoosier fans have has the privilege of watching incredible basketball players such as Scott May, Isiah Thomas, Ted Kitchel, Steve Alford, Cody Zeller, and Victor Oladipo. The most famous and memorable shot in hoosier history was taken by Keith Smart to win the 1987 title, however the shot that shook the world at Assembly Hall most of all was in 2012 by Christian Watford over the #1 undefeated Kentucky Wildcats as Hoosier fans storm the court. Assembly Hall is the place for Bloomington as well as the whole state of Indiana can come together and enjoy the hysteria, pride, and success of Indiana Hoosier Basketball.
Sources
"Cindy Simon Skjodt." Lilly Family School of Philanthropy, 2020, philanthropy.iupui.edu/people-directory/simon-skjodt-cindy.html.
"Indiana University." Indiana University Athletics, 2020, iuhoosiers.com/facilities/simon-skjodt-assembly-hall-mens-and-womens-basketball/2.
Image Sources
Indiana University Athletics