Hatfield-McCoy Hog Trial Cabin
Introduction
No one can exactly pin point when the bad blood between Devil Anse Hatfield and Randolph McCoy first boiled over. Some say it can be traced back to the Scottish Highlands, where Scotch-Irish ancestors often displayed a similar temperament. Others say Civil War loyalties played a factor (the Hatfield's remained staunch Confederates, even though West Virginia seceded from Virginia in 1863). But, there can be no denying that the unexpected verdict of the 1878 Hog Trial touched off a fire that would sear their very souls for the next 12 years. In the fall of 1878, Randolph McCoy brought charges against Floyd Hatfield for stealing one of his hogs. The resulting trial occurred at a Hatfield cabin and was presided over by the local justice of the peace, Preacher Anderson Hatfield. Preacher Anderson was Devil Anse Hatfield's cousin and did not want to appear biased so he gathered a jury of six Hatfields and six McCoys to hear the case. When the jury reached its verdict, Selkirk McCoy, nephew of Sarah McCoy and a veteran of the Virginia Confederacy, sided with the six Hatfields in favor of Floyd. The McCoys felt betrayed and open hostilities soon erupted between the Haftield and McCoy families. Later Bill Staton, who testified in favor of his brother-in-law, Floyd Hatfield, was killed by two of Randolph McCoy's nephews while he was hunting. They were tried and acquitted in a trial presided over by Valentine Hatfield, uncle of Devil Anse. After this, violence between the families continued and the resulting conflict eventually escalated into the most infamous family feud in American history. In August 1882, a fight broke out between Tolbert McCoy and Elias Hatfield at the cabin during an Election Day celebration. Devil Anse's brother Ellison Hatfield joined the fight, along with Tolbert's two brothers. One of the McCoys pulled a knife and Ellison was stabbed 27 times and then shot in the back. Anse and a posse intercepted the McCoy brothers as they were being taken to a Kentucky jail and escorted them back to West Virginia. Ellison was still alive and, according to Anse, the three McCoys would live only if Ellison survived. The following day Ellison died. Anse and his followers then transported the McCoy brothers across the river to Kentucky, tied them to several pawpaw trees and shot them. Indictments were issued for Anse and several of his supporters, but for five years no action was taken to extradite them. The consensus is that at least 15 persons, no more than 27, died as a direct result of the hostilities between various factions of the two proud families. Although tragic, the Hatfield-McCoy quarrel remains embedded in the American psyche. The clash ran a gauntlet of emotions, impulses, and influences that ranged from execution to economics and from romance to revenge. Ambush, betrayal, irony, frontier justice, murder, and politics helped nourish two families who preferred to settle their disputes with shotguns and pistols in an all-out border war.
Images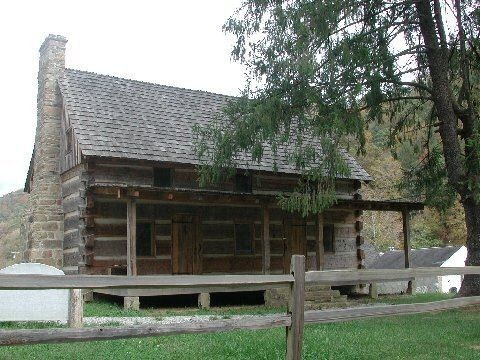 Backstory and Context
Sources:

Geocache. "Preacher Anse Hatfield Cabin." http://www.geocaching.com/geocache/GC3QEQX_hmgt-03-preacher-anse-hatfield-cabin?guid=7caf085c-fe41-4f3e-934e-0aab34f9ad1a (accessed November 15, 2013).

Matewan Depot Information Desk.