Pier 54
Introduction
Pier 54 was completed in 1900 to facilitate the import and export of products while also supporting the transportation of grain and other natural resources. The pier's primary purpose has changed in the decade that followed in ways that reflect the larger history of Seattle. It has served as a place for importing goods, a seaplane landing port, a pier for charter fishing and boating excursions, and a hub for retail, dining, and entertainment. The pier is currently home to a variety of stores and restaurants, including Ivar's Fish Bar and Ye Olde Curiosity Shop.
Images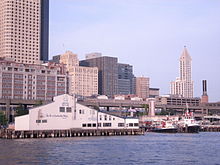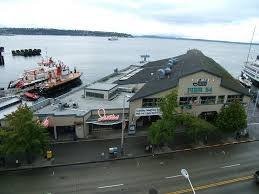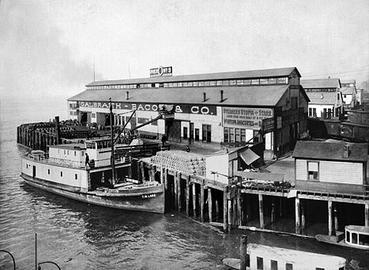 Backstory and Context
Pier 54 holds a unique place in Seattle history. The pier was originally known as Pier 3 when it was built in 1900 by Galbraith, Bacon & Co. During the second world war, the pier was renamed Pier 54 and has remained under that name to this day.
In its early years, the pier served as a transport hub for the import and export of products such as grain and wheat. In 1910, the pier nearly escaped destruction in a fire that destroyed any o the surrounding structures. In 1917 the Northern Pacific Railway Company purchased the pier and began using it to import construction materials. In 1929 Pier 54 became the general headquarters for Gorst Air Transport, a seaplane company. Up until 1944 the Northern Pacific Railway continued to own the pier but rented it off to a variety of different private companies.
In the first half of the 20th century, a variety of small businesses utilized the pier. Ivar Haglund, for example, rented out a small corner of the pier where he operated an aquarium and fish stand. The aquarium closed in 1945 and Haglund used the space to open a larger restaurant. In 1966, Ivar Haglund bought the pier for $500,000 and remodeled the pier to better fit his restaurant's needs. The last major renovation was completed in 1985, the same year Haglund died. His restaurant "Ivars" remains a popular Seattle institution.
Sources
Dorpat, Paul . Ivar Haglund Buys Pier 54, History Link. May 3rd 2000. Accessed May 3rd 2020. https://www.historylink.org/File/2509.
Pier 54, Seattle, Accessed May 3rd 2020. https://en.wikipedia.org/wiki/Pier_54,_Seattle.
Dorpat, Paul . Seattle's Belltown Fire, May 26th 2003. Accessed May 3rd 2020. https://www.historylink.org/File/4180.