Milan High School (Helen Fields)
Introduction
Milan, Indiana is the site and setting for the movie "Hoosiers." It is about an underdog basketball team that won the state championship in Indiana and made history. A classic story, this place really represents the heart of Indiana and the pride and determination. This town shows a great progression from education starting in the state, then classes graduating, to high school basketball being added, to the team progressing into victory.
Images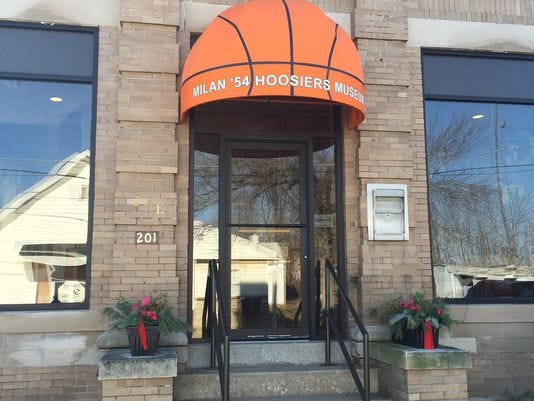 Backstory and Context
This is a classic small town Indiana success story and it really shows a perfect of the progression of both basketball (sports) and schools (education) in Indiana. According to the Herald Tribune, the team that Milan played against (Muncie Central) had a lot more students at their school and being a small school is what made them an underdog in the first place. The best basketball team also means good grades because in order to stay on the team grades have to stay good, I know this from my own personal team experience. The athletes worked very hard in the classroom and on the court in order to win this championship no one would have ever seeded them to win in.
Sources
Herald-Tribune, Christopher Aune The. "Milan Miracle Chosen State's No. 1 Sports Story Ever." Tribune, July 22, 2016. https://www.batesvilleheraldtribune.com/sports/local_sports/milan-miracle-chosen-states-no-1-sports-story-ever/article_99264efd-b857-5348-9f16-c4a58a4e9b63.html.
"Milan History." Milan 1954 Museum, July 29, 2019. https://milan54.org/about-milan/milan-history/."Milan History."