The Wrigley Building
Introduction
This iconic Chicago skyscraper was constructed to house the headquarters of William Wrigley Jr.'s chewing gum empire and was completed in two stages in 1921 and 1924. Wrigley started his business in Chicago in the 1890s, and his meteoric success provided him with the funding to construct this Beaux-Arts-style office building at a cost of $8 million. The south clocktower, modeled after a cathedral bell tower in Sevilla, Spain, was once Chicago's tallest building at 32 stories high. The north and south sections are actually two buildings connected by a three-story vaulted atrium at the ground level and a walkway on the fourteenth floor. The exterior of the building is clad in various shades of white and grey terra cotta which is sculpted into ornate architectural elements. Dubbed "the house that chewing gum built," the Wrigley Building remained the Wrigley Company's headquarters for 90 years until it was sold in 2011.
Images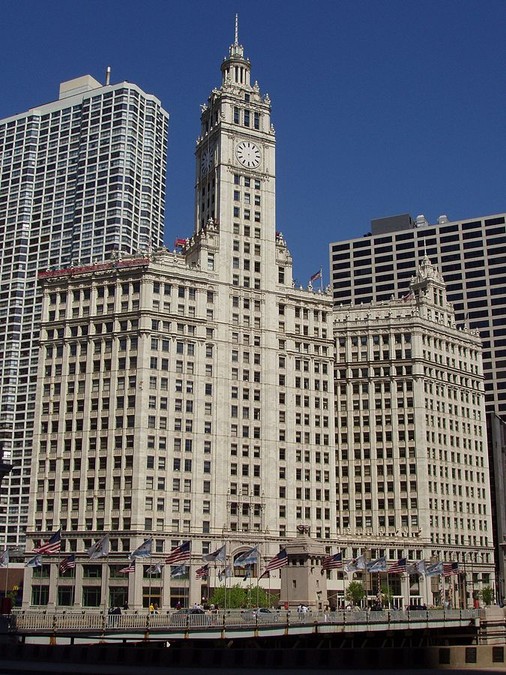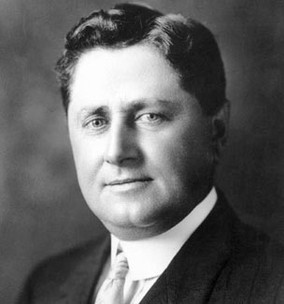 1921 advertisement for the Wrigley Building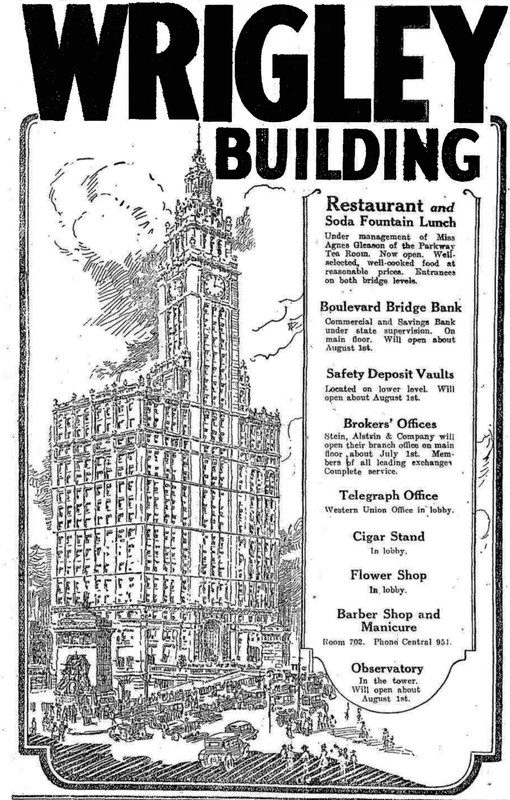 1921 aerial view showing the south tower dominating the Chicago downtown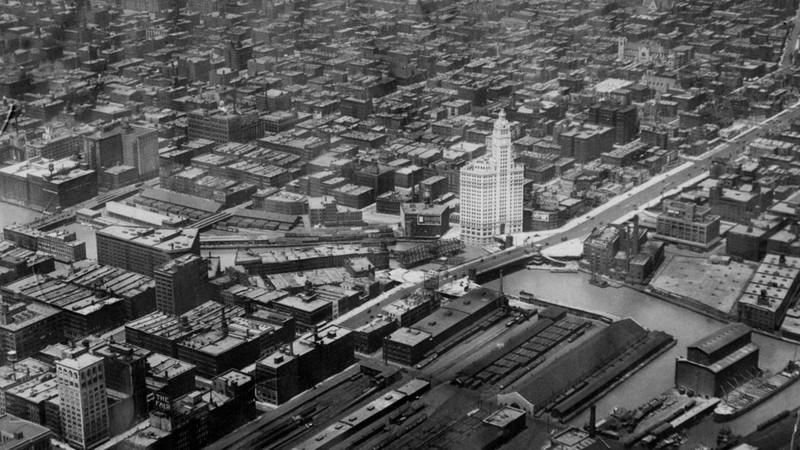 Construction on the north annex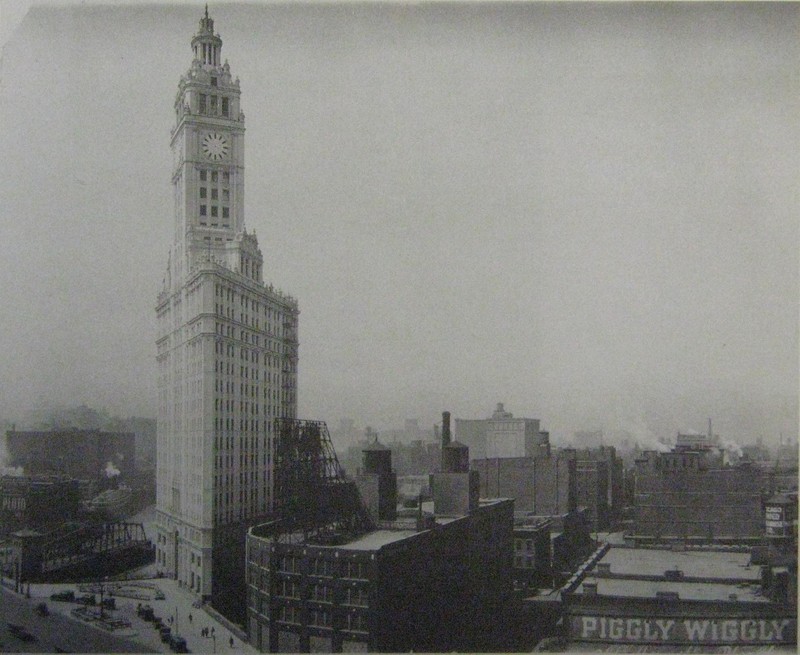 The Wrigley Building with both sections complete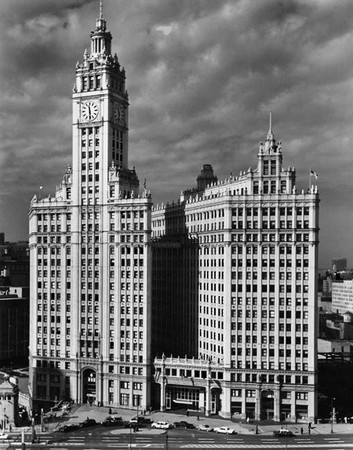 Detail of the ornate terra cotta exterior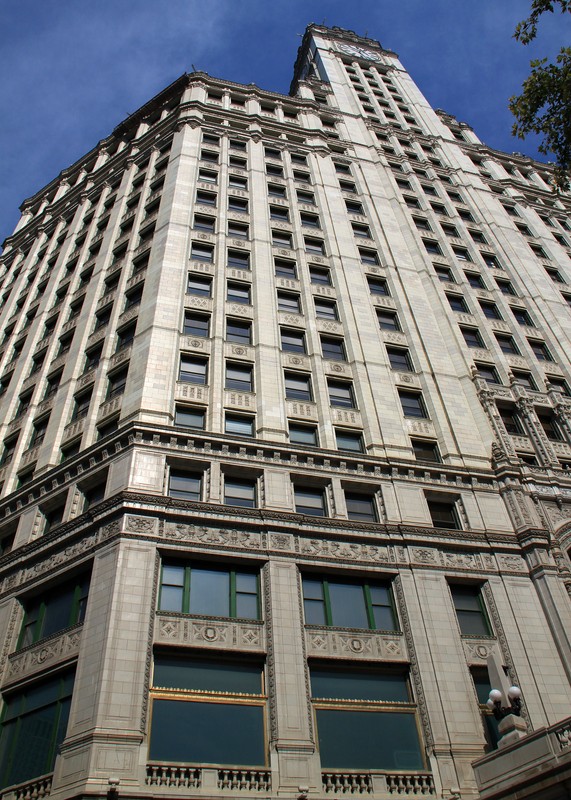 The ground-floor atrium was converted to an open-air plaza after it was sold in 2011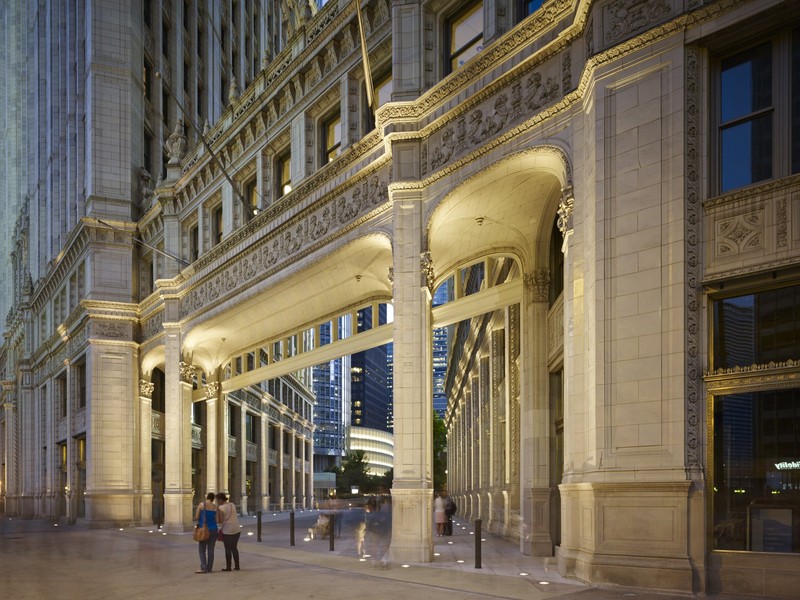 Inside the building after renovation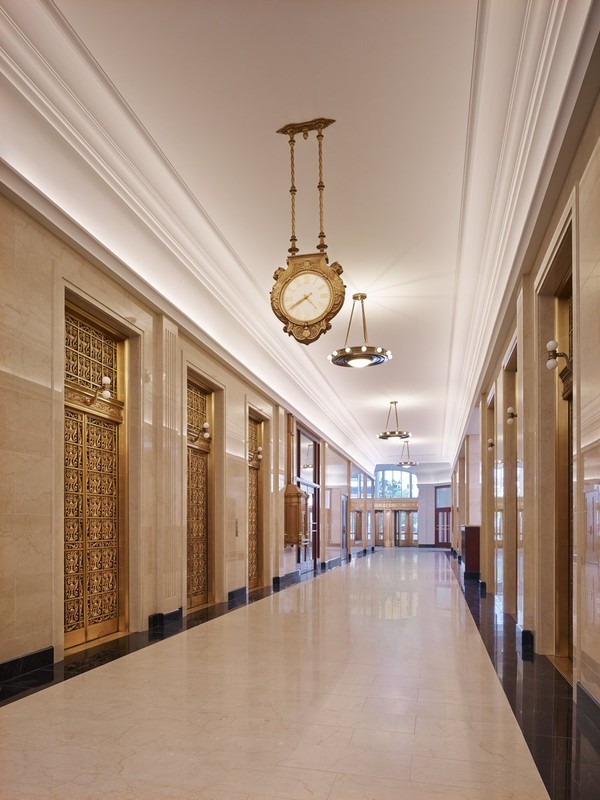 Drawing detailing the exterior architectural work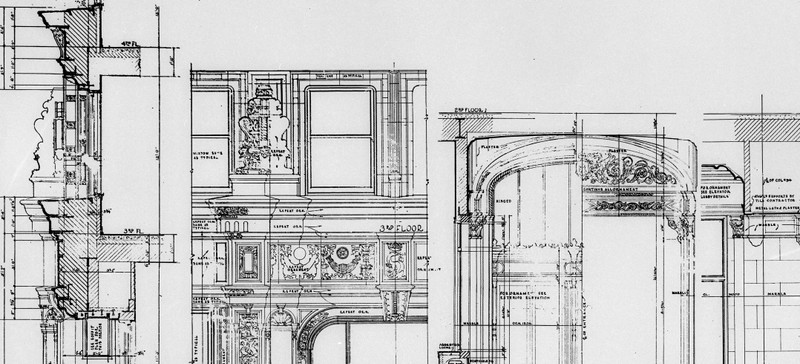 The Wrigley Building lit up at night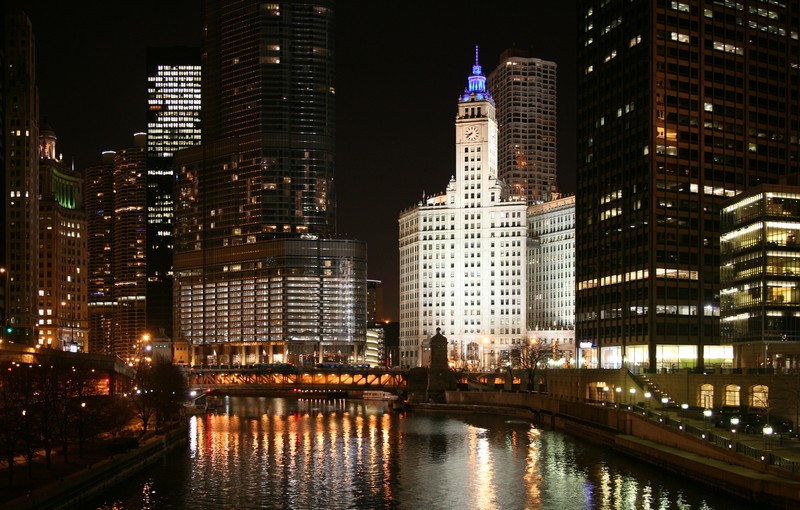 Backstory and Context
Entrepreneur William Wrigley Jr. launched his chewing gum empire in Chicago in the 1890s. The success of the company was due in large part to Wrigley's commitment to improving chewing gum products, which had previously been made with inferior ingredients that tended to lose flavor quickly, as well as innovative advertising campaigns. By the 1910s, the Wrigley Company was bringing in millions of dollars a year and became the largest producer of chewing gum in the world, a title which it still holds today. 
The William Wrigley Jr. Company
William Wrigley, Jr. moved to Chicago in 1891 from his native Philadelphia in order to expand on his father's soap manufacturing business. Wrigley often offered promotional items to increase sales, including chewing gum supplied by Zeno Manufacturing. Wrigley suggested that Zeno try using chicle, a latex from tropical trees typically to make rubber, in the gum in order to increase how long the flavor lasted. This proved a hit with consumers, and before long, the gum became more popular than his original products.
In 1893, the William Wrigley Jr. Company debuted Wrigley's Spearmint and Juicy Fruit flavors. While these were popular flavors, Wrigley began to face fierce competition and suffered significant losses after a recession in 1907. However, the company bounced back with a wildly successful advertising campaign, which, again, included promotional items and coupons. Sales skyrocketed from $170,000 to $3 million in 1910. Wrigley's motto behind the campaign was "Tell them quick, and tell them often."
The company's advertising schemes would prove key to its success. In 1915, Wrigley mailed a complimentary pack of gum to every household in the US with a telephone, arguing that if those consumers could afford phones, they could afford extras like chewing gum. The Wrigley Company branched out to consumers in Canada, the UK, and Australia. More new flavors were launched, such as Blood Orange, Lemon Cream, Pineapple, Banana and even Pepsin. None of these new flavors stuck until 1914, when Doublemint (a new style of peppermint) was introduced. From 1930 onward, the Doublemint advertisements always featured twins.
World War II saw sales plummet as ingredients were in short supply. However, the Wrigley Manufacturing plant was converted into a war-time rations production facility, which included packs of gum in all emergency kits. The gum was promoted as a way to invigorate troops, relieving them of tension and dry mouths. Once the war was over, the popularity of gum skyrocketed once again, past what it had been before the war. The Wrigley Company insisted on keeping the price of a five-stick pack to only five cents. Reluctantly, it was finally forced to increase the price to a dime in 1971, but added two additional sticks to make up for it. Wrigley's also introduced three new popular flavors in the 1970s: Freedent, Big Red, and Hubba Bubba, the latter being marketed specifically to adolescents. Wrigley's has been the largest producer of chewing gum products in the world for 100 years and remains an easily recognizable brand among consumers today.
The Wrigley Building
Around 1918, William Wrigley Jr. began making plans to construct a magnificent skyscraper in downtown Chicago that would be the new headquarters of his successful business. The building was constructed in two phases. The first phase, with a south tower, was completed in April 1921, and the north annex was completed in May 1924. The buildings were the first major offices on the north side of the Chicago River and sparked commercial expansion to the north of downtown. The south tower was by far the tallest building in Chicago at the time, stretching 32 stories and 398 feet high. The north annex is 21 stories high, and set at an angle, so that the two sections complement each other and appear as one building. The two sections were connected by a three-story vaulted atrium at the ground level and a walkway at fourteenth floor.
The Wrigley Building was designed by Graham, Anderson, Probst & White architectural firm. The firm chose a mixture of Beaux Arts architecture with French and Spanish Renaissance details. Some of the decorative elements on the outside include fleur-de-lis, gryphons, urns, and cornucopias. The south tower was modeled after the Moorish bell tower, La Giralda, of the cathedral in Sevilla, Spain. The tower has a clock face on all four sides, each rising two-stories.
The exterior of the Wrigley Building is lavishly decorated using terra cotta sculpted by the Northwestern Terra Cotta Company. A special enamel finish on the terra cotta, in varying shades of grey and white, created a particularly light-reflective and dynamic effect to the towering skyscraper. In addition, it was one of the first skyscrapers to be equipped with an extensive illumination system, so that it could be admired at night as well as during the day. Since the time of its completion, the various floodlights that shine on the multi-shaded tiles have created a spectacular display at night. Visitors could take a thrilling ride on the new electric elevators to the twenty-eighth floor, which had an observation deck with a bird's-eye view of the Chicago downtown and Lake Michigan.
Wrigley spared no expense on the building, spending an average of almost $1 per cubic foot for the massive skyscraper. It was the first office building in Chicago to be air-conditioned. The final cost came in it $8 million, almost tripled the original estimate. It has been dubbed "the house that chewing gum built" and the skyscraper "built by nickels" (a reference to the original cost of a pack of Wrigley gum). The Wrigley Building remained the headquarters of the Wrigley Company for 90 years, until it was sold in 2011 to developers. Extensive renovation work was completed after its purchase, including the conversion of the ground-floor atrium to an open plaza space, preservation work on the terra cotta tiles, and the replacement of all 2,000 windows. The building is mentioned as a contributing structure for the nomination of the Michigan-Wacker Historic District on the National Register of Historic Places. 
Sources
Chappell, Sally A. Kitt and Brian Kiernan. Architecture and Planning of Graham, Anderson, Probst and White, 1912-1936: Transforming Tradition. University of Chicago Press, 1992. https://www.google.com/books/edition/Architecture_and_Planning_of_Graham_Ande/VDtdoWdT8EEC.
Commission on Chicago Landmarks. Landmark Designation Report: Wrigley Building, 400-410 North Michigan Avenue. Department of Housing and Economic Development, City of Chicago, February 2, 2012. PDF of report accessed April 30, 2020 at Chicago.gov. https://www.chicago.gov/content/dam/city/depts/zlup/Historic_Preservation/Publications/Wrigley_Building.pdf. 
Grant, Tina. "Wm. Wrigley Jr. Company." International Directory of Company Histories, Volume 58. Detroit, MI: St. James Press, 2004. Transcription accessed April 30, 2020 at Encyclopedia.com. https://www.encyclopedia.com/books/politics-and-business-magazines/wm-wrigley-jr-company.
Korom, Joseph J. The American Skyscraper, 1850-1940: A Celebration of Height. Boston: Branden Books, 2008.
O'Gorman, Thomas J. Architecture in Detail: Chicago. London: PRC Publishing, 2003.
"The Wrigley Building." Goettsch Partners, Inc. Accessed May 2, 2020. https://www.gpchicago.com/architecture/wrigley-building/.
Image Sources
User "Daderot": https://en.wikipedia.org/wiki/File:Wrigley_Building_-_Chicago,_Illinois.JPG#filelinks

https://candyhalloffame.org/inductee/william-wrigley-jr/

Chicago Tribune: https://chicagology.com/skyscrapers/skyscrapers075/

Chicago Tribune: https://chicagology.com/skyscrapers/skyscrapers075/

https://en.wikipedia.org/w/index.php?title=File:20070913_Rush_Street_Swing_Bridge_beyond_Wrigley_Building.JPG

https://www.zellerrealty.com/the-wrigley-building

User "MrTinDC": https://www.flickr.com/photos/mr_t_in_dc/3908573948/in/photostream/

Goettsch Partners, Inc.: https://www.gpchicago.com/architecture/wrigley-building/

Goettsch Partners, Inc.: https://www.gpchicago.com/architecture/wrigley-building/

The Wrigley Building: http://thewrigleybuilding.com/

Daniel Schwen: "The Wrigley Building." Goettsch Partners, Inc. Accessed May 2, 2020. https://www.gpchicago.com/architecture/wrigley-building/.

Additional Information