Eli Hoover House and Confectionery
Introduction
This brick Queen Anne style structure with limestone detailing was built in 1899 as a combined residential and commercial building by local cigar store owner, Eli Hoover. The two-and-one-half story, red brick building has an irregular roof with multiple gables of varying pitch and size; slate fishtail shingles cover some of the gable ends. The commercial entrance is through the southeast corner of the building, while the residential entrance door is accessed by a front porch against the southwest portion of the structure. The porch columns are round with Corinthian capitals. The Eli Hoover House and Confectionery was listed in the National Register of Historic Places in 1988 as a contributing structure in the Historic Resources of Downtown Muncie Multiple Resource Area; at that time, the building was being used for commercial office space.
Images
2012 photograph of front and west side of Eli Hoover House and Confectionery (Nyttend)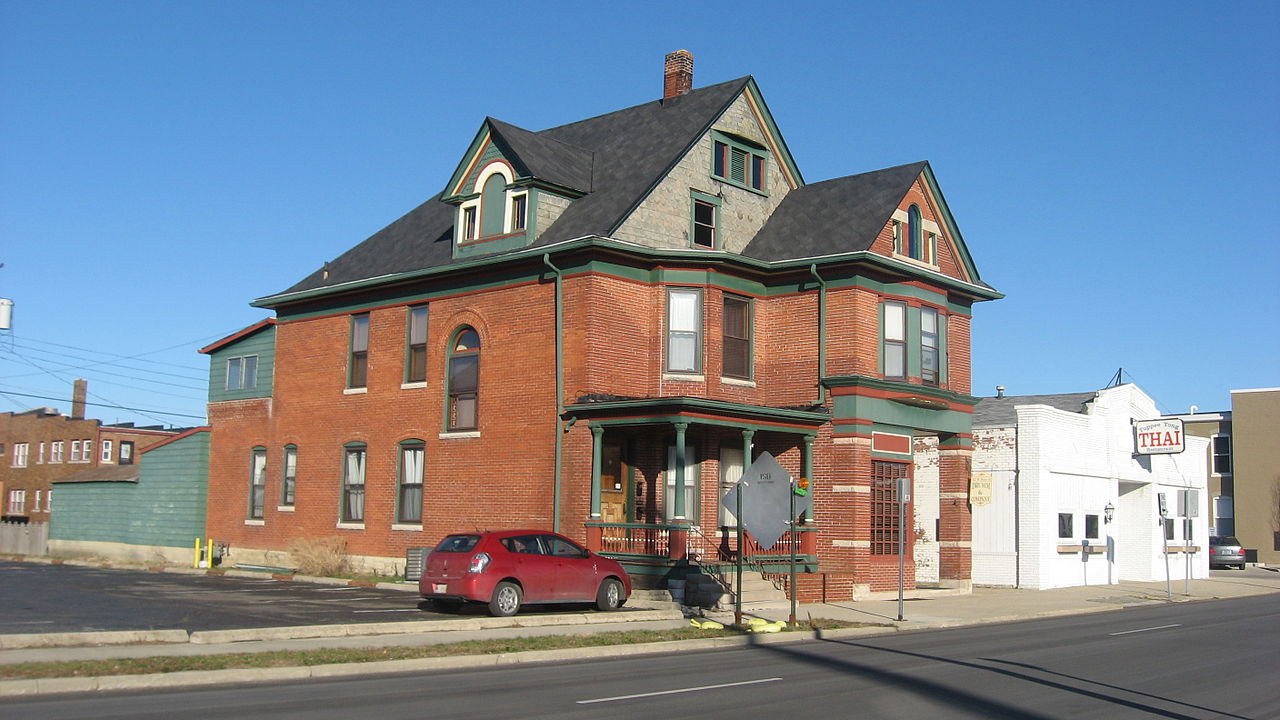 Detail from photo of Eli Hoover House and Confectionery (building #307, photo#65) from the NRHP MRA nomination (1988)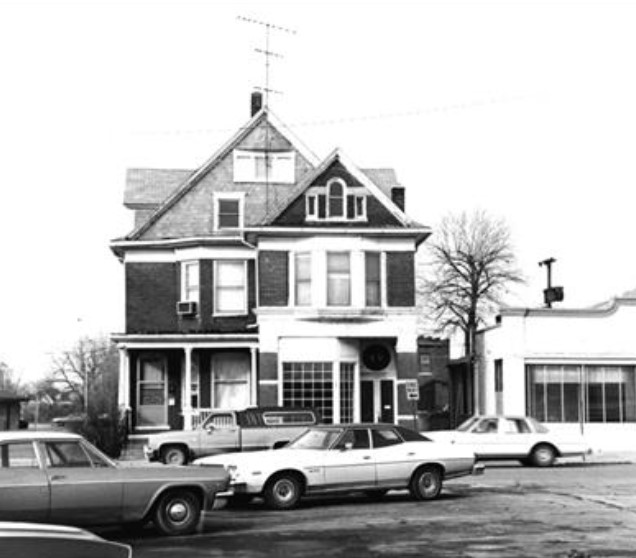 Help wanted ad for a "girl to work in store" of Hoover Confectionery in 1921 (Richmond Palladium, 6-10-1921, p. 13)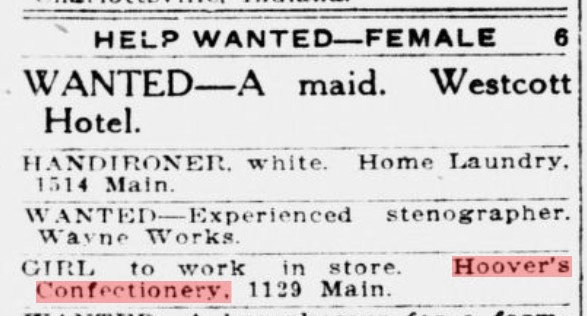 Backstory and Context
Eli Hoover was a Muncie-born man who started a cigar and tobacco business in 1892. His maternal grandfather, Isaac Freeman, was one of the pioneer settlers of Delaware County, as was his paternal grandfather. Hoover, born in 1854, served as the first Exalted Ruler of the local Odd Fellows Lodge; he also was a member of the Improved Order of Red Men, a masonic organization in Muncie, as well as the Knights of Pythias. Hoover helped organize The Western Reserve Insurance Company and was a board member.
Hoover married a local girl, Eldora Schick, in 1877; the couple had three daughters. One daughter, Edna, got married in her parents' home on West Main Street to George Roach in November of 1902. The couple, who were wed in front of fifty relatives and friends, planned to live in Logansport. Edna's sisters were named Psyche and Reba.
Eli Hoover's new home, built in 1899, was designed to combine his residence and his business. Hoover's cigar shop had been broken into and robbed of $100 in cash during a local robbery spree in April 1892; perhaps he viewed the combined structure as a deterrent to this type of crime. Hoover began selling candy around 1909, adding the sweets to the cigar shop. By the late 1920s, there were fourteen confectioners in Muncie. Hoover died in 1927.
The structure was listed as part of the National Register Downtown Muncie Multiple Resource Area nomination in 1988 and was found to be significant for its architectural style and in the area of commerce. The original boundaries of what was called "Munseytown" in 1827 were along Garkey Street on the west, North Street on the north, Jefferson Street on the east, and Jackson Street on the south. Early commercial growth was along Main Street, where the Richmond State Road connected. Later, development moved south after the Bellefountain Railroad reached the area in 1852. A business boom followed the discovery of natural gas in the area in 1886.
This Clio entry is the start of a walking tour through downtown Muncie, with historic buildings dating from around 1860 to the 1930s. The business portion of the structure currently contains the accountant firm known as Drumm & Company.
Sources
Anonymous. "Harvest of Robberies at Muncie." Indianapolis Journal (Indianapolis) April 26th 1892. , 2-2.
Anonymous. "Red Men Still at Work." Indianapolis Journal (Indianapolis, IN) October 22nd 1902. , 3-3.
Anonymous. "Roach - Hoover." Indianapolis Journal (Indianapolis, IN) November 28th 1902. , 3-3.
Economic Development Alliance, Muncie-Delaware County. Drumm & Company, Certified Public Accountants, Member Directory. Accessed May 4th 2020. http://muncie-delaware.chambermaster.com/list/member/drumm-company-muncie-231.
Haimbaugh, Frank D., editor. History of Delaware County, Indiana. Volume II. Indianapolis, IN. Historical Publishing Company, 1924.
Hoover, Dwight W. Magic Middletown. Bloomington, IN. Indiana University Press, 1986.
Historic American Newspapers, Library of Congress Chronicling America. Accessed May 8th 2020. https://chroniclingamerica.loc.gov/.
Rice, Gary R., Lenny Lapola, Gretchen B. Cheesman, Paul C. Diebold. NRHP Nomination for Historic Resources of Downtown Muncie Multiple Resource Area. National Register. Washington, DC. National Park Service, 1988.
Image Sources
https://en.wikipedia.org/wiki/Eli_Hoover_House_and_Confectionary#/media/File:Eli_Hoover_House.jpg

https://npgallery.nps.gov/AssetDetail/NRIS/88002128

Library of Congress Chronicling America Historic Newspapers website; Richmond, Indiana newspaper