East Side Gallery
Introduction
The East Side Gallery is one of the largest open-air galleries in the world and a big tourist attraction. It is located at the site of the wall that divided east and west Germany. Many of the paintings in the East Side Gallery illustrated reunification, hopes for the future, and breaking free of oppression.
Images
"Test the best" Birgit Kinder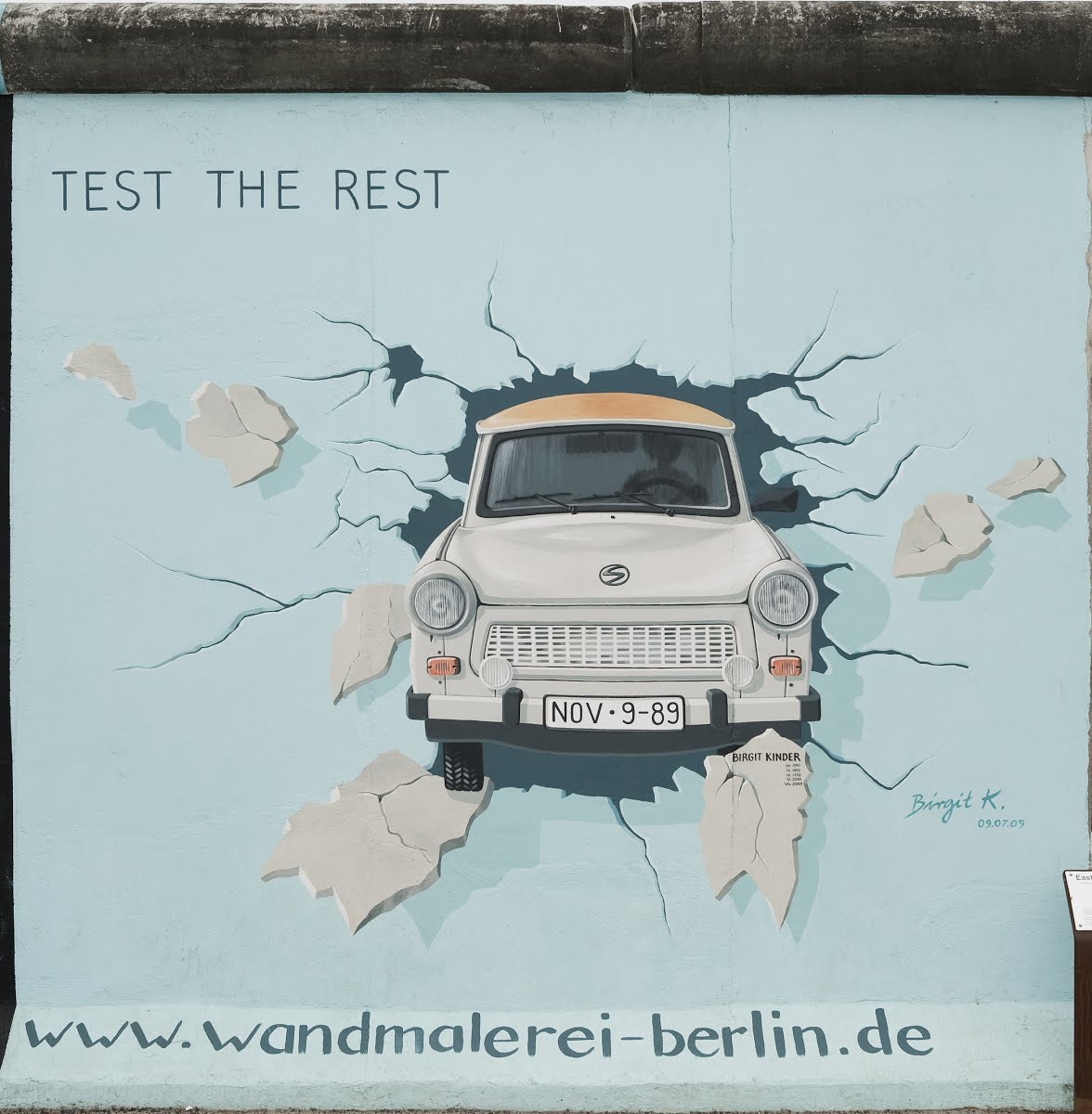 "The Wall Jumper" Gabriel Heimler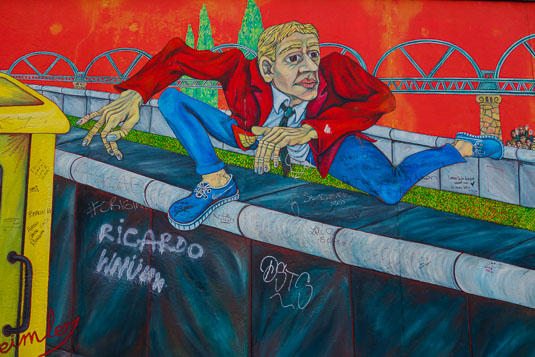 "It Happened in November" Kani Alavi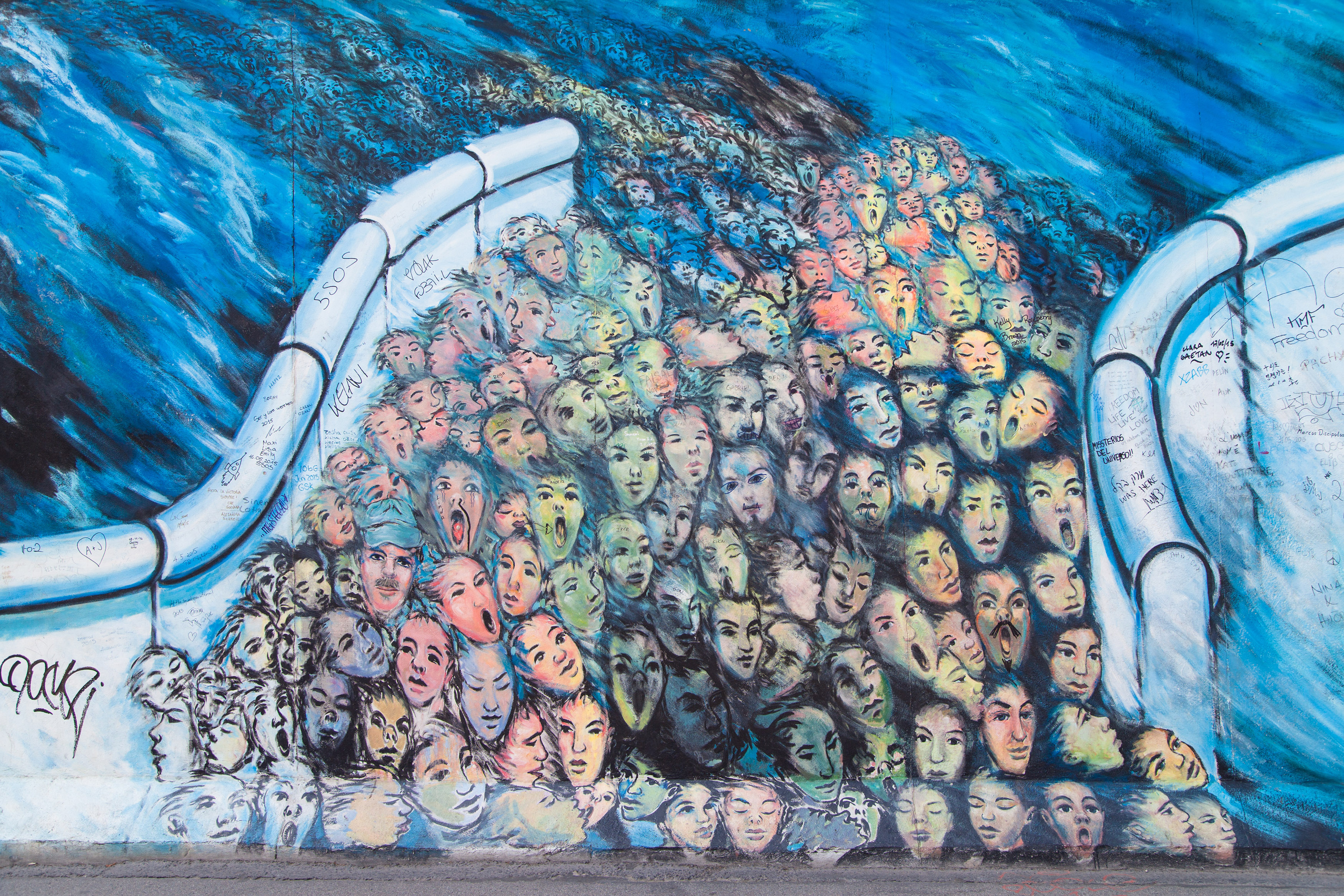 "Thank you, Andrei Sakharov" by Dmitri Vrubel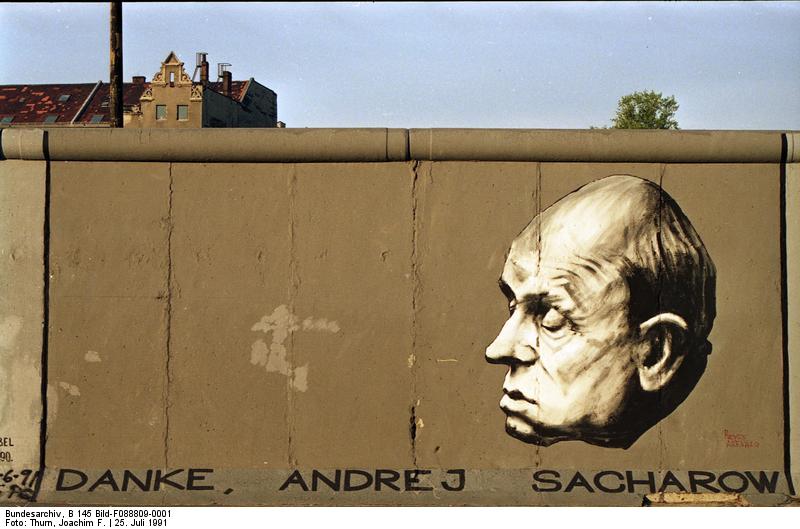 "My God, Help me to Survive This Deadly Love"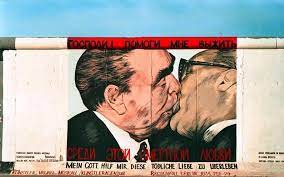 Backstory and Context
Before the fall of the wall in 1989, there was an influx of artists covering the West side walls with art. Starting in the mid to late 70s, artists began painting the walls with political references, jokes, and art pieces till the late 80s. As popularity for the art grew, so did this underground urban street art community. People were able to protest against the division caused by the wall, and the overall discontent it brought to everyday life.
Thierry Noir, a french artist who moved to Berlin, is known for leading the art movement. He started painting in 1984 daily with cartoon type of paintings with bright colors. His art covers more than 5 kilometers of the Berlin Wall and his art is considered the classic street art style of Berlin.
Immediately after the wall fell, many artists worldwide came and began to paint on the Eastside. There was an overall feeling to celebrate the reunification and the hopes for a better future.
Kani Alavi founded The East Side Gallery in order to preserve, protect, and restore artists' works along the wall. He along with many other artists transformed the Iron Curtain into a symbol of freedom. Some of the pieces in the gallery are Birgit Kinder's "Test the best", Kani Alavi's "It happened in November", Gabriel Heimler's "Wall Jumper", and Dmitri Vrubel's "Thank You, Andrei Sakharov" and "My God, help me survive this deadly love". 
Sources
Prior, R. (2019, November 9). As the Berlin Wall was falling, one artist concocted a plan to turn it into the world's longest outdoor gallery. CNN. https://www.cnn.com/style/article/east-side-gallery-berlin-trnd/index.html. 
Grither, D. (2021, February 7). The art on the Berlin Wall: Sentiments of East and West Berlin. TheCollector. 
https://www.thecollector.com/art-on-the-berlin-wall/.
Image Sources
https://artsandculture.google.com/asset/test-the-best-test-the-rest/SAELZgj3NlegFQ

https://theculturetrip.com/europe/germany/articles/10-iconic-murals-on-the-berlin-wall/