River Raisin National Battlefield Park
Introduction
Located in the southeastern part of Michigan, this park spans 40 acres. Though some of it is closed to the public, visitor's are welcome to come to the park and relive a part of US history. It was in this area that the Battle of Frenchtown was fought in during the war of 1812, resulting in the deaths of hundreds of American soldiers. This site is the only National Battlefield Park from the War of 1812.
Images
The Visitor Center features exhibits, dioramas, military artifacts, and other items.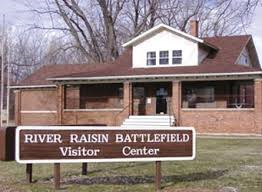 Inside the visitor's center.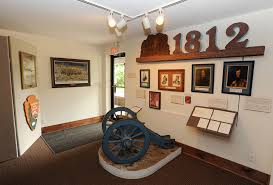 Backstory and Context
The River Raisin Battlefield Site was listed as a Michigan Historic Site on February 18, 1956. However, it wasn't nationally recognized until it was added to the National Register of Historic Places in December of 1982 and didn't operate as a national park until October 2010. Inside the visitor center, you can find full-sized figures of the British, Native American and American soldiers who fought here. There is also a presentation of the Battles of River Raisin.
The park holds a memorial service every January to commemorate all the soldiers that fought in the Battle of Frenchtown during the War of 1812. This battle took place January 18-23, 1913 when American troops forced the British Army and Native Americans to leave the land. The British and Indian forces then came back in a surprise attack against the Americans to fight for their land. Of the 934 Americans that fought here, only 33 avoided death or capture.
This site also holds relics from the war that have been uncovered by archaeologists over the years. Certain parts of the park are restricted to public access and much of the area is undeveloped as a park because of its recent opening, but there is still plenty to do as well as learn here. There is free parking on the site and visitors are allowed to view the historical markers throughout the park.
Sources
"History & Culture." National Park Service - River Raisin National Battlefield Park. Last Updated March 25, 2016. https://www.nps.gov/rira/learn/historyculture/index.htm
Additional Information