Heartland Museum of Military Vehicles
Introduction
The Heartland Museum of Military Vehicles has over 100 military vehicles that can be explored by anyone who visits the museum. It also has displays of weapons, clothing, equipment, and the everyday needs of a soldier in the military. There are not only US vehicles, as well as vehicles that were used by the German army in World War II. The museum is a nonprofit organization that is ran by volunteers and funded by donations and grants.
Images
Heartland Museum of Military Vehicles building.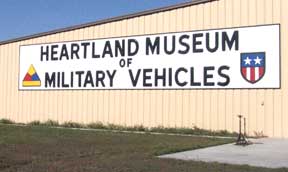 Freshly restored Bradley Tank that has been brought inside and is now open to be toured.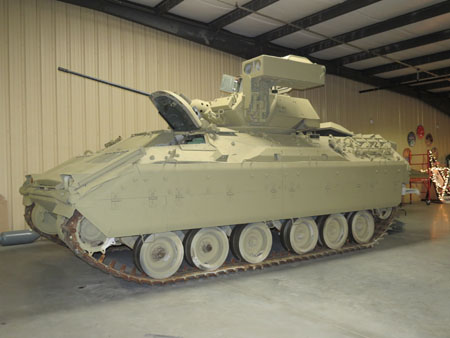 Backstory and Context
Founded by four Lexington, Nebraska men, the Heartland Museum of Military Vehicles is home to over 100 restored military vehicles. These vehicles came from within a 150 mile radius of Lexington. Most of the vehicles displayed in the museum came from the state of Nebraska. These vehicles were used by farmers in the 1940s and 1950s when tractors were in short supply. The military vehicles that make up the displays in the museum span more than a half century.
Some of the displays include a jeep from each branch of the service, a snow tractor, World War II German Army vehicles, displays of rations, cooking gear, canteens medical supplies, munitions, uniforms, flags, engines, photos, weapons and much more.
The Heartland Museum of Military Vehicles is also a Library of Congress repository for interviews with area World War II veterans. Its goal is to restore, preserve, and display historic military equipment of all types as a way to honor those who served.
The newest exhibit is the M*A*S*H Exhibit. This exhibit not only honors those who served in these units, but also plays off the popular television show.
Additional Information