Temple of Tolerance
Introduction
The Temple of Tolerance is a memorial and residential park in the backyard of Jefferson Award Winner Jim Bowsher. The park was built and is owned by this eccentric Wapakoneta Resident. The park holds a Veterans Memorial designed and built by Bowsher. The park also holds an eclectic variety of historical artifacts. The park is located in the backyard of this resident and is open to the public from dawn to dusk. Free admission is the norm, but there is a box for donations at the front of the house for those who wish to contribute to the park's upkeep. Tours are available from Bowsher himself if you call ahead to schedule one.
Images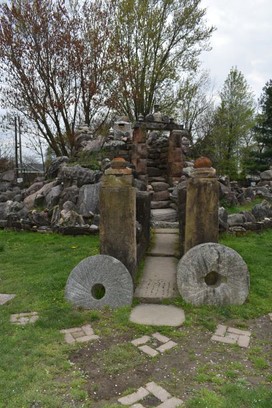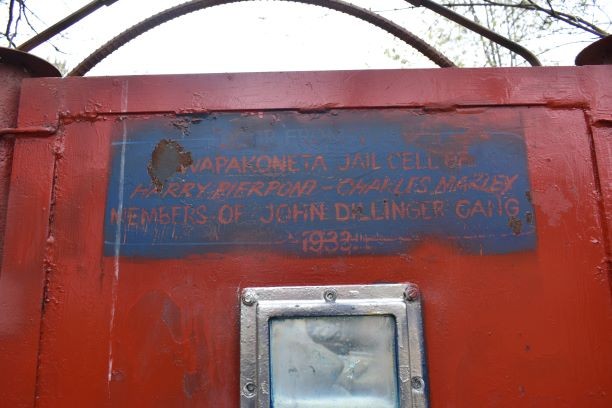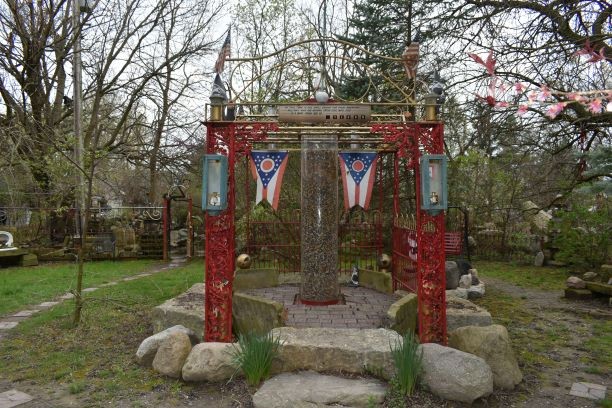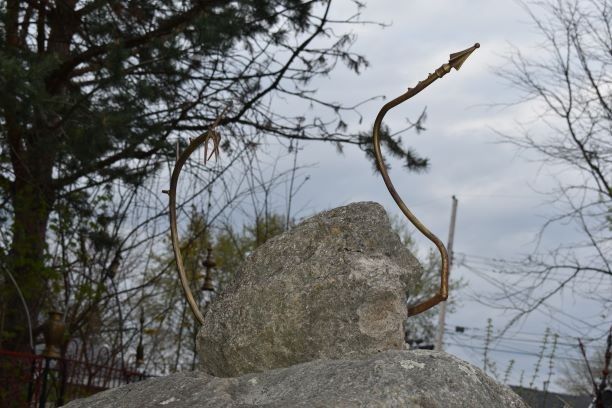 Bowsher's own words set to stone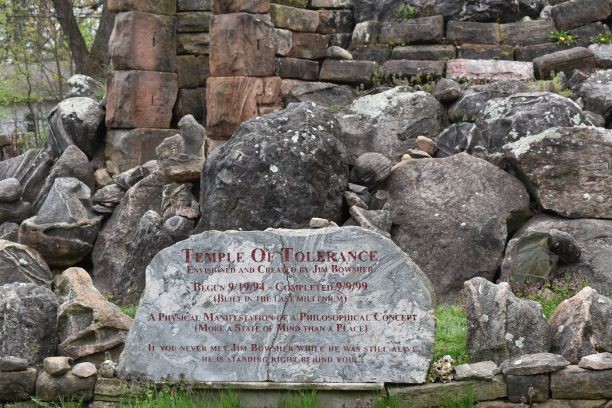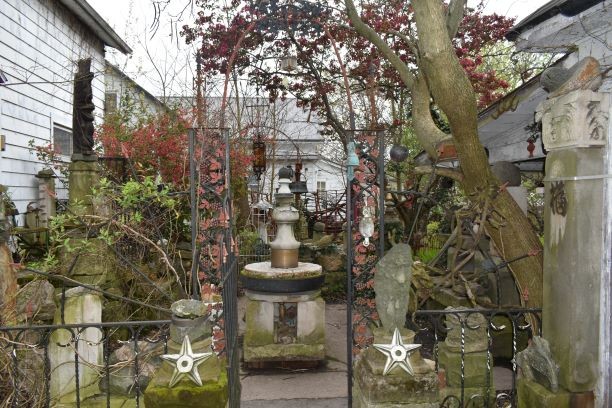 View From the Top of the Temple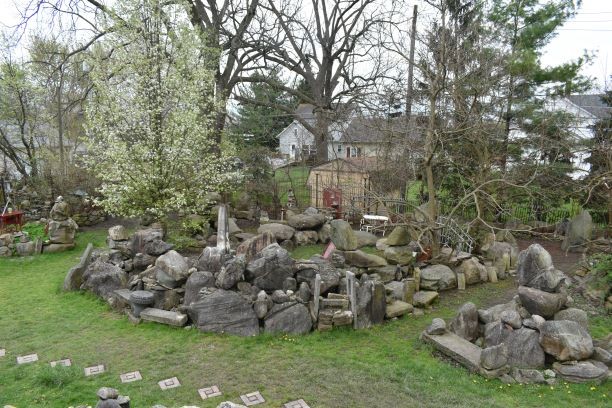 Springtime Blooms in the Garden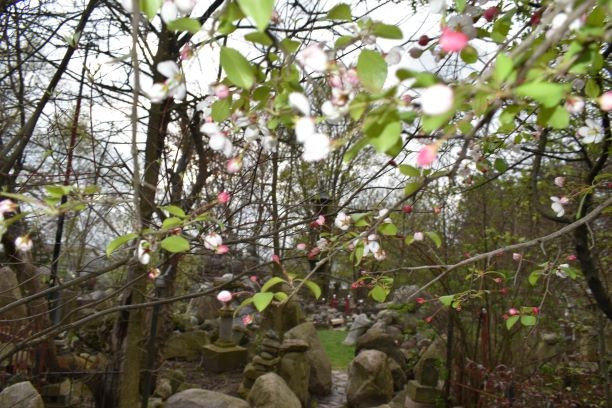 Backstory and Context
This park is also called the rock garden, and has been described as, "a stonehenge themed cemetery"- Roadside America, though there are no people buried in the yard. The point is that this park is filled with wrought iron gates, archways, lanterns, rocks, bowling balls, and carved statues. It is an artful arrangement of junk that people travel from around the world to come visit. There is a Temple in the yard. It resembles the remnants of an ancient ruin with two Shawnee Indian mill stones at the base of the stone steps. These steps lead you up through a stone arch into the pinnacle of the temple. This pinnacle holds a fire pit in the center with two benches on either side of it. One of these benches is made from a stone that used to be a part of the local area's KKK headquarters. Bowsher likes to ask African American people to sit on it to liberate the stone from it's dark history. Surrounding this temple are many stone studded gathering places. There is a swing, and a bridge, and a million other nooks and crannies for children to hide and play in.
There are many historical artifacts scattered across the acre of park, and inside Bowsher's house as well. Some of the most notable are a rock that many geologists like to come visit. This rock is so interesting because it is about 4.2 billion years old. There is also a piece of the Berlin Wall sitting quietly upon a rock in the garden. There is also a slab of counter that the famous bank robber John Dillinger once leaped over, and a cell door that had briefly contained two members of the John Dillinger gang in the garden. There is also a Barrel House resting on the grounds. This house is scarred with bullet holes from the prohibition era, and is rumoured to be the only house in America purposely built like a barrel. Finally, there is veteran's memorial in this park. This memorial has a sign above it that tells the viewer that the transparent tube beneath it contains a bullet shell for every Ohioan who has died in war since 1812. This is a particularly sentimental piece of the park for many of the people who visit it.
This park has entertained a diverse group of people since construction on it first began in 1981. These grounds have held the footprints of many children, locals, and even a few celebrities. Bowsher has shared his yard with Neil Armstrong, the Wapakoneta born Astronaut who was the first man on the moon. Bowsher reflected once on a conversation with Armstrong as he sat on a rock that had come from his highschool with the moon in full view behind him. Bowsher remembers marveling at the moon and the man in front of him who had once stood there and was now kicking his feet on a stone in the middle of Bowsher's legacy with the reminder of his own famous legacy in the sky just behind him. The actor, Johnny Depp also visited the garden. Running about in a half mad fashion just as his famous role pirate Jack Sparrow might have done. At least, that's what Bowsher likes to tell the kids who come to visit the park pretending that they too are pirates on the verge of a great adventure. Other celebrities who have visited the park include country singer Tim McGraw, and American Singer-songwriter Bruce Springsteen. There is also a bench in the park that James Dean had once slept on.
Bowsher first built this place for local troubled kids to have somewhere accepting and peaceful to hang out in. The only rules here is that there are no drugs or bullying allowed. There's even a statue in the park named, the Bully Eater. Kids who have been bullied can write down the name of their bully and put it in the mouth of the bully eater to help them cope. One day Bowsher found a slip of paper in the mouth of the statue that said, "My name is Steven, I'm a bully, but I'm working on it", this place was built to heal. "This is a retreat where people can feel accepted. Especially young people."-Jim Bowsher
Sources
The Temple of Tolerance, Roadside America. Accessed April 30th 2020. https://www.roadsideamerica.com/story/19633.
, WBJUTV. Scenic Stops: The Temple of Tolerance - Emmy® Nominated 2012, YouTube. July 25th 2013. Accessed April 30th 2020. https://youtu.be/H7OgTZ4m2_4.
Waters, Blaire. Ohio's Whimsical Temple of Tolerance | Local Legends | Atlas Obscura, YouTube. June 25th 2019. Accessed April 30th 2020. https://youtu.be/5Uu0ooJk2Io.
Killea, Frances . Temple of Tolerance, Ohio Magazine. June 1st 2016. Accessed April 30th 2020. https://www.ohiomagazine.com/ohio-life/article/temple-of-tolerance.
Hernandez, Jo Farb . Jim Bowsher, Temple of Tolerance, Spaces Archives. Accessed April 30th 2020. http://www.spacesarchives.org/explore/search-the-online-collection/jim-bowsher-temple-of-tolerance/.
Shriver, Sam . Temple of Tolerance tube tells story, Lima News. July 3rd 2018. Accessed April 30th 2020. https://www.limaohio.com/news/307715/temple-of-tolerance-tube-tells-story.
Image Sources
Rebekah Lee

Rebekah Lee

Rebekah Lee

Rebekah Lee

Rebekah Lee

Rebekah Lee

Rebekah Lee

Rebekah Lee