Edwin H. Hewitt House
Introduction
The Edwin H. Hewitt house is named after its owner, one of Minneapolis' most prominent architects. Hewitt studied in the United States and France, where he honed both his architectural skills and love for the arts. His firm, Hewitt and Brown, built many commercial building and private residences in the Twin Cities, many of which remain today. Hewitt also pushed to develop Minneapolis into a city known for its culture as much as its position as a flour industry capital. He sold the house during the Great Depression to a family that turned the historic house into a funeral home, which it continues to be its purpose in 2020.
Images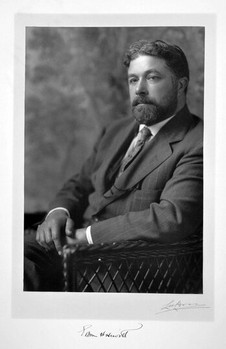 Historic Edwin H. Hewitt House. Photo taken in 2013.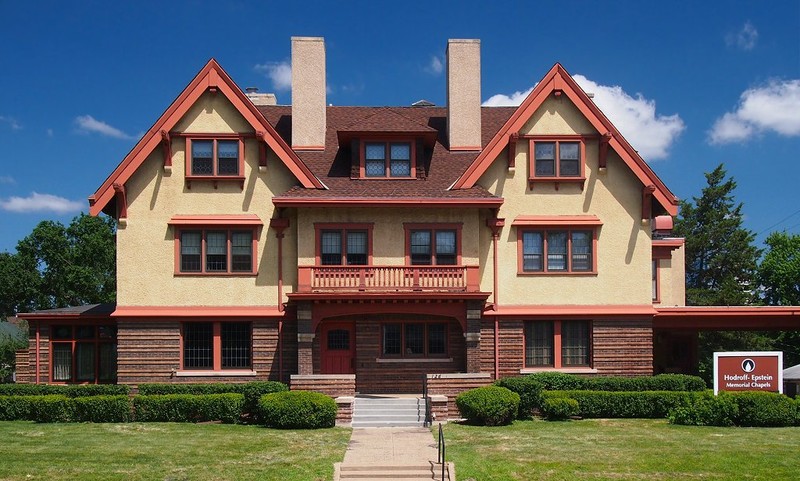 Backstory and Context
Edwin Hawley Hewitt (1874 - 1939) gained fame as one of Minnesota's most distinguished architects. Hewitt designed the historic home in 1906 only two years after opening his first architectural firm in Minneapolis. He possessed an abundance of pride in his Minneapolis home and designed numerous buildings throughout the city. 
Hewitt enjoyed a private education at home before leaving to attend Hobart College in New York. He later transferred to the University of Minnesota and spent his summers working in the architectural office of Cass Gilbert. He graduated in 1896 and then left to spend one year at the Massachusetts Institute of Technology before taking a job in Boston at the architectural firm of Shepley, Rutan, and Collidge. In 1900 he placed first in all foreign entrance examinations, and second when including French exams. His high scores enabled him to attend L'Ecole des Beaux Arts, or the National School of Architecture in France. He remained until 1904. During his stay, he made trips to other European countries in a pursuit to learn as much about architectural design as possible. 
He moved back to Minnesota in 1904 and subsequently opened his own architectural office in Minneapolis. By 1911, he joined Edwin Brown and formed the firm of Hewitt and Brown. The firm designed a wealth of notable buildings in Minneapolis. The pair designed the Minneapolis Telephone Building, which was selected by the American Institute of Architects for exhibit in Europe. They also designed the Episcopal Cathedral of St. Mark's, Hennepin Avenue Methodist Church, Metropolitan Bank Building, Gateway Building, the Northwestern Life Insurance Building, the Fort Snelling Chapel, Citizens Aid Building, the Minneapolis School of Fine Arts, the YWCA and numerous private residences.
During his time at the University of Minnesota, he added to his education by attended night classes at the Minneapolis School of Fine Arts. His passion for fine arts grew while in Europe. His passion turned to into a goal of accelerating the cultural growth of the Twin Cities. Hewitt became a member of the Society of Fine arts and other architectural and art associations
Hewitt and Brown continued their practice until Brown passed away in 1930. Hewitt resumed private practice, but as business declined during the Great Depression, he closed his office and became the chief architectural supervisor for the Federal Housing Administration for the Minneapolis area. Hewitt also sold the historic property during the Great Depression to Hodroff and Sons, who promptly turned the house into a funeral chapel (it remains a Memorial Chapel in 2020). 
Sadly, Hewitt never saw the end of the Great Depression, having died on August 11, 1939. The historic Hewitt home serves as a reminder of a time when Minneapolis remained a quickly growing city that enjoyed a population and construction boom, both commercially and private residences. Hewitt was a significant figure in both the construction of several buildings, but helping turn Minneapolis into a more culturally rich urban area. His home reminds onlookers of the economic good times realized in the city and nation through the 1920s before the Great Depression created drastic change. 
Sources
Hudson, Horace B. A Half Century of Minneapolis. Minneapolis: Hudson Pub. Co., 1908.
Millett, Larry. Lost Twin Cities. St. Paul: Minnesota Historical Society Press, 1992.
Nelson, Charles W. and Susan Zeik. "Nomination Form: Hewitt, Edwin H., House." National Register of Historic Places. nps.gov. April 6, 1978. https://npgallery.nps.gov/GetAsset/5d149823-934a-432c-a0fe-5cc03a9a022b/
Image Sources
https://forgottenminnesota.com/blog/2020/4/edwin-h-hewitt-house-in-minneapolis

By McGhiever - Own work, CC BY-SA 3.0, https://commons.wikimedia.org/w/index.php?curid=28637031

Additional Information