Cessna T-37 "Tweet"
Introduction
This is one of the most prominent trainer aircraft used by the US Air Force. The T-37 is a twin-engine primary trainer used for teaching the fundamentals of jet aircraft operation and for flying on instruments, in formation and at night. Affectionately known as the "Tweety Bird," it was the first U.S. Air Force jet designed from conception as a trainer. Its flying characteristics helped student pilots prepare to transition to the larger, faster T-38 Talon later in the pilot training program. Side-by-side seating in the T-37 made it easy for the instructor to observe and communicate with the student. The prototype first flew in 1954, and the T-37A entered USAF service in 1957. In 1959 the T-37B entered service with more powerful engines, a redesigned instrument panel, and improved radio communications and navigational equipment. In time, all A-models were modified to B-models standards. The T-37C, with provisions for armament and extra fuel, was built for export. Both T-37Bs and -Cs serve the air forces of several Allied nations. In all, nearly 1,300 T-37As, -Bs and -Cs were built before production ended in the late 1970s. In addition, nearly 600 A-37s — attack modifications of the T-37 — were built. The T-37 served as the U.S. Air Force's primary pilot training vehicle for over 52 years after its first flight. After completing Primary in the Tweet, students moved on to other advanced trainers. The last T-37 was removed from service in July 2009 and replaced by the T-6 Texan II.
Images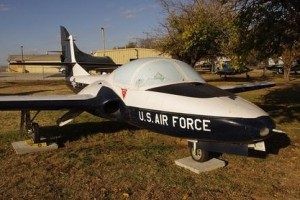 Backstory and Context
The Fort Worth Aviation Museum's T-37B is Air Force serial number 57-2261.
It was constructed by Cessna Aircraft Company in Wichita, Kansas, and delivered to the USAF on August 14, 1958. That same month it was assigned to the Air Training Command, 3306th Pilot Training Group in Bainbridge AFB, Georgia. In December 1960, it was transferred to the 3525th Pilot Training Wing at Williams AFB, Arizona. In March 1961, it was converted unto a T-37B. In January 1973, it joined the 82nd Flying Training Wing also at Williams AFB. In January 1979, the aircraft relocated to the 14th Flying Training Wing, Columbus AFB, Mississippi. In November 1991, its Air Force career ended and it was transferred to the museum program. Before arriving in Fort Worth, the aircraft was on display at the Museum of Aviation at Warner-Robins AFB in Georgia.
Locally, T-37s were used all over Texas to train Air Force pilots.
Sources
Fort Worth Aviation Museum
Additional Information