McDonnell Douglas QF-4S Phantom II "Shamrock 201"
Introduction
This plane flew combat in Vietnam and was aboard the "America" when 333 earned the only Marine Mig kill. McDonnell Douglas QF-4S BuPer 153821, now known as "Shamrock 201" First flown in May 1958, the Phantom originally was developed for U.S. Navy fleet defense and entered service in 1961. The USAF evaluated it (as the F-110A Spectre) for close air support, interdiction and counter-air operations, and in 1962, approved a USAF version. The USAF's Phantom II, designated F-4C, made its first flight on May 27, 1963. Production deliveries began in November 1963. In its air-to-ground role, the F-4 can carry twice the normal bomb load of a World War II B-17 Flying Fortress. USAF F-4s also flew reconnaissance and "Wild Weasel" anti-aircraft missile suppression missions. Phantom II production ended in 1979 after over 5,000 had been built — more than 2,800 for the USAF, about 1,200 for the Navy and Marine Corps, and the rest for friendly foreign nations.
Images
QF-4S Phantom II "Shamrock 201" Fromerly "Scooby"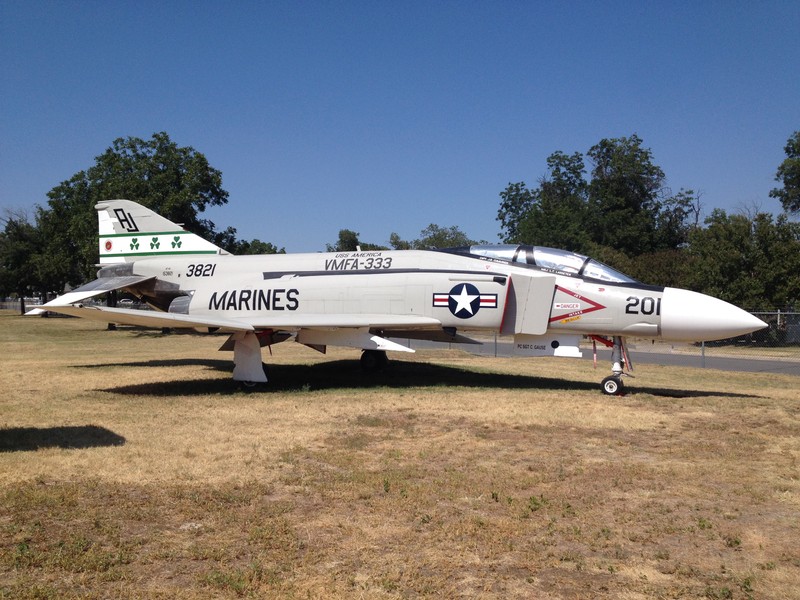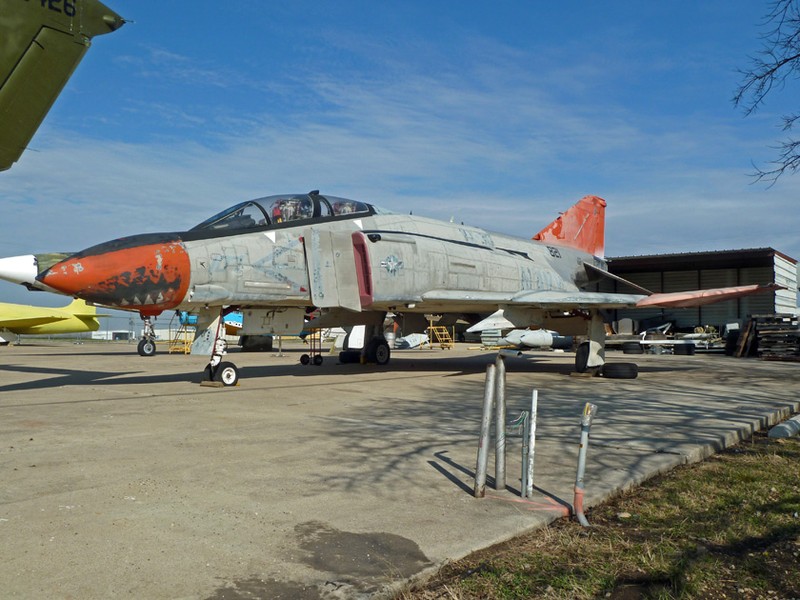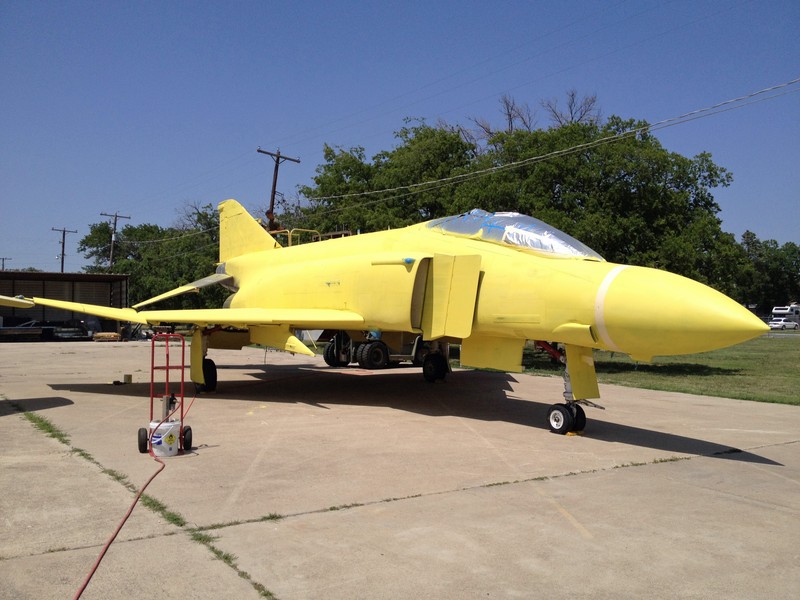 Backstory and Context
The Fort Worth Aviation Museum has two F-4 Phantom aircraft. After a lengthy service career this one was converted into a target drone and was re-designated as a QF-4. However, it all began long before in St. Louis, Missouri, where it was built. McDonnell Douglas built this F-4J-30-MC and it was assigned Navy Bureau of Aeronautics Number 153821, c/n 2135. It had the service nickname "Rhino" and was the last Navy/Marine Corps F-4 to fly.
We are awaiting the official history from the Navy, but we know this aircraft served with:
VMFA-451 "Warlords" 9/75 to 11/78 MCAS Beaufort with tailcode VM
NARF NASCFS Naval Air Rework Facility Naval Air Systems Command Fleet Support 12/78
VMFA-251 "Thunderbolts" 11/79 to 4/84
Naval Air Rework Facility, Cherry Point, North Carolina, 5/84 to 9/84
Back to VMFA-251 "Thunderbolts" 9/84 to 9/95
VMFA-333 "Fighting Shamrocks" or "Trip Trey" 10/85 to 6/86
VMFA-312 "Checkerboard" 6/86 to 11/86
VMFA-212 "Lancers" 12/86 to 6/88
VMFA-235 "Death Angels" 8/88 to 2/89
Naval Aviation Depot, Cherry Point, North Carolina, 2/89 to 7/98. It was during this time that the aircraft was converted to a QF-4 drone (8/97)
Naval Weapons Test Squadron, Point Mugu, Calif. 7/98 to 4/02
Air Test and Evaluation Squadron 30 (AIRTEVRON THREE ZERO),VX-30, "Bloodhounds" at Point Mugu, California. 5/02 to 9/04. Aircraft Number 107.
Reported to also have been operated by VFA-31 "Tomcatters" and flew combat missions over Vietnam from the USS America while with VMFA-333.
Although this F-4 was converted into a target drone or QF-4S, it did not get used for that purpose. This was the first aircraft acquired by the museum in 2004 and is on loan from the National Naval Aviation Museum (NNAM) in Pensacola, Florida. Locally, F-4s were operated by the USAF/USN/USMC at Carswell AFB and NAS Dallas. They were also operated by the Air National Guard and Air Force around the state of Texas.
Formerly known as "Scooby," the F-4 was restored in October 2013 by members of VMFA-112 "Cowboys" from JRB Fort Worth. With financial support of the Trip Trey (VFMA-333) Association, the aircraft now looks like the F-4 flown by "Bear" Lasseter and "Lil John" Cumming's 11 September 1972 after shooting down a 1.5 Mig-21s. The original Bureau of Aeronautics number 153821 was retained.
Sources
Fort Worth Aviation Museum
Image Sources
Fort Worth Aviaiton Museum

Fort Worth Aviaiton Museum

Fort Worth Aviaiton Museum

Additional Information