The Naniboujou Lodge
Introduction
Originally an exclusive men's only club in the late 1920s, the Naniboujou Lodge has become a local treasure in the Minnesota Northwoods due to its unique design and historical perseverance. As it currently stands, this building functions as a hotel and lodge that is open to the public and has received visitors from across the country. Many of its original features, most notably the expansive and colorful murals depicting Cree and Ojibwa Indian designs that grace the ceiling of the lodge's dining hall, have remained perfectly intact in the numerous years since it was first built. As a direct result of this remarkable preservation of 1920s art and architecture, the Naniboujou Lodge was added to the National Register of Historic Places. However, the same Native American inspired design features that give the lodge its value are also steeped in the cultural appropriation that has been embedded in Naniboujou Lodge since it first opened. Indigenous symbols cover the lodge, from the dining hall murals, to the war bonnet and arrow found on the lodge's welcome sign, to the actual name of the lodge which is taken from the Cree and Ojibwa spirit Nanabozho. While the Naniboujou Lodge is an important site of architectural preservation and Northwoods history, it was also built to profit off of indigenous symbology and continues to do so to this day.
Images
Cree and Ojibwa-inspired murals cover the ceiling of the lodge's dining hall.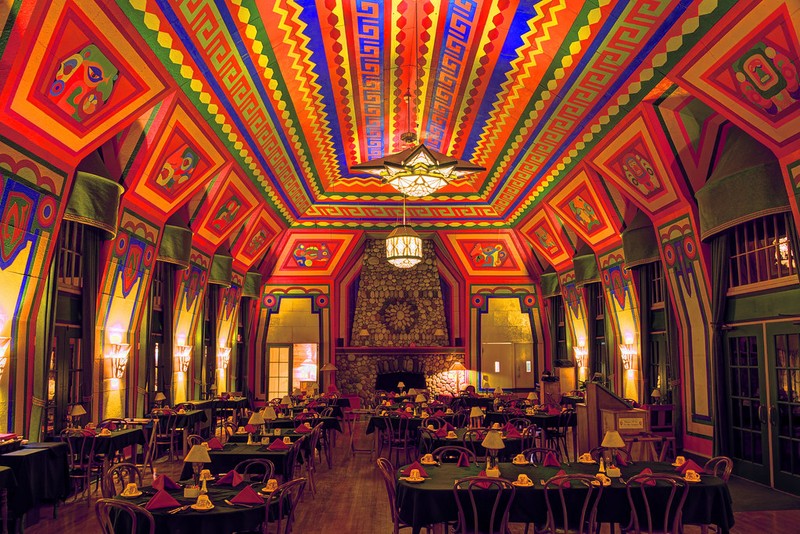 The lodge's welcome sign, featuring a Native American war bonnet incorporated into its logo.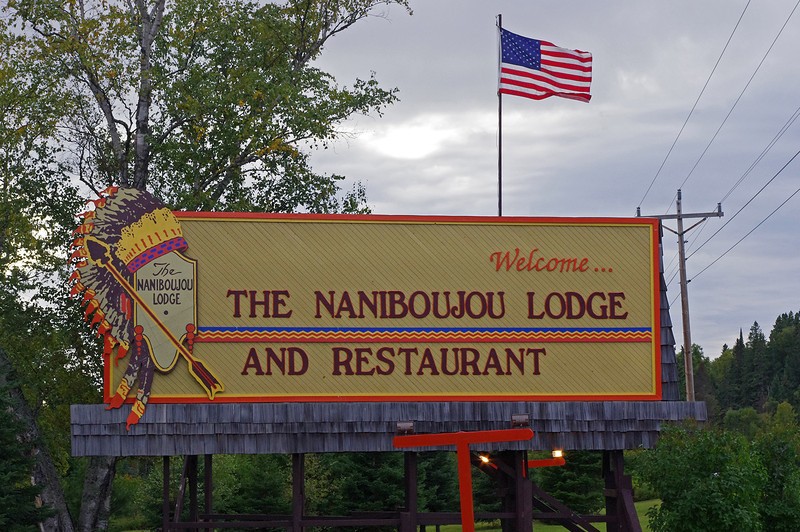 Early years of the Naniboujou Lodge in its original state as an exclusive men's club.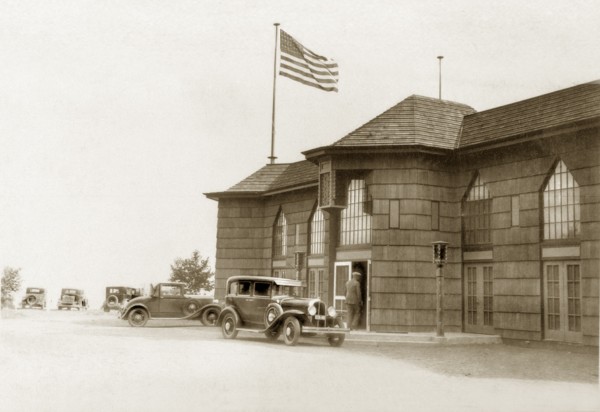 Another view of the dining hall's colorful murals.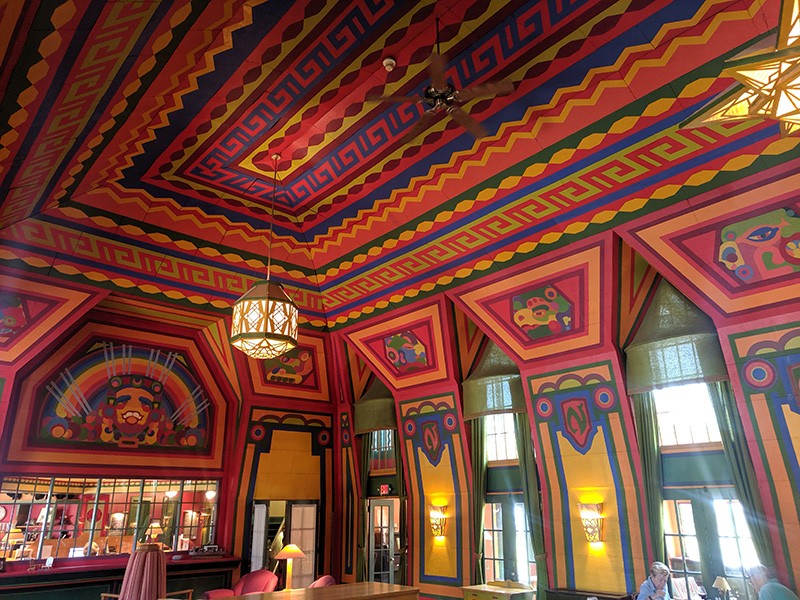 Detail on the mural of the trickster spirit Nanabohzo.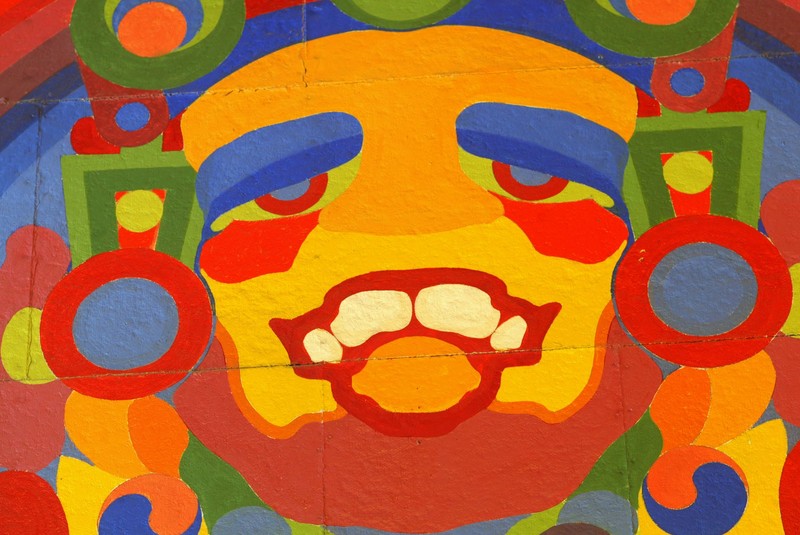 Exterior of the lodge which faces the northern shores of Lake Superior.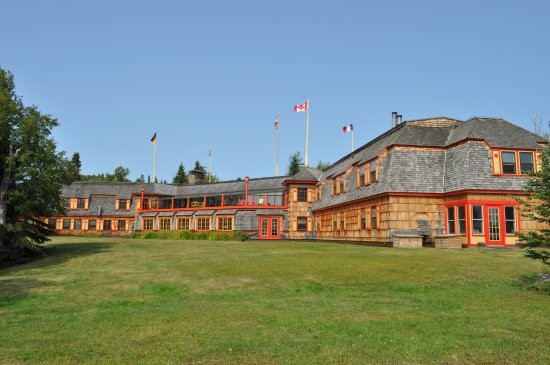 Backstory and Context
In late 1927, the founders of what would later become the Naniboujou Holding Company envisioned their perfect idea of a secluded retreat on the northwestern shores of Lake Superior; an exclusive club where prestigious men from across the country could gather for relaxing weekends away from their daily responsibilities. This private boy's club nestled in the densely forested Arrowhead Region of northern Minnesota would provide these men with the opportunity to form connections with other elite charter members, including the likes of New York Yankee Babe Ruth and famous newspaper columnist Ring Larder. All this, while enjoying games of shuffleboard on the back lawn facing the clear waves of Lake Superior and high-class meals in the brightly decorated dining hall.
Just a few months after the Naniboujou Lodge officially opened its doors to members in the summer of 1929, the Wall Street Crash spelled disaster for this highly priced club. When members stopped paying their expensive dues and the original founders were no longer able to afford pricey upkeep, the Naniboujou Lodge was forced to open its private doors to the public in hopes that their patronage would bring the club out of financial shambles. Even so, Naniboujou faced foreclosures and ownership was eventually passed to the Arthur Roberts Hotel Chain in 1939. Starting in 1953, the lodge has experienced numerous changes in ownership between local families who have continued to keep the facility open to the public as a combined hotel and restaurant. The Naniboujou Lodge is currently owned and operated by the Ramey family.
Although Naniboujou Lodge is a site cherished throughout northern Minnesota as both a perfect weekend getaway spot and a place that signifies perseverance through economic downfalls, it is difficult to deny the inherently problematic aspects of its original creation. In addition to the inherent sexism of being a men's only club, the Naniboujou Lodge is described by Denis Gardner in Minnesota Treasures: Stories Behind the State's Historic Places as having, "a sales pitch thoroughly wrapped in Indian mythology." From the lodge's name being inspired by an Ojibwa spirit, to the many decorative features based off of Native American design, Naniboujou is shrouded in cultural appropriation. Essentially, the original design of the lodge used another culture's tradition and mythology to make money by offering "exotic" intrigue to its wealthy and mostly white clientele.
The 2,400 square foot dining room featuring a twenty-foot-high domed ceiling still bares its strikingly well-preserved murals of the Ojibwa and Cree trickster spirit Nanabozho, from which the club got its name, surrounded by brightly colored Cree designs that were commissioned to be painted by French artist Antoine Goufee. These paintings are undeniably beautiful, but are also a textbook example of the appropriation of indigenous art; A non-native artist was commissioned to paint Cree and Ojibwa designs, and no proper respect or credit was paid to the people to whom these designs are not merely decorative, but instead carry cultural significance.
Less than twenty miles away from the Grand Portage Indian Reservation, home to the Kitchi-Onigaming band of Lake Superior Chippewa, this landmark remains in its original state. It lacks public acknowledgement of its appropriated design features or sufficient context denouncing this aspect of the lodge's history. While it is certainly true that the lodge holds a dear place in the hearts of many of its visitors, this does not negate the fact that that the appropriation of Native American art and mythology are permanently embedded in this site's history.
The lodge still remains open as a family-friendly destination on the north shore of Lake Superior. Thousands of families flock there every year to take in the beauty of the Minnesota Northwoods and experience a few short moments in the long history of this incredibly unique building. This site holds multitudes; it is a place of treasured family memories, of historical preservation, and of cultural appropriation. All of these truths manage to exist simultaneously, and although they are conflicting, they are each permanently implanted alongside each other into history of the Naniboujou Lodge.
Sources
Bogue, Margaret. Around the Shores of Lake Superior: A Guide to Historic Sites. Madison, WI. The University of Wisconsin Press, 2007.
Gardner, Denis P. Minnesota Treasures: Stories Behind the State's Historic Places. St. Paul, MN. Minnesota Historical Society Press, 2004.
History of Naniboujou, Naniboujou Lodge and Restaurant. Accessed April 29th 2020. https://www.naniboujou.com/history-of-naniboujou/.
Kitchi-Onigaming / Grand Portage Band of Lake Superior Chippewa, Minnesota Indian Affairs Council. Accessed April 29th 2020. https://mn.gov/indianaffairs/grandportage-iac.html.
Lewis, Haley. Indigenous Artists: It's OK To Buy, Wear Indigenous Art. Just Make Sure It's Authentic., Huffington Post. September 18th 2018. Accessed April 29th 2020. https://www.huffingtonpost.ca/2018/09/28/indigenous-art-knockoffs-backlash_a_23541472/?guccounter=1.
Naniboujou Club Lodge, National Register of Historic Places. Accessed April 29th 2020. https://npgallery.nps.gov/NRHP/AssetDetail?assetID=d79538a2-769c-463d-995c-91b96cab5ab0.
Image Sources
https://en.wikipedia.org/wiki/Naniboujou_Club_Lodge

https://garywright.smugmug.com/Travel/Lake-Superior-North-Shore/

https://www.naniboujou.com/history-of-naniboujou/

https://myannoyingopinions.com/2019/07/28/the-naniboujou-lodge/the-naniboujou-lodge-more-ceiling/

https://www.startribune.com/the-spirit-of-naniboujou/19574174/

https://www.tripadvisor.com/LocationPhotoDirectLink-g60837-d524097-i277532537-Naniboujou_Lodge_Restaurant-Grand_Marais_Minnesota.html

Additional Information