Fitchburg Historical Society Headquarters
Introduction
This historical building is named "The Phoenix" and it houses the Fitchburg Historical Society, a museum and library that preserves and celebrates the history of Fitchburg and central Massachusetts. The Phoenix Building is a beautifully decorated wood-framed brick office building originally designed for the Fitchburg Mutual Fire Insurance Company by Fitchburg architect Henry M. Francis, whose firm designed the majority of Fitchburg's commercial, institutional and residential buildings between 1868 and 1943. The building was purchased and renovated by the Fitchburg Historical Society and opened its doors to the public as the Society's new headquarters in 2012. Fitchburg has always been a center for industrial innovation and education. It never had only one industry or ethnic neighborhood: since its first textile factory in 1807, it has been a center for tools, engines, textiles, shoes, clothing, paper, publishing, railroads, railroad equipment, and many other kinds of industrial production. By 1900, the city was 75% foreign-born families, including immigrants from Ireland, Italy, Finland, Greece, England, French-speaking Canada, and eastern Europe. Later, it welcomed new citizens from Asia (especially the Hmong), South America (particularly Uruguay), central America and the Caribbean. In the 1800's, Fitchburg housed a Massachusetts Normal School that is now Fitchburg State University. The Fitchburg Historical Society hosts changing temporary public exhibitions on history and also welcomes visitors to its research library.
Images
Fitchburg Historical Society, Phoenix Building headquarters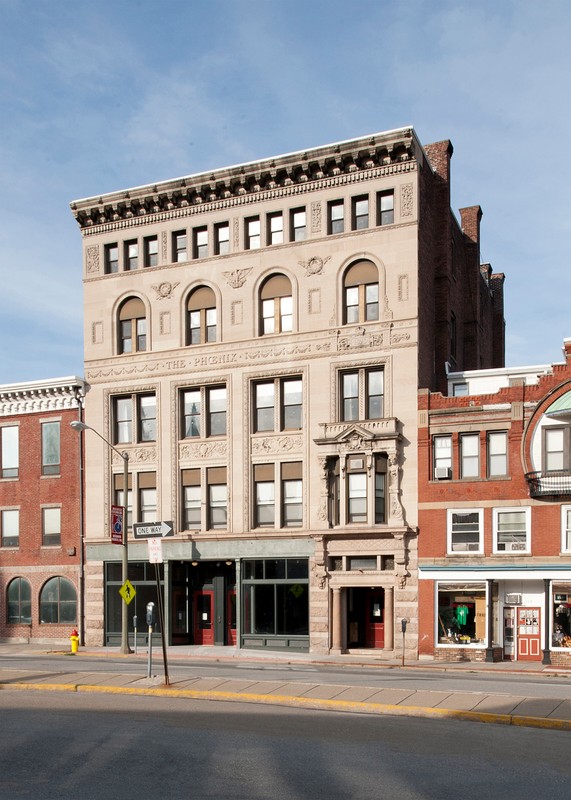 Fitchburg and the War of the Rebellion by Henry A. Willis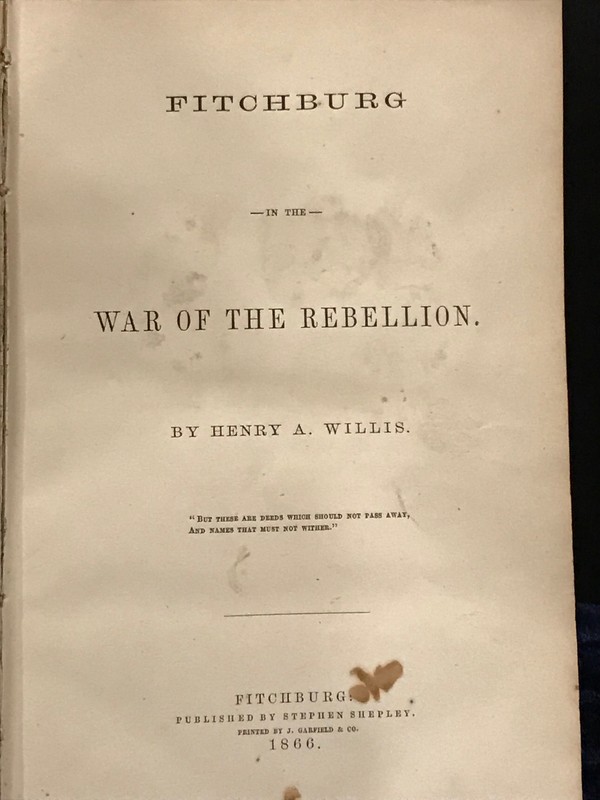 Fitchburg High School Literary Magazine, March 1948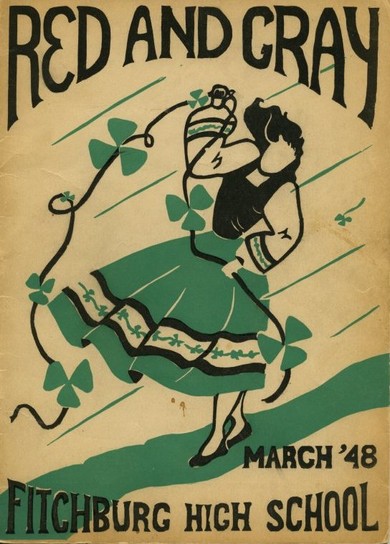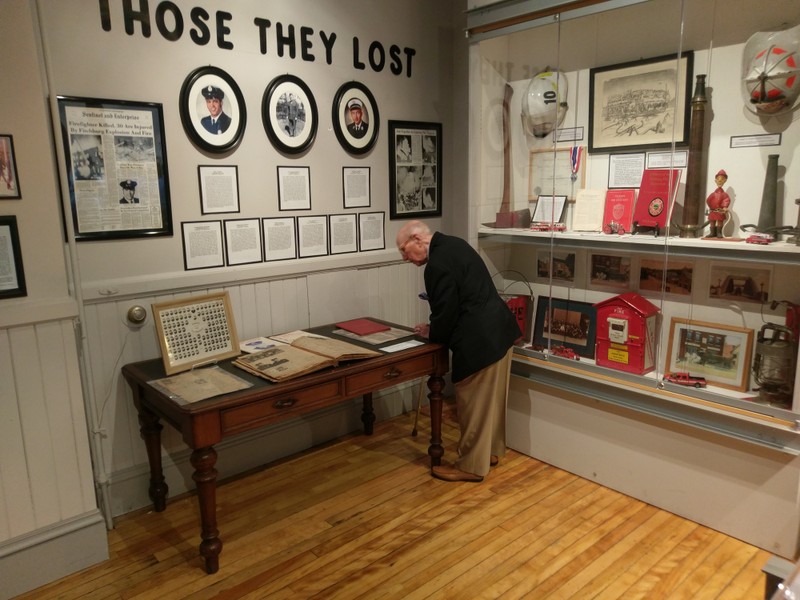 Healing Hands Exhibition on Medicine in Fitchburg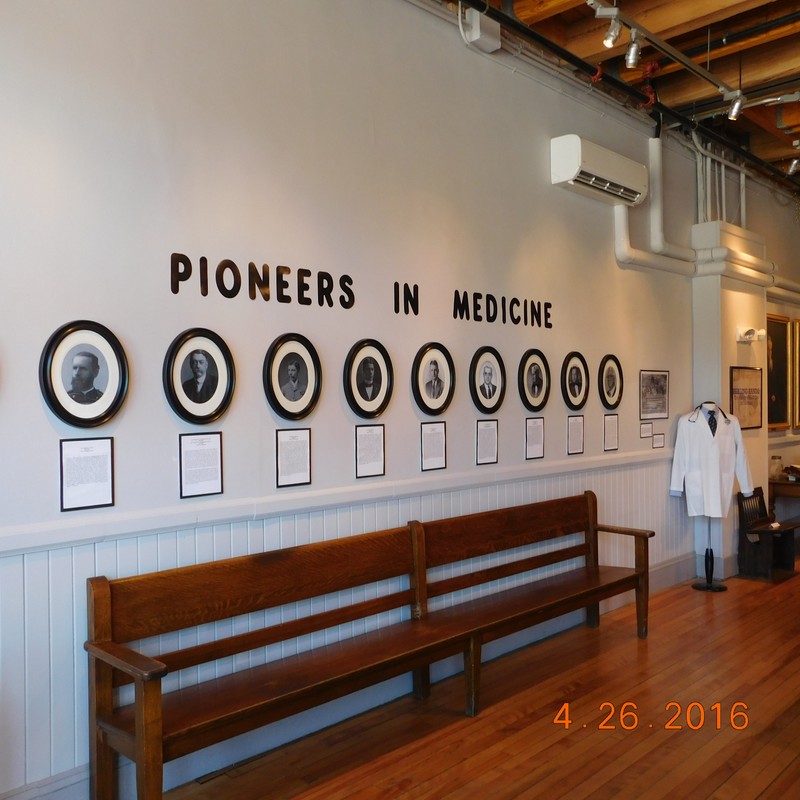 Fitchburg mills bordering the Nashua, Hurricane of 1938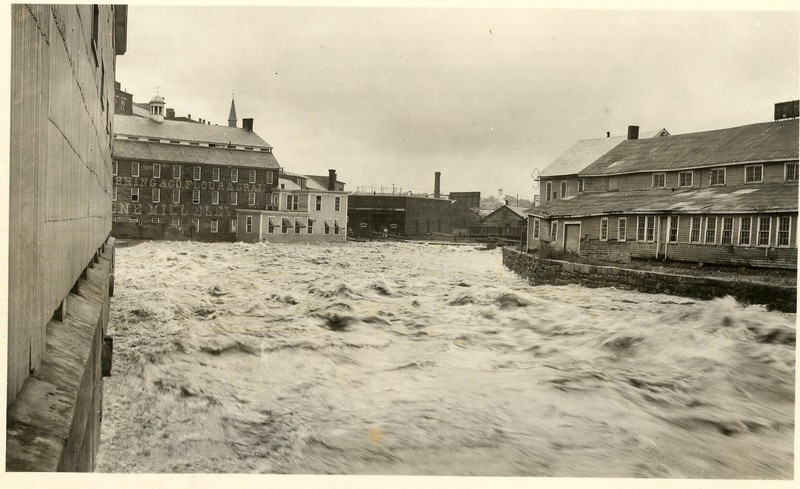 nearby Grove Street, 1890's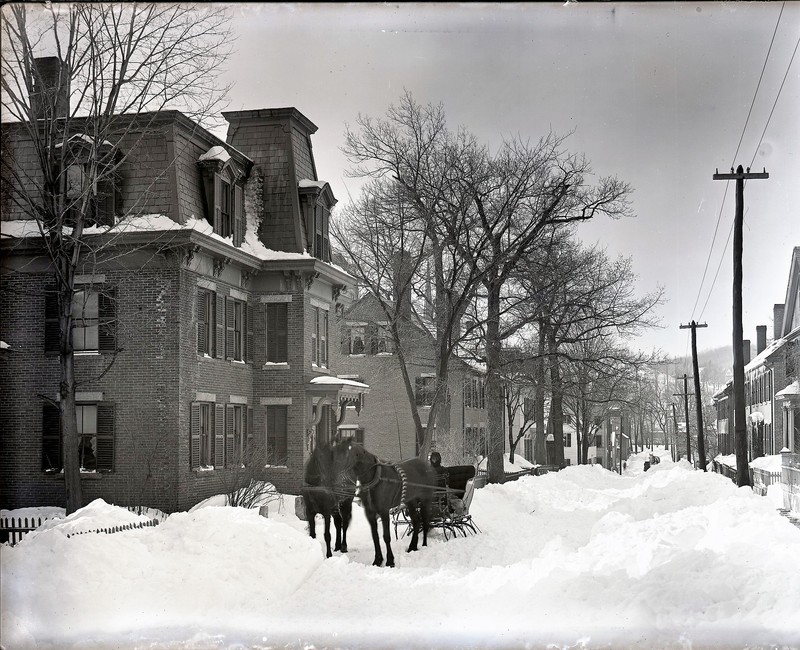 Backstory and Context
Fitchburg is a gateway city of 40,318 people in central Massachusetts. Founded in the 1760's, it became an industrial center by 1813, when the 3rd cotton mill in America was constructed in Fitchburg. For nearly 200 years, the city flourished as an industrial, commercial, publishing and educational hub. Fitchburg has always been an immigrant city. For example, in 1900, roughly one third of the population was foreign-born. The immigrants were (in descending magnitude): French Canadians, Finns, Irish, English, Scottish and Welsh, Italian, Norwegian, Swedish, Dutch and Belgian, German, Greek, Middle Eastern, Jewish, African American and Asian. Fitchburg is still a cosmopolitan center and magnet for recent immigrants: 22% of current residents are Latino/Hispanic and 22% other than white and 25% speak a language other than English as their primary language.
The city grew exponentially between the prosperous Civil War years and the early 20th century. Originally, the Nashua River provided power to manufacturing plants. Later, steam and electricity powered local factories. In 1900, trains from local lines pulled up every nine minutes at the train station; by then, the old Fitchburg Railroad had been acquired by the Boston and Maine. Ninety-seven passenger trains stopped daily in Fitchburg. At this time, the Phoenix Building faced the ornate Calvinist Congregational Church (now the Casa de Gracia y Restauracion), the Rodney Wallace block (now gone) and the Fitchburg Sentinel building (replaced in the 1970's). The Upper Common was lined by stately churches, mansions and townhouses. The remaining buildings include the First Parish Unitarian Church (at the head of the Common, built in 1837 for a parish founded in 1764), the New Players Theater Guild building at 15 Rollstone Street (formerly a church), the Swedish Lutheran Church (located on Caldwell Place just behind First Parish) and the previous First Parish Congregational Church building (moved in 1837 from its original location to 900 Main Street and now operating as Debonis the Florist). The townhouses located just west of 900 Main Street were built in the 1830's and are mostly unchanged. One of Fitchburg's luminaries grew up here: Alan Priest, the second curator of Far Eastern Art at New York's Metropolitan Museum of Art.
Locally manufactured products in during Fitchburg's "Golden Age" in the 1890's through 1920 included: confectionery, crackers, tinware, toys, wood pulp, carriages, harnesses, marble and granite monuments, bricks, beer, cigars, matches, boots and shoes, palm leaf hats and bonnets, reeds and harnesses for looms, scythes and knives, mowing and reaping machinery, piano cases, rattan products, firearms, ironwork, textiles, paper and machines. Photos from that time show river banks that were crowded with buildings, especially mills.
The Fitchburg Historical Society's collection is an important repository of Massachusetts' political, cultural, and industrial history, making it one of the most important educational and cultural resources in central Massachusetts. It is open to the public 3 days per week and admission is free. New exhibitions are mounted every year, plus additional small exhibitions in the picture windows that face on Main Street. Additional programs such as lectures, tours, meetings, and performances are offered each year. The annual Holiday House tour in December draws people from across the region and annual historic Iver Johnson bike show draws 2000-3000 visitors. In addition, staff and volunteer researchers assist visitors with research requests and staff, board and volunteers offer presentations on local history to local groups, media and university. A newsletter is published quarterly, an email newsletter monthly, and FHS has a lively social media presence. The FHS has published many books, including a rigorously researched 2 volume, 900-page history of the city.
Sources
Kirkpatrick, Doris. The City and the River. Volume 1. Fitchburg, Massachusetts. Fitchburg Historical Society , 1971.
Kirkpatrick, Doris. Around the World in Fitchburg. Volume 2. Fitchburg, Massachusetts. Fitchburg Historical Society, 1975.
Emerson, William A. Fitchburg Past and Present. Fitchburg, Massachusetts. Blanchard and Brown, 1887.
Thomas, Teresa Fava. The Reluctant Migrants: Migration from the Italian Veneto to Central Massachusetts. Amherst , New York. Teneo Press, 2015.
, Fitchburg Historical Society. Legendary Locals of Fitchburg. Fitchburg, Massachusetts. Fitchburg Historical Society, 2014.
Dickinson, Sally H.. The Missing Links to the Igor Sikorsky Story: His Struggles to Survive the Years Between 1924 & 1929. Leominster, MA. Sally H. Dickinson, 2018.
Image Sources
Photo by Charles Sternaimolo, used by permission

Fitchburg Historical Society Civil War collection

Fitchburg Historical Society collection

Fitchburg Historical Society collection

Fitchburg Historical Society collection

Fitchburg Historical Society collection

Fitchburg Historical Society collection

Additional Information