Spring Training moves to IU
Introduction
During World War II, Major League Baseball still continued to play games. It was, however, not business as usual. One element that changed during these years was Spring Training. Teams were located closer to their home towns, landing in Midwest states such as Indiana and at colleges such as Indiana University. This entry provides background to the conditions teams faced as well as the teams practicing at IU during this time.
Images
This photo is of the Indianapolis Indians in 1943, standing in the dirt-floored IU Fieldhouse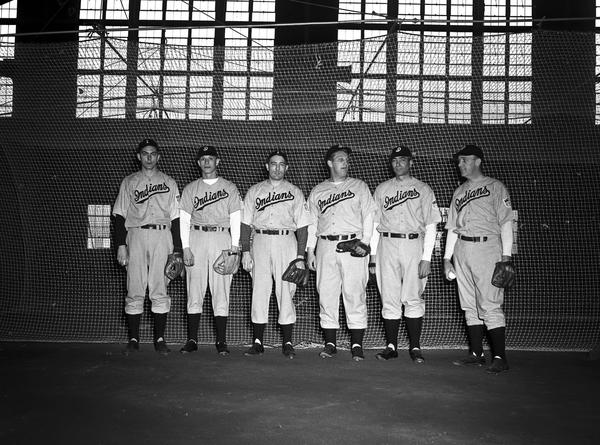 This is an image of a Herman B Wells' letter describing the Indianapolis Indians Spring Training plans at IU.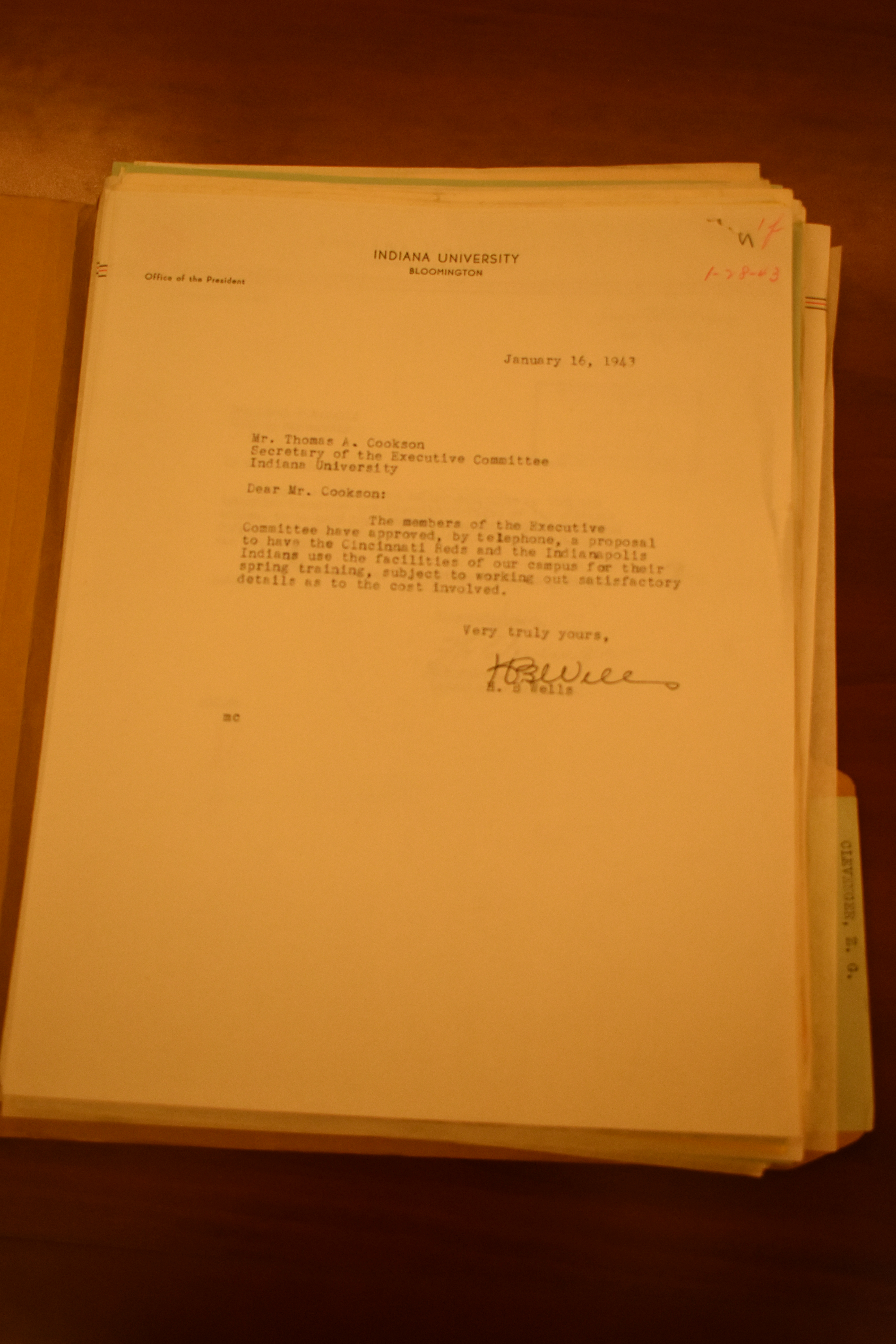 Backstory and Context
In November of 1942, the war effort was in full swing and baseball was no exception. The director of Defense Transportation Joseph Eastman advised the MLB to find ways to save sorely needed war resources. From this request, new Spring Training locations were created1. Teams were required to stay close to their hometowns, leaving many teams finding new locations across the Midwest. Teams ended in colleges throughout the Midwest, especially in Indiana.
Two of these teams were the Cincinnati Reds and Indianapolis Indians. A 1943 letter from Herman B Wells describes how the Indianapolis Indians were approved to have Spring Training at IU 4, demonstrating a partnership between universities and MLB teams to support professional baseball. The Reds' Spring Training took place at Indiana University in 1943 and 19441 and the Indianapolis Indians practiced at IU in 1943. The club worked out of the Indiana University field house (now the Intramural Center) along with the Indianapolis Indians 2.
The conditions of Spring Training, however, were not ideal. Game cancellations, including a match up between the Cincinnati Reds and Chicago Cubs deemed "Hayes Day," due to cold, rainy Spring weather were common. It was a large difference between the southern Spring Training locations that most MLB clubs were used to. Teams, however, found ways to give back to the war effort during the seasons taking place in WWII. Ticket proceeds for games were frequently given to Army and Navy Relief Societies 3. This trend would continue at the Reds' IU Spring Training location.
Sources
1 Goldstein, Richard. Spartan Seasons: How Baseball Survived the Second World War. Macmillan Publishing Co., Inc., 1980.
2"Indianapolis Indians." 28 March 1943, http://webapp1.dlib.indiana.edu/archivesphotos/results/item.do?itemId=P0033644&searchId=4&searchResultIndex=7.
3 National WW2 Museum. "Should Sports be Stopped During the War?" Accessed 29 April 2020. https://www.nationalww2museum.org/war/wwii-polls/roper-polls-major-league-baseball-world-war-ii.
4. Indiana University Athletics Committee records, 1939-1965, Box 2 1943-1950.
Image Sources
IU Archives Photo Collection

IU Archives

Additional Information