The 1956 Spring Break Baseball Trip
Introduction
In a rapidly changing society, Indiana University took a pivotal step in the integration of not only African Americans on their team but all around the country. During a spring break trip in 1956, Indiana University baseball brought along African American catcher Eddie Whitehead, which ruffled some feathers in the process. President Herman B. Wells received a lot of backlash for his decision to integrate Whitehead onto the team but ended up being a major influence in integration all around the United States.
Images
This article from the Louisville Times perfectly summarizes the troubles and main ideas of the infamous Spring trip to Florida. Due to a gentleman's agreement, Whitehead was forbidden to play in all games and places except a small integrated school named Florida A&M. In this denial and avoidance of equality, a spark was lit by Herman Wells that would ultimately play a major role in the integration of not just ballplayers, but African American citizens around the US.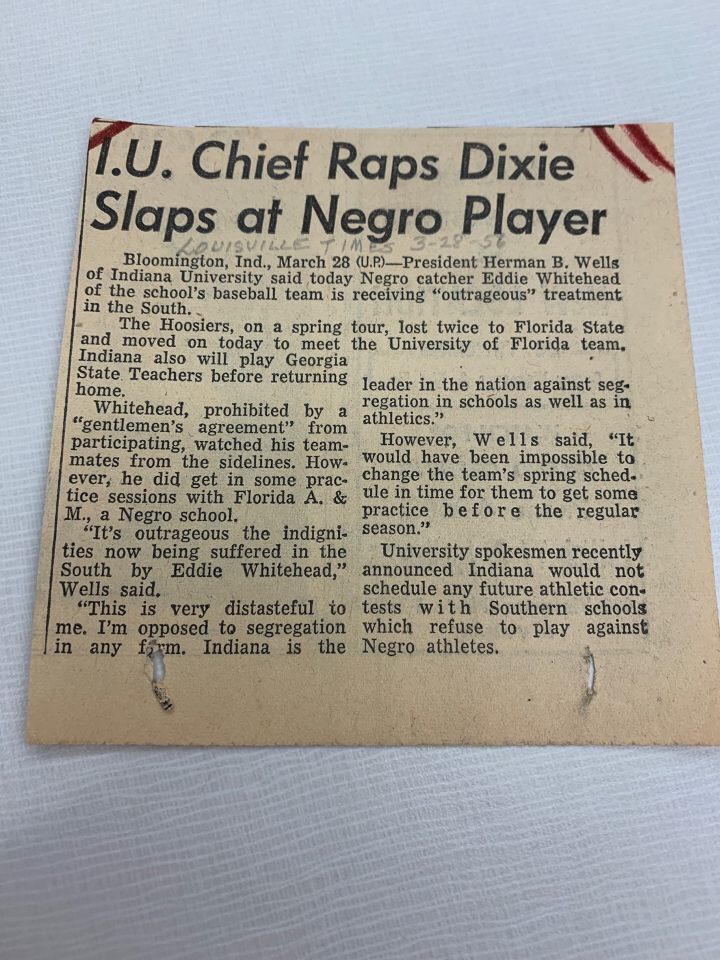 The photo shown is of the 1956 Indiana University Baseball team that made the historic trip to Florida. Seen in the back right of the image is catcher Eddie Whitehead, and it can also be clearly seen that he is the only African American on the team. I think this photo does an incredible job of representing some of the individual struggles he was forced to go through being the only African American on the team. It only takes 1 domino to make the entire chain fall, and Whitehead was that domino for Herman Wells and Indiana University.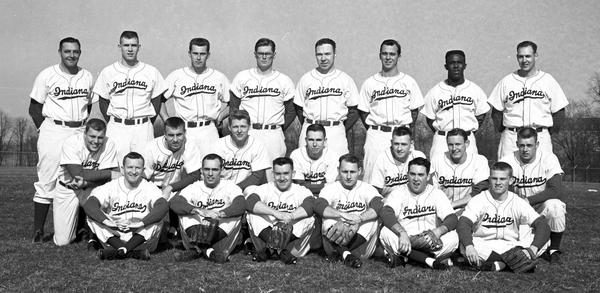 Backstory and Context
In March of 1956, Indiana University left for a Spring Break trip in Florida in which they brought along African American catcher Eddie Whitehead. Indiana University had a gentleman's agreement in place with the Universities in Florida that prohibited Whitehead from playing but caused President Herman B. Wells to speak on the matter. Wells was quoted as saying, "it's outrageous the indignities now being suffered in the South by Eddie Whitehead." Having someone as big and prominent as Wells to speak in this way was incredibly powerful, but he sure also received plenty of threats and hate mail in the process. 
Since the trip took place in Florida, some of the affected universities would include Florida A&M, Florida State, and the University of Florida. Against all of the criticism and negative comments, Wells fought for equality and made some pretty incredible strides in doing so. As for the trip itself, Whitehead certainly went through the rough of it. It was reported by the Indianapolis Times that Whitehead had to eat in the kitchen of a specific restaurant, and even had to eat in his car on another occasion, while constantly receiving insults from bystanders and facing the dangers of Jim Crow laws. 
Upon his return, Wells was so infuriated by his treatment in the south that he came out and made some very prominent statements regarding Indiana University's stance at the time. Wells was quoted as saying, "Indiana is the leader in the nation against segregation in schools as well as athletics." This is an incredibly strong stance considering where the country was at the time. Jackie Robinson had made his debut less than 10 years earlier, and being a competitive University in the B1G, you need all the admissions and all the top students you can get. In making these statements and making this stance, Wells was stating just home important integration is.
Sources
McGrotha, Bill. "'Seems Like I've Always Been Alone'- Whitehead." The Indianapolis Times, 
March 27, 1956.
Morrison, Katie, Matthew Meyer, and Dina Kellams. "Hoosier History." Blogging Hoosier 
History. Indiana University Bloomington, July 23, 2019. 
https://blogs.libraries.indiana.edu/iubarchives/tag/baseball/.
Image Sources
Louisville Times 3-28-56, Indiana University President's Office records, Collection C213, Indiana University Archives, Bloomington. 3/17/20 http://webapp1.dlib.indiana.edu/findingaids/view?doc.view=entire_text&docId=InU-ArVAA8877

"The 1956 baseball team". Indiana University Archives, 3/20/56, Accessed April 17, 2020. http://webapp1.dlib.indiana.edu/archivesphotos/results/item.do?itemId=P0052289&searc hId=10&searchResultIndex=1