Grumman F-14D Tomcat "Christine"
Introduction
Perhaps the most widely recognized Navy fighter thanks to its starring role in Top Gun, the F-14 Tomcat served as an advanced interceptor and air superiority fighter, capable of attacking six enemy aircraft simultaneously at a range of over 100 miles with the AIM-54 Phoenix missile. It was a failed attempt at standardization that resulted in the design of perhaps the most famous fighter of the modern era. When a Navy version of the U.S. Air Force F-111 failed to meet exacting requirements for a carrier-based fighter, the Navy initiated a design competition for a new air superiority aircraft. The result was a design marvel featuring a unique variable-sweep wing—the F-14 Tomcat. Equipped with a weapon control system that enabled the aircraft's crew to track 24 hostile targets at a range of 195 miles and attack six simultaneously with AIM-54 Phoenix missiles, deliveries to the Navy began in June 1972 with the deployment of operational carrier squadrons in 1975. The F-14 made a brief appearance over Vietnam, flying protective patrols for helicopters effecting the final evacuation of American personnel and foreign nationals from Saigon with no opposition from enemy fighters. The Middle East was destined to become the scene of the Tomcat's combat initiation during encounters with Libyan fighters during the 1980s. Upgraded F-14A (plus) and F-14Ds came into service in the late1980s and early 1990s, boasting enhanced avionics and more powerful F110-GE-400 turbofans. The aircraft also proved an outstanding air-to-ground platform employing a capability present from the initial design work, but rarely employed. At peak employment, thirty Navy squadrons operated F-14s. Tomcats flew combat missions during the Gulf War and in missions over Iraq and Afghanistan from 2001 until the F-14's retirement in 2006.
Images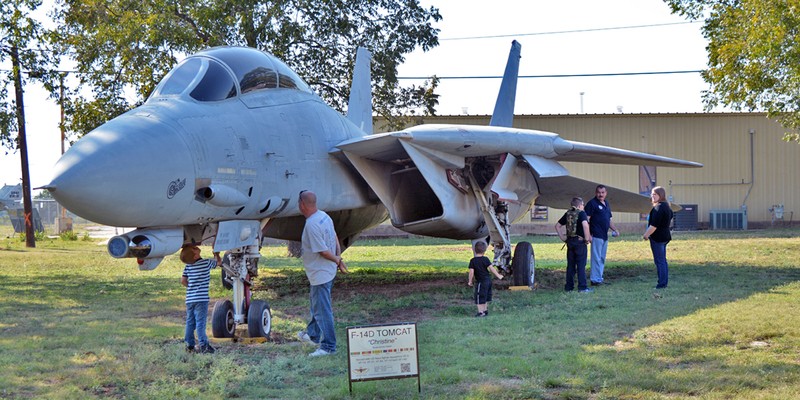 "Christine" on duty, pre 2008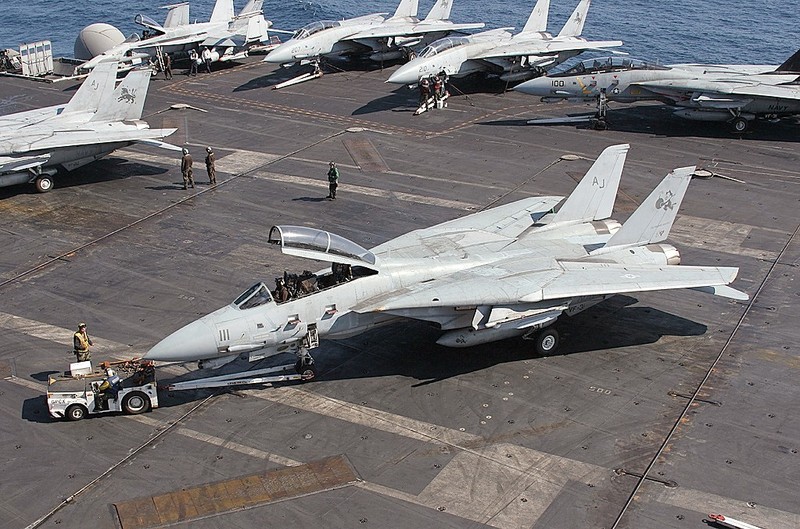 "Christine" arrives at Meacham Airport, 13 September 2008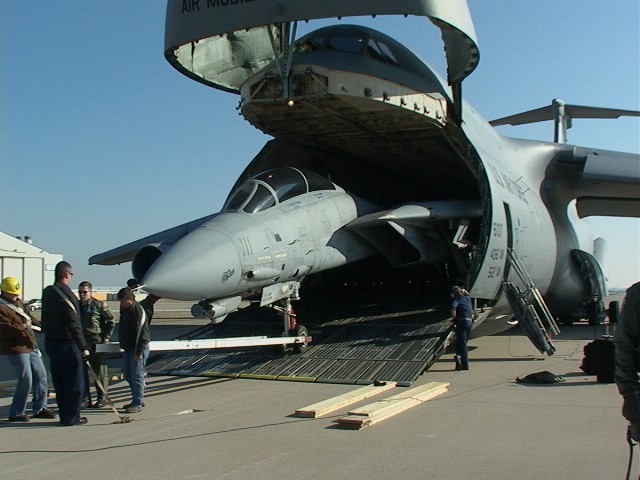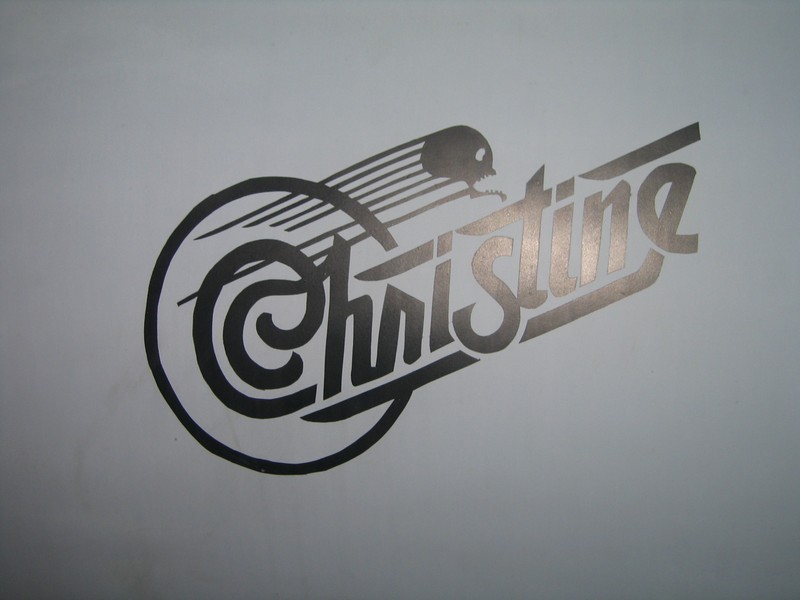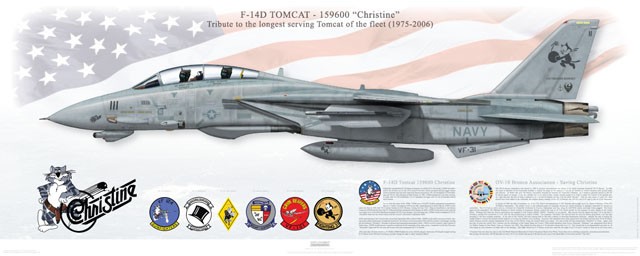 "Christine" gets a makeover 3 September 2017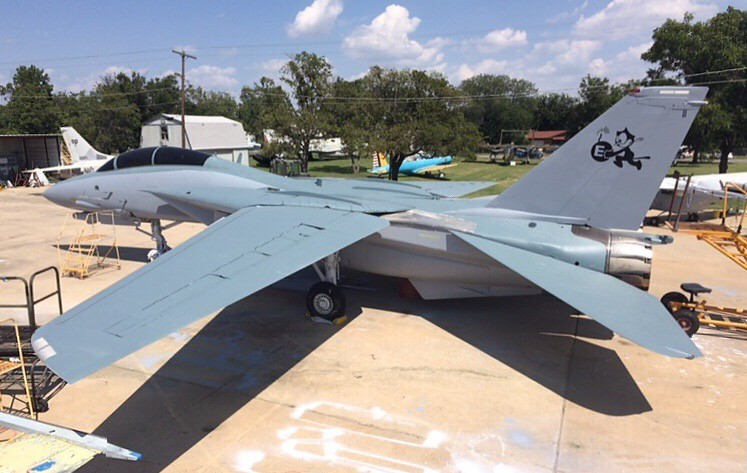 Backstory and Context
This F-14 was originally a Grumman F-14A-85-GR Tomcat, Navy Bureau of Aeronautics No. 159600, c/n 147, and was manufactured by Grumman Aerospace in Calverton, New York. It was a Block 85 F-14A model delivered July 16, 1975. This was the longest serving F-14 Tomcat in the US Navy.
This aircraft spent a lot of time training new Tomcat pilots, as we await the full Navy records, we know this aircraft served with:
VF-124 Gunfighters at NAS Miramar,
VF-101 Grim Reapers at NAS Oceana,
In 1987, 159600 transferred to the fleet, serving, in order, with
VF-142 Ghostriders,
VF-14 Tophatters,
and again with VF-142 Ghostriders with at NAS Oceana.
In 1978, the aircraft served with VF-84 Jolly Rogers (marked as "AJ 210"). In the 1983-84 timeframe, the aircraft arrived at VF-14 Tophatters (as "AE 104") who operated the aircraft until 1988. The Tomcat then joined VF-142 Ghostriders ("AG 206"). In 1990 the aircraft arrived at the now closed Naval Aviation Depot Norfolk, Virginia, for conversion into an F-14D (serial number DR-5). Perhaps 1994 or 96?
By 1994, the aircraft was flying with VF-2 Bounty Hunters (as "NE 115") at NAS Miramar. During this tour, NAS Miramar transferred to the Marine Corps and VF-2 relocated to NAS Oceana. It remained with this squadron for ten years, but changed its call number to "NE 110" about January 1999.
In 2003, this aircraft would return to her roots and once again serve in Fleet Readiness Squadron VF-101 Grim Reapers. The following year, 159600 would be assigned to VF-31 Tomcatters where she would remain until the Tomcat's retirement in September 2006.
In 2004, the aircraft has returned to VF-2 (and remained "NE 100"). In 2004, VF-101 operated the aircraft (as "AD-160"). A year later in 2005, VF-31 operated the aircraft (as "AJ-111"). It was while assigned to VF-31 that it received the nickname "Christine" after the Stephen King thriller.
While on it's final cruise (September 2005-March 2006) aboard the USS (ship), this aircraft would experience a structural failure — a bulkhead blew out during routine maintenance. The aircraft became a maintenance challenge for months, but was returned to flight status.
This aircraft has a long combat history including a role as a Forward Air Controller (Airborne), Forward Air Controller (Airborne) ("FAC(A)") in Desert Storm and Afghanistan. Locally, Tomcats were flown by Navy fighter squadrons, VF-201 and VF-202 at NAS Dallas and the Joint Reserve Base at Carswell for fifteen years.
The aircraft arrived in Fort Worth aboard a Lockheed C-5A Galaxy on March 3, 2007. This F-14 Tomcat is on loan from the National Naval Aviation Museum (NNAM) in Pensacola, Florida.
Sources
Fort Worth Aviation Museum
Image Sources
Fort Worth Aviaiton Musuem

US Navy

Fort Worth Aviation Museum

Fort Worth Aviation Museum

Fort Worth Aviaiton Museum

Fort Worth Aviaiton Museum

Additional Information