Superstitions of Baseball by Kia Boman
Introduction
In her 1972 report, Kim Boman interviews two people that formerly played baseball for their respective high school teams. While she does not name the players, she does ask questions about their own rituals that they believed brought good luck before and during games. Repeating their superstitious actions if they were to play again and any other beliefs they had were also topics of interest in each interview. Both players had different actions they would take before games which demonstrates how superstitions are unique between players. The location is set at Bloomington South's baseball field because the Panthers were Indiana's state champions in 1972 (the year the article was written), which we felt was appropriate since the Boman piece discusses superstitions at the high school level.
Images
Cover page of Kia Boman's "Superstitions of Baseball," 1972.
Billings All-Stars celebrating after a walk-off victory in the LLWS Regional.
IU Baseball during their trip to Japan in 1922.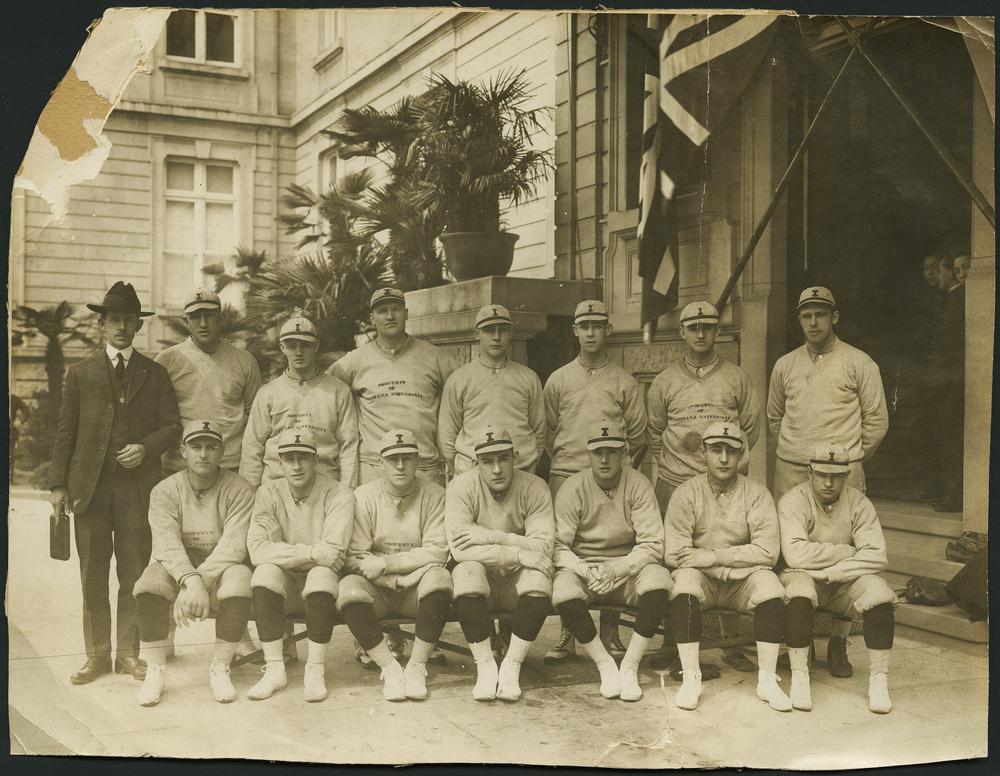 1972 Indiana state champion Bloomington South baseball team,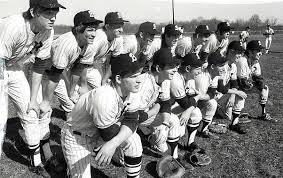 Backstory and Context
Kim Boman interviews two "informants" about some of the lore that they have about baseball and the specific actions each player took before games. The first informant says that he always wore the same socks for each game unless he did not play well. In that case, he would change the socks and repeat the process. He also states that his team always did their calisthenics in the same sequence to avoid bad luck. When asked about his beliefs about his actions, the second informant says that his routine was never consistent and varied from year to year. He did always play a record before every game to calm his nerves, though. Both players were unsure of whether they would continue to believe their superstitions if they had to play again. They also gave Kim some of the superstitious routines that they are aware of 
in the MLB like stepping on a base or having a strict procedure on game days. 
While the superstitions that the two informants that Kim Boman interviewed are unique, the idea of believing that an action can change the game transcends generations. In 2011, the Billings Gazette interviewed players from the Little League World Series (around 11 years old) about what they do before a game for good luck. One player always keeps his right sock inside out while another leaves his shoes untied until he takes the field. Along with the Boman report, this makes it clear that the uniform is often a target of a player's superstitious beliefs. Some parents were interviewed as well, and one mother admitted that she eats caramel suckers during every game, while another group of moms always wears butterfly pins. This article further demonstrates that even though superstitions and routines are individual, they can be found in all levels of baseball. 
This Clio tour has mainly focused on superstitions throughout different levels of baseball, but we also decided to look in a slightly different direction. We wanted to see if some of the American superstitions discussed in the Boman piece could also be found in different cultures. In 2005, Santa Clara University conducted a study titled "Superstitious Behavior Among Japanese and American Professional Baseball Players." While there were certainly some interesting differences, such as the conclusion that Japanese players were more likely to believe that superstitious behavior had an effect on the team's performance than American players, yet less likely to believe that those same behaviors had an effect on their individual performance, we discovered that the underlying concepts are still very similar. 
This source was particularly interesting because we were able to see superstitions within baseball in so many different ways. The Boman article is decades older than the Gazette and SCU pieces, and they are all dealing with different levels and even cultures of the game, yet in all of them superstitions are very common. The 11-year old from Montana, the professional in Japan, and the high school kids in Bloomington are all putting their right sock on first or drawing in the infield dirt because they believe it will bring them good luck, and that just goes to show that although the game of baseball has evolved very much throughout the years, many of the superstitions at its core remain unchanged.
Sources
Burger, Jerry M, and Amy L Lynn. "Superstitious Behavior Among American and Japanese Professional Baseball Players." Santa Clara University, 2005. https://preview.scu.edu/media/college-of-arts-and-sciences/psychology/documents/Superstition-and-Baseball-2.pdf.
Boman, Kim. Superstitions of Baseball Players. Indiana University Archives, November 29, 1979.
Olp, Susan. "Rituals, Superstitions Play Role for Billings Little Leaguers, Parents." The Billings Gazette, August 26, 2011. https://billingsgazette.com/news/local/rituals-superstitions-play-role-for-billings-little-leaguers-parents/article_67b0f790-27cb-5805-bca3-b2a2057cd7de.html.
Image Sources
IU Archives

The Billings Gazette

IU Archives

The Hoosier Times