Bituminous Coal Heritage Foundation Museum
Introduction
A museum located in downtown Madison, West Virginia that is dedicated to preserving the heritage of the coalfields for the future years and generations. It contains many memorabilia from the old coal mining days to today's coal mining jobs. It has a simulated coal mine and many other hands-on activities. It also includes a company store and a miner's home. The adjacent arts center displays Daniel Boone and explains how Boone County, West Virginia got its name.
Images
The first display you will see at Bituminous Coal Heritage Foundation Museum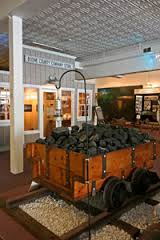 The Coal Miner's Statue represents all present and past coal miners.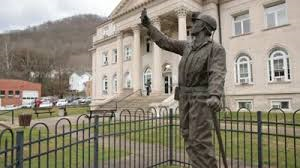 Backstory and Context
West Virginia is called "Mountain State," but it is most known for its coal industry. Coal is a rich heritage in West Virginia and has been since it was discovered in today's Boone County in 1742. It was discovered by Peter Salley over a hundred years before West Virginia was its own state. The coal industry is a leader in West Virginia's economic, political and social history. However, it is also the center of controversy when it comes to the safety, environment and labor of the industry.
The coal changed West Virginia from a frontier state to an industrial state. Coal in 62 recoverable seams can be found in 43 of the 55 counties in West Virginia. Knowledge of the coal reserves in what was once western Virginia predated the American Revolution. Thomas Jefferson knew that coal was all over the area. His neighbor, John Peter Salley, traced significantly large bunches of bituminous coal along Coal and Kanawha Rivers. However, there was not a demand for the mineral outside of local areas in iron forges and Blacksmith shops.
Needless to say, West Virginia cares about its coal and the heritage it brings. Coal Heritage Museum displays this culture and the history of the coal industry and its people. Boone County has a great story that includes Daniel Boone, explaining how the county received its name. The Coal Heritage Museum includes tools used by miners from the early mining days until present time. It showcases photographs, oral history tapes and even contains company records.
Sources
"History of the Coal Museum" http://wvcoalmuseum.org/whatsnew.htm "A History of Coal in West Virginia" http://www.friendsofcoal.org/a-history-of-coal-in-west-Virginia.html "Coal Heritage Museum and Arts Center" http://www.wvcommerce.org/travel/travelplanner/listing/Coal-Heritage-Museum--Arts-Center/2672/default.aspx
Additional Information