Superstitions in Baseball and the Effects on Performance Trail (Bloomington)
Introduction
Superstitions have long been part of sports. Perhaps the sport that engages in superstitions the most is baseball. Baseball players have a wide variety of superstitions that they hold near and dear. Like many before him Pat Phillips interviewed baseball players with the intention of finding out the origin of these superstitions, and whether they were conscious acts. Phillips' interview focused on college ball players and quickly found he had to dig to get answers. The players he interviewed did not want to come off as superstitious, or did not find certain things they did every game superstitious, until after being questioned.
Images
NFL running back Jordan Howard shows off the shirt he has been wearing under his pads since he was in the 7th grade.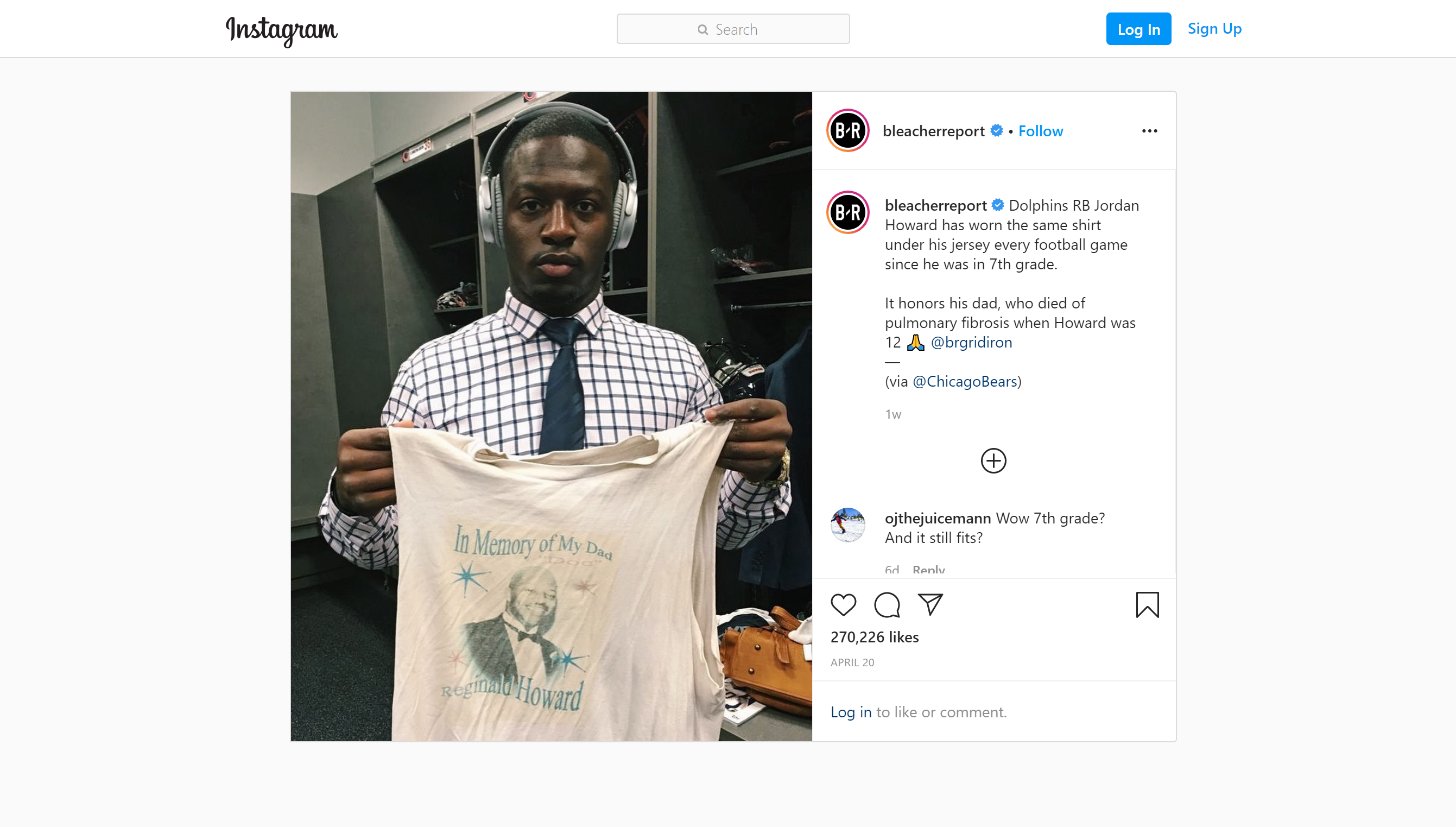 Kris Bryant steps on 3rd base in between innings.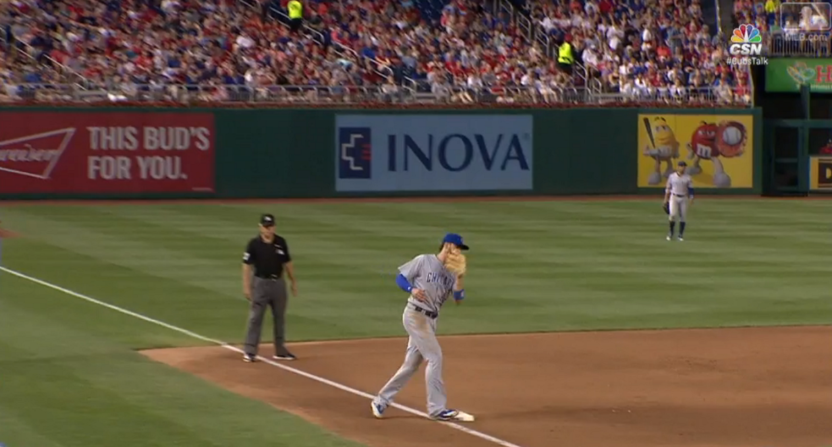 This shows the very specific condition the Mets keep their dugout in, in an attempt to negate any bad luck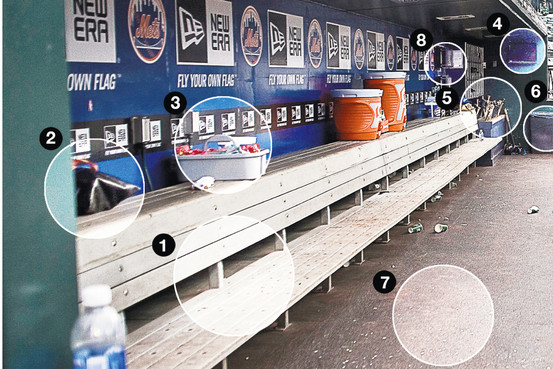 Backstory and Context
Pat Phillips interviewed three members of the Indiana University Baseball team during spring training of 1981. The main questions he sought to have answered were: What are the origins of specific superstitions? Are they taught by other players? Are they conscious acts? His findings were interesting on their own, but when placed in a larger historical context they become fascinating.
Perhaps Phillips' most interesting finding was that most players did not like to consider themselves superstitious. That is despite the reality that they certainly participated in stereotypical baseball superstitions. When one player was asked if he had a ritual he responded, "I really just try to set a pace" when pushed a little more he detailed his pregame routine which included an exact ten minute warm up and 5 minute wipe down session before stepping foot on the field (Phillips, 1981). As the players warmed up to the idea that they were superstitious they began to reveal more of their more peculiar acts. The interviewees answers showed that most of their acts were in fact learned from other players, maybe not directly, but through observation, "Joe Morgan… he puts his glove in different parts of the dug-out" (Phillips,14). Senior outfielder Jay Grohowski said that he had been engaging in the same superstition as MLB player Joe Morgan since he was in little league, and now it is something the whole IU team will do as well. Many superstitions don't seem to have one person that passed them down, but can clearly reoccur from generation to generation. Similarly to Ron Santo, IU baseball player Harry Halman said, " I always step on third, every time" (Phillips, 5). He did not claim to have learned this from anyone in particular but that does not negate the fact that he was doing the same thing as a player 15 years before him was doing (McNulty, 1966). 
In addition to revealing that these superstitions are learned or at least reoccurring, the interview shows that they are also conscious efforts to negate some supernatural force. As Grohowski said, "I don't know if there's someone up in the third dimension...You just don't know" (Phillips,12). In order to appease that possible figure, or "break the superstition" the players would engage in these acts (Phillips,12). Some examples of these deliberate acts are "I always got dressed the same" or "people are doing bad in the field or something, we'll switch our spots [on the bench]" (Phillips, 5). Not too surprisingly, when they forgot to wear their special shirt "things have gone bad" (Phillips, 11). IU player Grohowski suggests this is because "it makes you feel comfortable and confident" (Phillips, 12). Surprisingly, researchers have published a study concluding that, "activation of a good-luck superstition leads to improved performance by boosting people's belief in their ability to master a task"(Damisch, Stoberock, and Mussweiler). This seemingly irrational mindset does have some scientific backing. Interestingly, almost 40 years later this same superstition is being practiced at the most elite level of a different sport. NFL running back Jordan Howard who now plays for the dolphins recently shared with reporters that he has worn the same shirt under his jersey since he was in the 7th grade (BleacherReport). 
This interview shows that superstitions transcend time, sports and distance. Players hundreds of miles and decades way from each other practice the same superstitions for hopeful reassurance, with no restriction to a specific sport. These players, like Roy Santo, felt that abiding by these superstitions would bring them good fortune, where others like the IU players felt they removed the possibility of bad luck due to their negligence. Phillips was able to learn through his interview that superstitions are passed down from generation to generation, and this can be observed by modern day players that engage in many of the same acts as players from decades ago. He also learned that superstitions are largely conscious efforts despite players not believing themselves to be superstitious people.
Sources
Damisch, Lysann, Barbara Stoberock, and Thomas Mussweiler. "Keep Your Fingers Crossed! How Superstition Improves Performance." Psychological Science 21, no. 7 (2010): 1014-020. 
McNulty, Terry C. "GSC 313, Jordan" 67/82, N. America, U.S., Illinois. IU Archives at Bloomington, Indiana. January 29, 1966.
Phillips, Pat. "Baseball Superstitions" 81/117 N. America, U.S., Indiana. IU Archives at Bloomington, Indiana. April, 1981.
Image Sources
BleacherReport. "Jordan Howard." Instagram, April, 20, 2020.

Jay Rigdon Thecomeback.com

The Wall Street Journal

Additional Information