WWII and Indiana Baseball
Introduction
In the early 1940s, the greatest war in history ravaged the world. Not immune to this war was the colleges and universities of America, particularly college sports. Under normal circumstances, March weekends would consist of practices and team-bonding activities. However, under the tutelage of the U.S. military, these days instead featured "military review" in the fieldhouse. The season was awry in the first place, nevermind the military review, because the Cincinnati Reds and the minor league affiliate Indianapolis Indians held spring training in Bloomington, IN in 1943. Using the personal record book of manager Paul J. Harrell, we get a glimpse into this special season in the midst of war and professional baseball intervention.
Images
IDS article referencing 1943 Spring Training in Bloomington. Courtesy IU Archives.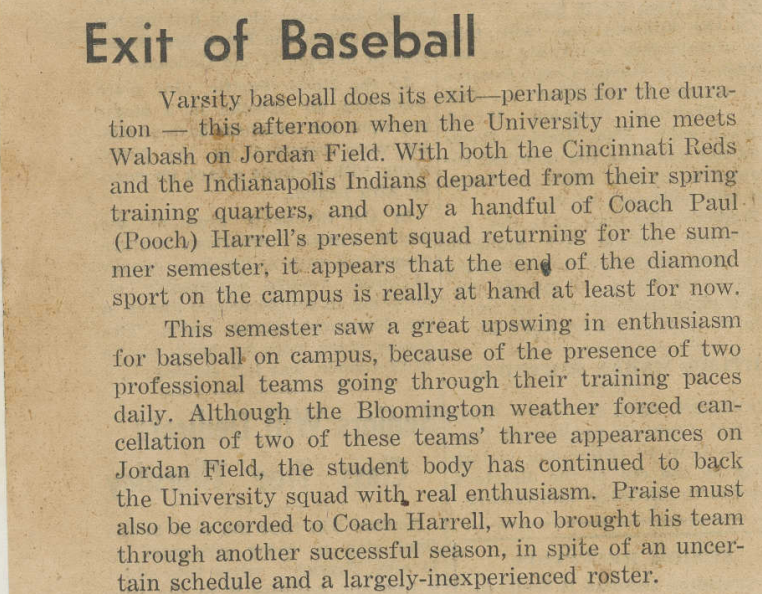 A typical weekly schedule for the 1943 IU baseball team. Courtesy IU Archives.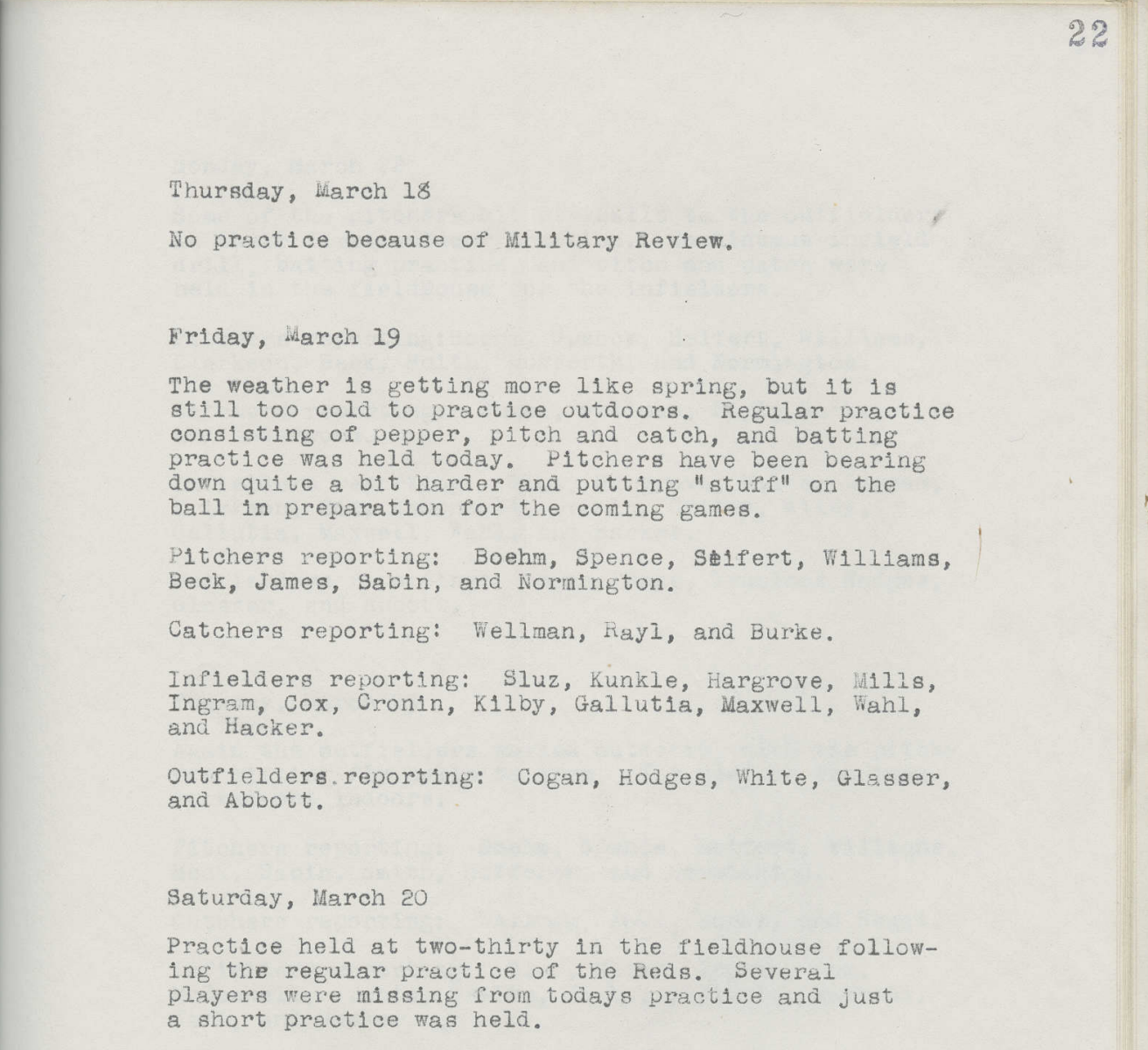 Backstory and Context
The Cincinnati Reds and Indianapolis Indians played their 1943 spring training games in Bloomington. The MLB commissioner Kenesaw Mountain Landis and director of the federal Office of Defense Transportation came to an agreement to play spring training games near teams home parks. Trains were being used to transport war supplies so it was seen as a waste of resources to have baseball players traveling for spring training games (Flamm). The presence of professional baseball on campus brought energy and excitement to those in Bloomington. The students backed the university with enthusiasm and were looking forward to watching these teams play (Exit of Baseball). The Indianapolis Indians and Crimsonites played each other which brought many to come out and watch. Unfortunately poor weather conditions led to the cancellation of two of the Reds spring training games, but residents still got a glimpse into their daily training paces.
The 1943 season saw only eight games scheduled to be played for the IU "diamondmen" and only five would actually be played (the rest would be cancelled due to rain). This is an extremely low number; just three years prior, in 1940, Indiana University's team played 25 regular season games (1940 manager book, p. 7). The reason for the shortened amount of games is obvious as the war was nearing its peak for the United States. Instead of games, practices, team-building exercises or extracurricular activities, IU students (including the baseball players) were subject to "military review" days every Thursday and sometimes another one-off day per week (1943 book, p. 22). These "military reviews" were not native to IU or uncommon to see elsewhere throughout the U.S. The reviews consisted of military basic training, with running, drilling, and much more that one would expect to see at a base rather than at a public university (Military Review and Training at WSU, 1940s).
The shortening of a season was not native to college baseball either. The MLB season saw many players drafted into the war, most notably Ted Williams (Coffey). As mentioned before, the MLB and Office of Defense Transportation (ODT) had to reach an agreement regarding Spring Training. The ODT's job was to "coordinate all domestic transport for the successful prosecution of the war" (Flamm). The MLB and baseball in general was not considered as an "essential" business, and therefore was thought to be bad optics to transport them across the country. Therefore, spring training was held later than normal and only in Indiana, Michigan, Maryland, and New Jersey. In World War I, college baseball in the Big Eight (precursor to the Big Ten) was almost canceled completely as so many students signed up to fight. While not quite the same scale as World War I, the entire world was put on hold during World War II, especially baseball. 
With the season being shortened to 5 games, the travel and logistics of the season were different from most. The team played all five of their games in Indiana so had significantly less travel and expenses than other seasons. They only had two road trips, one to Depauw and the other to Notre Dame. Expenses to Depauw included meals and transportation while Notre Dame also required lodging. Depauw expenses were around $50 for the day while going to South Bend for the weekend was more expensive at $250. This season was very different travel wise as the team had no major road trips. In previous manager books, trips to other states were detailed as the team played multiple games at different universities per season. It was common to get on a train and travel to play other teams in the Big Eight, but conference games were cancelled. As talked about earlier, travel by train was limited and used to transport military supplies. The war made it impossible to travel leaving the "diamond men" playing at home. This was a season unlike any that came before it and it showed in the way the team traveled. 
Sources
"Exit of Baseball." Indiana Daily Student, April 20, 1943.
Flamm, Bradley. (2006). Putting the brakes on 'non-essential' travel: 1940s wartime mobility, prosperity, and the US Office of Defense. The Journal of Transport History. 27. 71-92. 10.7227/TJTH.27.1.6. 
Harrell, Paul. Baseball Report Season of 1943. Bloomington, IN: Indiana University Baseball Managers, 1943. http://webapp1.dlib.indiana.edu/findingaids/view?brand=general&docId=InU-Ar-VAD7636.xml&chunk.id=VAD7636-00000&text1=baseball&startDoc=1#24
"Military Review and Training at WSU, 1940s," YouTube video, 4:20, "Washington State University Libraries' Films," March 6, 2010, https://www.youtube.com/watch?v=ThlL02Y3r7o&t=40s
Coffey, Alex. "Ted Williams Heads Back to War." Baseball Hall of Fame, n.d. https://baseballhall.org/discover-more/stories/going-deep/ted-williams-heads-back-to-war.
Image Sources
"Exit of Baseball." Indiana Daily Student, April 20, 1943.

Harrell, Paul. Baseball Report Season of 1943. Bloomington, IN: Indiana University Baseball Managers, 1943