Japan vs Indiana University Baseball
Introduction
IU Baseball arrived in Yokohama after a two-and-a-half week boat ride on April 14, 1922. With their cigarettes, the team then took a rickshaw to downtown Yokohama which finally allowed them to take an electric train to Tokyo - home of Waseda University. While the main purpose of the trip is baseball, a hope was that through the sport itself the young men of Indiana and the young Japanese players could gain an understanding of the different cultures that they were presented with. Although the team suffered complications on their journey, they were greeted with great respect by the Japanese people and quickly bonded a relationship. The IU team played in 11 games while in Japan - making a lasting relationship with Waseda.
Images
"All of the players of the Keio baseball team" - Leonard C. Ruckelshaus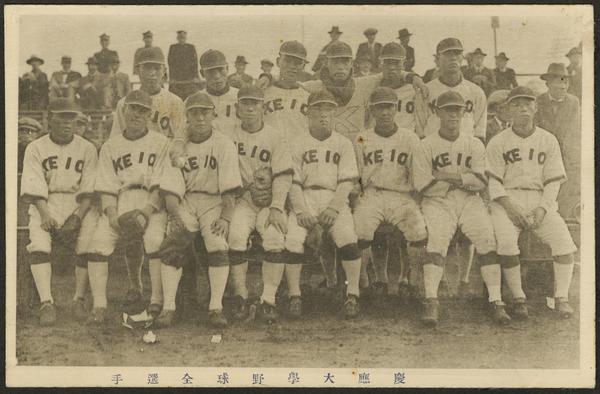 This is when the team was invited to the Wasada Club. It is the largest tea house in Tokyo.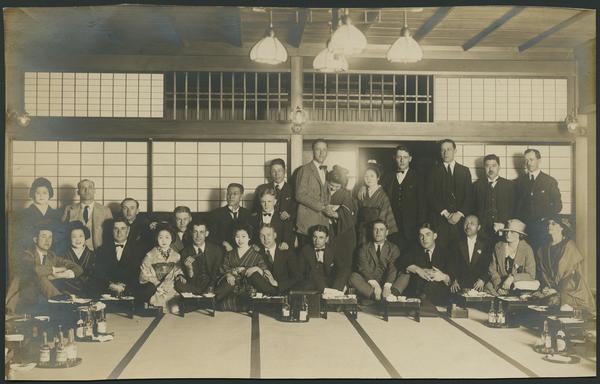 A member of the IU baseball team being greeted by a Tokyo resident.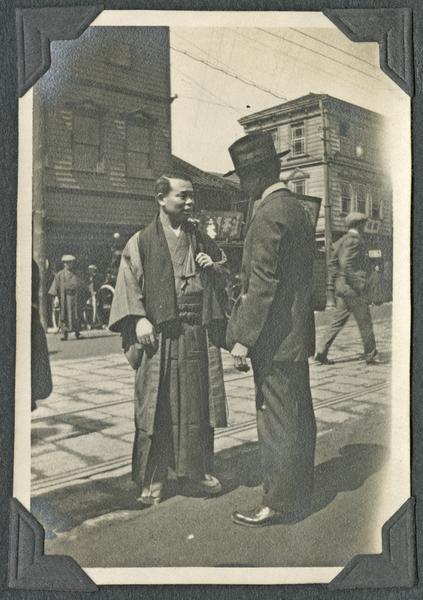 Photo of the IU dugout during one of the games at Waseda, you can see how many people came out to watch. (Unknown which game)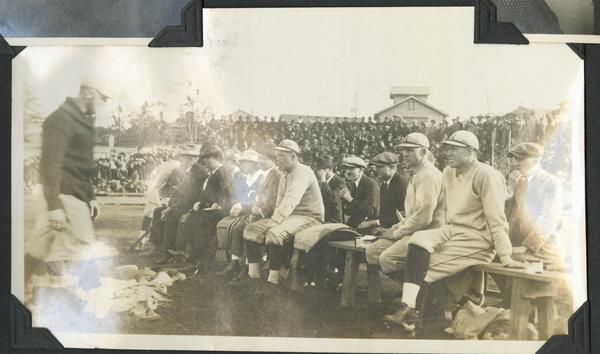 Backstory and Context
The history of Waseda University Baseball is very impressive. Competing with rival college, Keio University, since 1903 playing every year since. Waseda has won 45 baseball championships, the most in the Tokyo Big6 Baseball League, and has an all time record of 1197-703-83. During the early years, they made frequent trips to the United States to compete against schools like Stanford, University of Washington, Indiana University, University of Illinois, among other schools before World War II began.
Waseda University was opened as Tokyo Senmon Gakko on October 21, 1882 before changing names to Waseda University in 1902. It is a private university in Tokyo and consistently ranked among the top universities in Japan as well as housing one of Japan's largest libraries. In 1901, a professor of economics at the University, Dr. Isoo Abe, helped to establish a baseball team. Dr. Abe was a recent graduate of the University of Chicago as well as a American Baptist Foreign Mission Society member and an avid baseball enthusiast. 
The team had some complications on their adventure to Waseda. They encountered some severe weather as they were hit by snow, sleet, and hail. They were even forced to turn the engines off in order to make repairs to the ship after being caught in a violent storm in the early hours of their seventh day at sea. During one of their first few days in Japan, while the team was largely scattered throughout the town, an earthquake occurred that was said to be their most severe one since 1894. And, according to a journal kept by all of the players, upon going through customs, they were only allowed to bring so many cartridges of cigarettes, so the team tried to stuff as many as they could on their person, as well as spreading around cartridges throughout the others that did not smoke. This was due to the price of cartridges being more than twice as much as the ones from America. 
But, shortly after arriving in Japan, the Indiana team was treated to a banquet at the Wasada Club as a way to formally welcome them to Japan. The banquet gave the two teams a way to bond and interact before the games started and they were able to find that despite the language barrier, they were still able to have some comradeship with one another. 
Waseda University is the college that allowed the IU baseball team to travel to Japan and play against their teams and is where they played all of their games. The team travelled over 14,000 miles to play the 11 games in Japan. They played Waseda University seven times and only won one game and tied one of the seven games. They also lost all three of their games to Keio University, but did however beat Tokyo's semi-pro Osaka All-Star team with a final score of 9-4.
If the team were to travel to Tokyo to compete against universities today, it would cost an estimated $35,000 to fly 20 people to Tokyo and stay in a hotel. However this number cannot be taken into full consideration, due to the fact that IU could probably negotiate a group rate for cheaper, but is also more likely to charter a private plane which could be even more expensive than the number estimated.
Sources
"Ruckelshaus' Diary of Japan Trip" [March-May 1922], Leonard C. Ruckelshaus papers, Collection C519, Indiana University Archives, Bloomington. April 17, 2020 http://webapp1.dlib.indiana.edu/findingaids/view?doc.view=entire_text&docId=InU-Ar-VAC9635
Edna Hatfield Edmondson correspondence series, Collection C705, Indiana University Archives, Bloomington.
Edmonson, Edna. The Arrow of Pi Beta Phi. United States: Pi Beta Phi Fraternity, 1923. Indiana University Archives, Bloomington.
Kellams, Dina. "IU Baseball Goes to…Japan!" Blogging Hoosier History. Indiana University Archives, June 21, 2013. https://blogs.libraries.indiana.edu/iubarchives/2013/06/21/japan/.
"Waseda University Baseball Team to Visit U.S., Now in Honolulu." The Library of Congress, 1911. https://www.loc.gov/item/97515632/.
"The DNA of a Waseda Trailblazer: The First Japanese to Play Professional Baseball." Waseda USA, October 13, 2015. https://www.waseda.jp/inst/us-office/news-en/2015/10/13/340/.
Image Sources
Ruckelshaus, Leonard C.. Keio University baseball team. 1922. IU Archives http://webapp1.dlib.indiana.edu/archivesphotos/results/item.do?itemId=P0042587

Ruckelshaus, Leonard C.. Baseball Team in Japan. 1922. IU Archives http://webapp1.dlib.indiana.edu/archivesphotos/results/item.do?itemId=P0042250

Walker, James. Baseball Team in Japan. 1922. IU Archives http://webapp1.dlib.indiana.edu/archivesphotos/results/item.do?itemId=P0085296

Walker, James. Baseball Team in Japan. 1922. IU Archives http://webapp1.dlib.indiana.edu/archivesphotos/results/item.do?itemId=P0085312&searchId=1&searchResultIndex=10.

Additional Information