Sandstone Quarry
Introduction
Back in the 1800 and 1900s, many parts of Cleveland were used to quarry stone from. Quarrying means having an open-pit mine allowing workers to take different types of rocks or stones from the ground within popular areas the stone is found. This specific quarry was built to dig up sandstone found in Amherst and South Amherst Ohio. It all began in 1842 when a man by the name of John Baldwin, Sr., who would later become the founder of Baldwin Wallace College, found a slab of sandstone outside of his house. Not knowing what exactly the stone was, he decided to mess around with it with an old axe he had sitting in his house. What he did then would change the worth of the stone and use forever.
Images
This picture represents how large the quarries are. The ladder had to be used for the workers to be able to get to and from their work stations in 1921.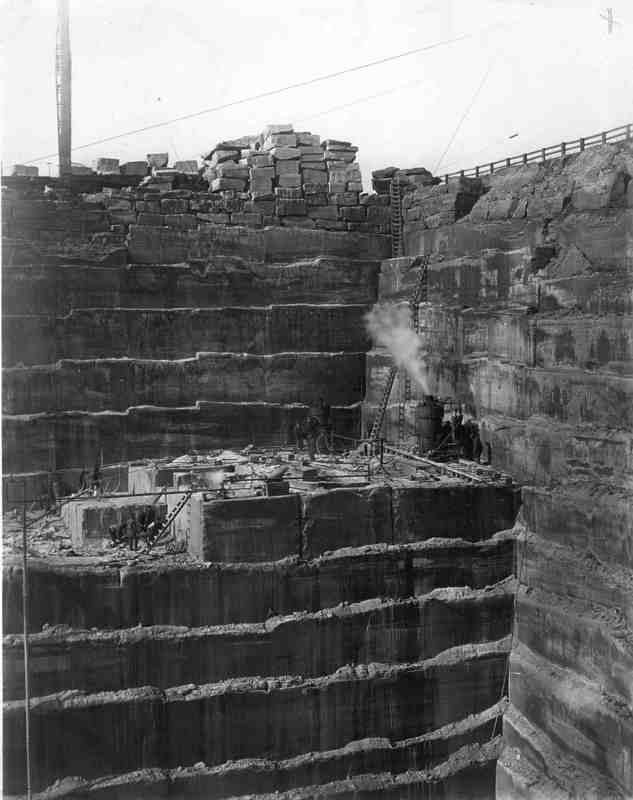 This is the copyrighted image used by the Cleveland Quarries company in 1955.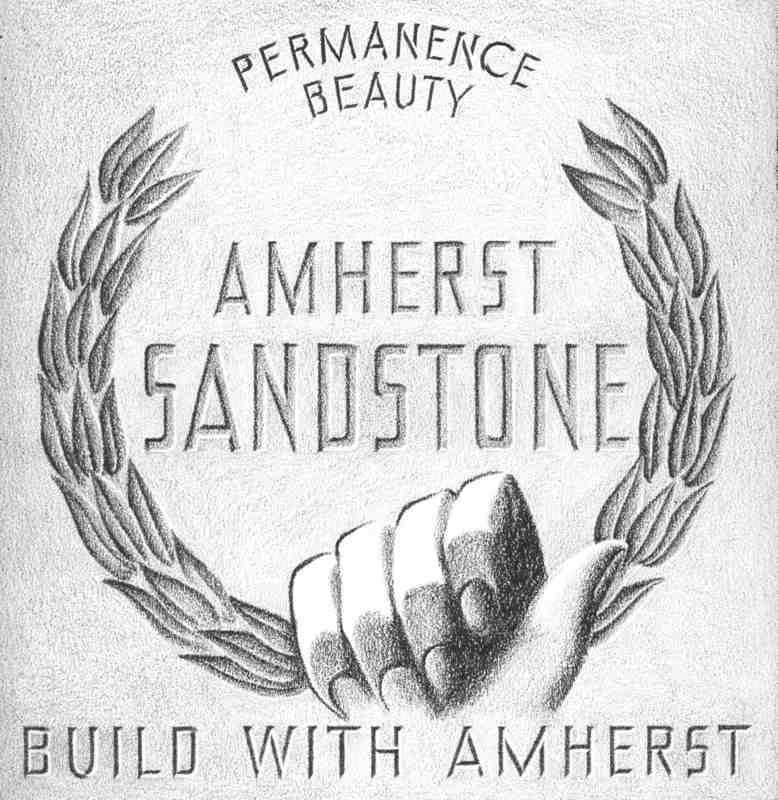 This is a pay book used for the quarry in 1889. It was used to document all the hours and the money earned throughout the weeks.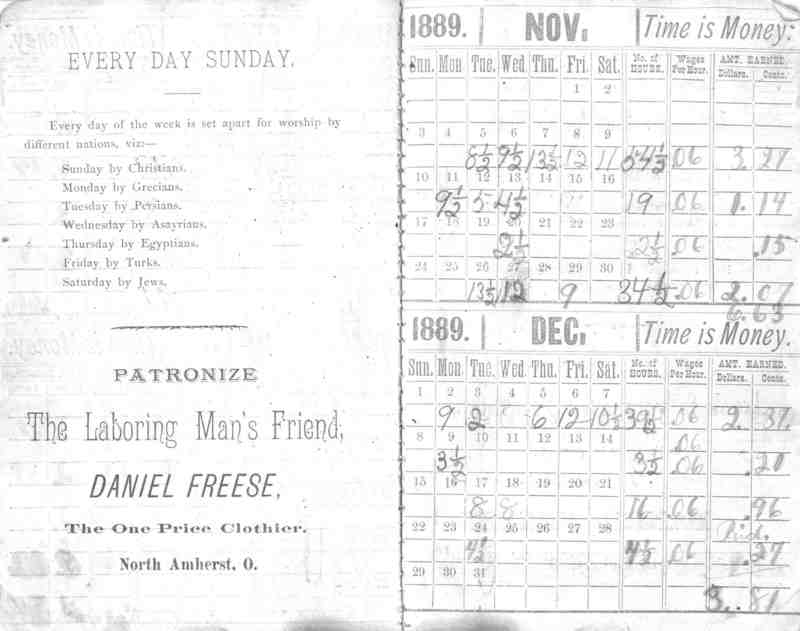 This picture helps show what the quarry has become now. The quarry was filled with water and only small sections are still able to be seen.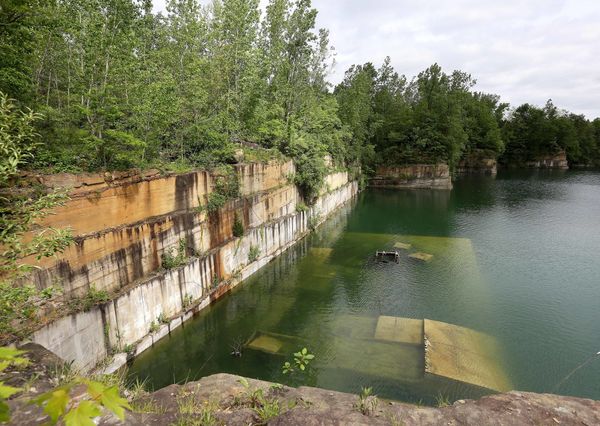 Another picture showing the now filled in quarry.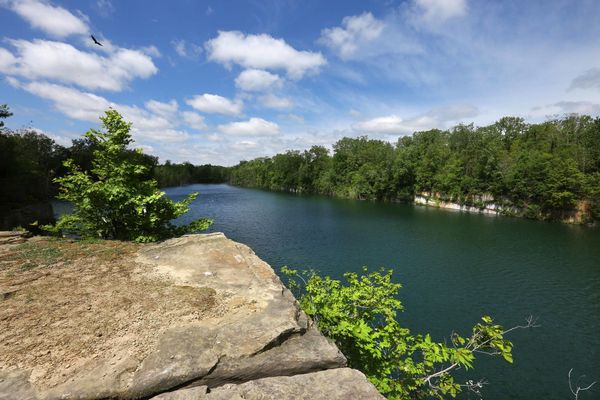 Backstory and Context
After finding the stone, Baldwin noticed the grit like quality of the stone because it was made from sand. He began to mess with it and shaped it into a grindstone. Realizing it would work even easier because of its amazing sharpening qualities, he made many grindstones and used for building. This quickly became a very well known standard for building between 1850-1870. Nearby and more local, Jacob Shupe, was the first resident in Amherst, Ohio to build a grist mill in Beaver creak. The new knowledge of all this sandstone and what it could be used for made the area boom with newcomers. The population grew from 552 in 1830 to 2,482 by the beginning of 1870.
The first quarry was built by a man named Henry Warner and was sold in 1847 to John Worthington, a Canadian industrialist. Warner associated with a man named Bexter Clough for a period of about 2 years before Clough took over the sections they co-owned together. Clough was the first to build a railroad outlet to the water used to transport the stone to different areas across the lake. Worthington also began to take over the first stone mill built by George E. Hall, located in North Amherst. After seeing Warner's previous partners outlet, Worthington began to construct his railroad outlet in 1871. He wanted to build his way of transporting the stone to the lake to begin shipment to Toronto, Canada.
In 1886 a new company called Cleveland Stone Company began to succeed and buy out the owners of these quarries to claim it as their own. The company grew its territory quick and in very little time became the largest sandstone producers in the world. In 1903, a large quarry operator from Bedford, Indiana, by the name of John R. Walsh, purchased many large tracts from the Amherst quarry. Walsh began to organizing a company called Ohio Quarried CO. This company went on to build the modern stone sawing mills we can see today, primarily the Buckeye Quarry. Together from 1903 to 1922, Cleveland Stone Company and Ohio Quarries CO., dug out the Amherst Quarry and extracted the most sandstone from it. 
The large amount of sandstone being taken from this quarry is what gave Amherst, Ohio the name 'Sandstone Center of the World'. A good portion of the stone taken out of the quarry was sold right back to Amherst by the Amherst Cut Stone Co., and was used to build much of the town still standing and being used today. 
By 1950, sandstone was fading out and becoming less popular. Cleveland Quarries CO., began to create many different advertisements to put up all around and keep the business going. For a small-time period, the efforts were working and they supported almost 3/4 of U.S. steel manufacturers. They were able to supply them with sandstone to build different structures such as the lining of furnaces or ladles. Once they got their business growing again, the demand became too large and all operations had to be completely shut down in 1992.
Sources
"Amherst's Quarries," Cleveland Historical, accessed April 28, 2020, https://clevelandhistorical.org/items/show/258.
DeJong , Lisa . Cleveland Quarries plans housing development , Celevland.com. May 23rd 2017. Accessed April 28th 2020. https://www.cleveland.com/metro/2017/05/take_a_tour_of_the_old_cleveland_quarries_in_south_amherst_photos.html.
The Quarry Story, Amherst Historical Society . Accessed April 28th 2020. http://amhersthistoricalsociety.org/history/the-quarry-story/.
Image Sources
https://clevelandhistorical.org/items/show/258

https://clevelandhistorical.org/items/show/258

https://clevelandhistorical.org/items/show/258

https://www.cleveland.com/metro/2017/05/take_a_tour_of_the_old_cleveland_quarries_in_south_amherst_photos.html

https://www.cleveland.com/metro/2017/05/take_a_tour_of_the_old_cleveland_quarries_in_south_amherst_photos.html